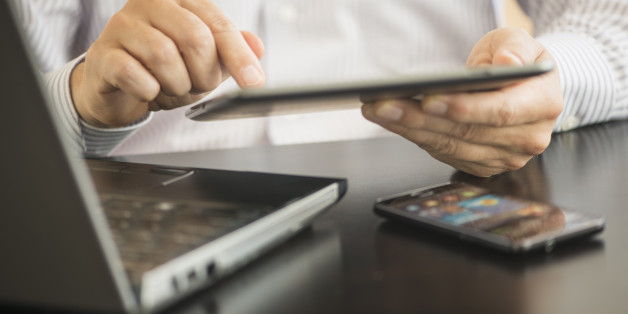 It's a plot I tell you. Little things about the tech world are designed to make you think you're crazy. Here's my list of things that drove me to tech-stress this year. What's on your list?
Phone Cases: Never mind the fact that there are enough of them so that each person on the planet can own 10, but they're all flawed, each in their own way. I've used cases that I had to hold open like a book to my ear, others that made it impossible to plug in a headphone jack, and others that made volume control untouchable. Never mind the fact that you pay all this money to own a skinny phone and then add a case that causes serious pocket bulge (Hint: I did love my phone cover with my photo on it, given to me as a gift. It singlehandedly got my phone returned to me twice as people matched the phone to me -- the one seated in 10B).
Tablets and their on/off switches: Watch someone pick up a tablet device and observe the machinations as they try to turn the darn thing on. My favorite turn-ons are the ones that camouflage the button into the molded plastic casing. These make me feel like I'm reading Braille, hunting for the on switch. The other variant is the indent that you need serious nail strength to depress, or the ones that build the on switch right into the cover, ensuring you'll accidentally turn on to off when you pick it up.
Videos that pop up but don't shut up: Fess up, you've been surfing the web or answering some email in some boring meeting and suddenly a video pops up with a big sound blaring. You're now the center of attention as some women talking about poop deodorant emanates from your speakers. And you, of course, cannot figure out which window to close to shut her up because the ad creators prefer you didn't have that power (Tip: Make sure sound is off in public places -- which is a chore in and of itself, since there are multiple ways for sound to make itself heard even when you've drove to silence it).
Syncing calendars: I'm really happy that my phone, tablet and notebook can all share a calendar. I'm not happy when they're all in the same room. A pending meeting sets off enough alarms to make my home sound like the war room.
Home entertainment systems: I love my husband. I hate his home entertainment system. By the time I fiddle with the four requisite remotes and awake the various sleeping components, I inevitably have forgotten what I wanted to watch or worse still, it's half over.
The cloud: Don't get me started. The cloud has become the Internet's version of the kitchen catch-all drawer -- the latest excuse for being clueless about where your stuff is. You use Dropbox. My Dropbox hit the "full" limit months ago and I haven't had a chance to clean. I use Google drive. I need to remember whether it was me who initiated the file creation or you... what kind of organizational system is that? It's not a structure... It's a memory test. As Joni Mitchell said, "I've looked at clouds from both sides now... I really don't know clouds at all." She, however, wasn't betting her life's work on them.
Passwords: I bought my eighty-something-year-old mom her own iPad this year thinking about how much joy it would give her. First task was to get some music. Do you have any idea how many passwords it takes to get a song off the web? First there's your WiFi connection at home, then you're prompted for your iCloud name and password, next your iTunes name and password, then your Amazon name and password (for a little comparison shopping). Again, by the time we got to the music selection we'd actually forgotten what song we were looking for ("I Will Always Love You" - Whitney version). To add insult to injury, once purchased we had to figure out where it lived.
Wireless is not: Don't get me wrong... Bluetooth is the martini of the digital age -- smooth and sophisticated but, have you noticed that going wireless with Bluetooth is never wireless? Have you ever bought a Bluetooth device that didn't require cables -- often special cables? USB cables and plugs spawn like salmon in the spring, they are flaky about working from device to device, and I still haven't found a good way to organize them yet. Happy for any suggestions.
What's your biggest peeve of 2014? Please share on the social media of your choice. Which gets me to another peeve -- there are too many of them. But I'll do my best to check.
Robin Raskin is founder of Living in Digital Times (LIDT), a team of technophiles who bring together top experts and the latest innovations that intersect lifestyle and technology. LIDT produces conferences and expos at CES and throughout the year focusing on how technology enhances every aspect of our lives through the eyes of today's digital consumer.
REAL LIFE. REAL NEWS. REAL VOICES.
Help us tell more of the stories that matter from voices that too often remain unheard.