When I was a boy, in the early 1940s, there were no antibiotics and few vaccines. Kids had all the childhood illnesses--measles, mumps, chicken pox--and bad colds or sore throats that could turn into bacterial infections were cause for concern. An outbreak of polio struck terror into parents' hearts. The upshot of all this was that children with careful parents spent a good deal of time in bed.
My mother was too careful. Once, when I was four years old, she found me sharing a lollypop with our golden retriever, Co-Co. I would take a lick . . . then give him a lick. We were taking turns. Mother ran in the house and called Alf Walker, the family pediatrician. Fortunately, Dr. Walker was down to earth and had a sense of humor.
"Don't worry, honey," he told Mother. "That dog will be just fine!"
During one of my childhood illnesses, my mother introduced me to The Wind in the Willows. I am sure my lifelong love of this book has something to do with the fact that Mother read it aloud to me, but there is more to it than that. It is a lovely work and embodies an approach to life that I have always wanted to follow. I am sure it is odd for a seventy-nine-year-old man to identify with a water rat, but Ratty, in The Wind in the Willows, is definitely my kindred spirit.
He loves the water. He loves boats. He yearns for adventure but finds himself caught in the coils of responsibility. He writes poems. He has a cozy home and is loyal to his friends. Like Ratty, all my life I have enjoyed boats, the beauty of nature and the warmth of home, hearth and friendship. Nowhere are these aspects of life better portrayed than in The Wind in the Willows. I had always wanted to do something associated with this beautiful book, but I had no idea what it could be. I put this dream aside and turned my attention to other interests. Years later, my old dream came back to me all by itself. For some reason, I wrote the following poem based on Moley in The Wind in the Willows. It was a good poem and I decided to do a collection of poems highlighting key moments in The Wind in the Willows.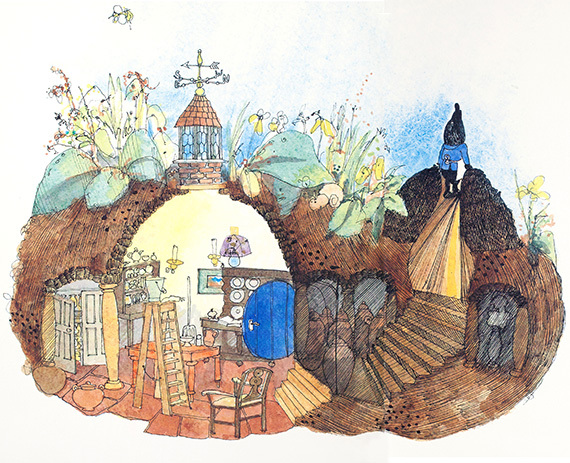 When a mole must do spring cleaning,
He will work quite hard and so,
Moley shocked himself by saying,
"Bother and O Blow!"
But his heart was filled with longing,
And his molish will was rent
By the soft insistent calling
Of spring's sweet discontent.
So the Mole said: "Hang spring cleaning!"
And he bolted from his home,
And he scratched and scrooged and scrabbled
Up through the fragrant loam.
And his snout popped into sunlight,
And thus it came to pass
That a Mole did roll in pure delight
In the warm, sweet meadow grass.
"A Breeze in the Willows," my wife answered at once, giving me the perfect title.
My wife is English and, at the time, we had a small cottage in the little village in Cornwall where she was raised. Our friend and neighbor there, Roger Michelle, was a wonderful potter and graphic artist. He agreed to illustrate my poems. I worked with him all one summer making sure the illustrations and poems suited each other. When the illustrations were finished, what Roger had done was simply wonderful. I thought it would be impossible to convince a publisher in the mainstream press to publish a series of poems and illustrations based on a children's book, but--small miracle--we did. Even though the poems are good, I am convinced that Roger Michelle's beautiful illustrations are the reason the book got published.
In the spring of 1998, Ten Speed Press published A Breeze in the Willows. The publisher did a superb job designing the book. When the book was printed, much to my pride and joy, I found we had a little gem. I wanted to make a good effort to introduce and promote the release of our book and therein lies another story.
When A Breeze in the Willows was published, I sent out advance copies in hopes of getting reviews. I generated a list of publishers from my old prep school alumni directory. One of these was the publisher of the Little Rock Democrat Gazette.
He received the book at home and, not recognizing my name, sent the package to the newspaper to have it "checked out." The paper sent the package back to the main post office in Little Rock. By the time the post office got the package, somebody had used the word bomb. The bomb squad was called. Soon they had evacuated the post office and cordoned off two blocks around it, effectively shutting down a good part of central Little Rock. The police and firemen were called in. There were nine emergency vehicles. A television news truck arrived. Two men from the bomb squad suited up in body armor snuck up on my little book of poems and blew it up!

A young reporter poked through the remains of the package, found the address label and did what somebody should have done in the first place--he called me up.
After I heard from him what had happened and had stopped laughing, the reporter said he was writing a front-page story for the paper (The event also made the nightly news!), and did I know why the "panic button" had been pushed? I said, "Yes, I thought I did," and told him about the following poem in my book:
Danger! Overinflated Toad
Conceited? Yes, he's so puffed up
One fears he may explode.
An ever-present danger when
A toad's too full of Toad!
"Clearly," I told the reporter, "this poem is the reason the bomb squad was called out!"
The following day the publisher of the paper called me. I said:
"Boy, you sure know how to launch a book!"
"I'll never do that again! He said." Then he told me that if I sent him another copy, he would arrange for a really good review. He was kind enough to do just that!
Allen Johnson Jr.
allenacreejr@gmail.com
REAL LIFE. REAL NEWS. REAL VOICES.
Help us tell more of the stories that matter from voices that too often remain unheard.