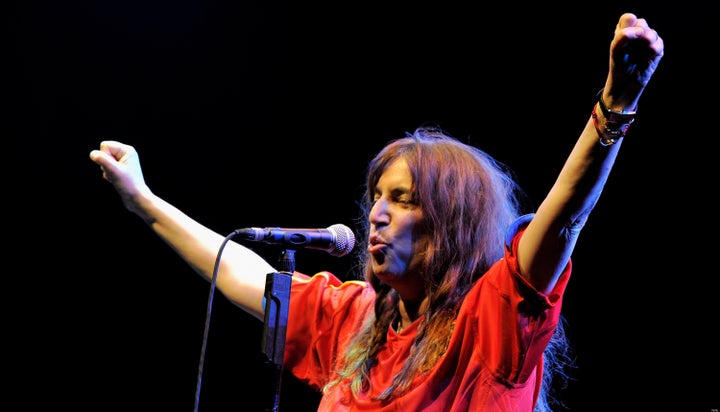 Patti Smith won the National Book Award for Nonfiction this past week for her memoir "Just Kids," which recounts her relationship with Robert Mapplethorpe in the '60s and '70s. But "Just Kids" is far from her first flirtation with the written word.
Smith has actually published numerous books of poetry. And unlike other successful rock stars who have stumbled awkwardly into verse (Jewel and Billy Corgan come to mind), Smith's work reflects that she was a poet first, and that her love affair with the art runs deep.
Smith grew up with poetry; her mother gave her a copy of William Blake's "Songs of Innocence and of Experience" when she was just eight. She fell hard for the visionary Romantic and never seems to have recovered. The title of her most recent book of poetry, "Auguries of Innocence," is a quote from Blake.
Blake is known to have been somewhat eccentric (it's said that he and his wife liked to spend time nude in their garden reenacting the Garden of Eden), and Smith's views on poetry and the creative process, are, it's safe to say, eccentric as well. She once wrote:
I don't consider writing a quiet, closet act.

I consider it a real physical act.

When I'm home writing on the typewriter, I go crazy.

I move like a monkey.

I've wet myself, I've come in my pants writing.
Anyone doubting the veracity of that statement needs only to read Smith's poetry on Arthur Rimbaud, the ecstatic French Symbolist who became the subject of her poetic fantasies. In an early prose poem she wrote of him:
he enters. leans against the four-poster. his ruddy cheeks. contemptuous air big hands. I find him sexy as hell ... he licks my hand ... we embrace. I devour his scalp.
Oh arthur arthur, we are in Abyssinia Aden making

love smoking cigarettes. we kiss. but its much more.

...exploding. seam of berber tent splitting. openings,

open as a cave, open wider. total surrender.
Smith has also long adored what she calls the "unfailing vision" of the French poet/critic Charles Baudelaire. She sometimes dresses like him and is known to cry out his name during concerts.
But as much as she idolized the Symbolists, her writing is often stylistically closer to the Beats in its stream-of-consciousness style and deliberately shocking content. This snippet from her poem "Rape," for example, reads more like Kerouac or Ginsberg (whom she actually knew well) than anyone else:
let's whalebone let's go

let's deodorize the night.
And in performance, Smith seems born to read Beat poetry. Watch her reading from Ginsberg's "Footnote to Howl" here.
When Smith chooses to constrain her ecstatic tendencies, she can still write a very good poem. "Tara," a quiet, well-paced and mysterious poem that you can read here, first appeared in the May 2007 issue of The New Yorker.
Smith chose to leave the tragedy at the heart of "Tara" unspoken. She only later explained "The Best American Poetry" that the poem deals with the tragic shooting of 32 students and faculty in April 2007 at Virginia Tech. Tara is in fact Smith's sister, and the poem takes place right after she learns that her daughter, who was attending classes at Virginia Tech, is safe.
All in all, Smith's poetry is more jewel than Jewel, and it is some of the only rock star poetry that I consistently enjoy reading. Here's hoping that the success of her memoir brings more attention to her poems.