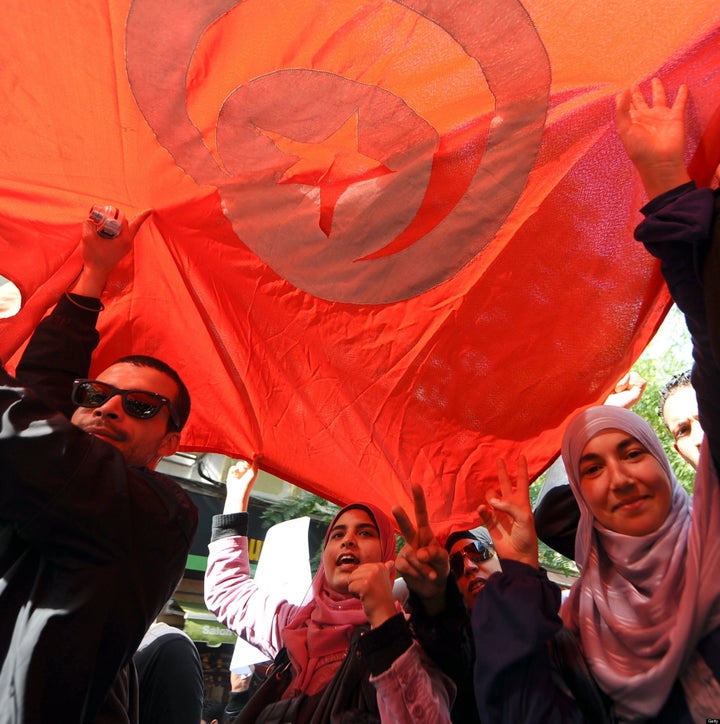 The words of a Tunisian poet helped spark revolution in his native country, then spread to help fuel the revolution in Egypt, and continue to inspire protests flaring up throughout the Middle East. Abu Al-Qasim Al-Shabi's poem "Will to Live," written when Tunisia was struggling under French colonialism in the early 20th Century, captured the emotions of Tunisian protesters in their most recent struggle for democracy, and proved a powerful, unifying cry for freedom. "Will to Live" includes the following lines, which are memorized by school children throughout the Arab world (translated, of course):
If one day, a people desire to live,
then fate will answer their call
And their night will then begin to fade,
and their chains break and fall.
Protesters could be heard chanting these lines in the streets, and frequently displayed them on t-shirts and banners. A Lebanese TV anchor even used the lines to sign off of a broadcast that announced the ousting of the Tunisian President.
Al-Shabi wasn't the only poet fueling the struggle for freedom. A contemporary Egyptian poet named Hesham al Jakh, a contestant on the Arab world's popular "American Idol"-style program "Prince of Poets," used the platform to recite poems critical of Egyptian leaders during the Egyptian revolution. The program's audience -- particularly its Egyptian audience -- responded by voting him to the finals of the competition.
Al Jakh's poem "The Last Message" included the line (translated in The Nation), "Discuss and argue and listen to the voice of the masses, only the groups of the deaf cannot hear." One of the contest's judges, Dr. Salah Fadel, told him, "You have portrayed the revolution of your people in a beautiful way." He deemed Al Jakh "a representative of the young men of January 25."
Al-Shabi and Al Jakh are two examples of a rich world history of powerful protest poetry. America had its own protest poet in Philip Freneau, who became known as the Poet of the American Revolution. Freneau served on a privateer fighting the British at sea, and wrote incendiary and inspiring verse like this, from "A Political Litany,"
From a kingdom that bullies, and hectors, and swears,
We send up to heaven our wishes and prayers
That we, disunited, may freemen be still,
And Britain go on -- to be damned if she will.
The idealistic and passionate Englishman Percy Bysshe Shelley's sonnet "England in 1819" also railed against George III's rule with echoes of Shakespeare's "King Lear": The angry, disgusted tone of the poem, shifts to optimism and a hope for revolution in the last two lines.
An old, mad, blind, despis'd, and dying king,
Princes, the dregs of their dull race, who flow
Through public scorn -- mud from a muddy spring,
Rulers who neither see, nor feel, nor know,
But leech-like to their fainting country cling,
Till they drop, blind in blood, without a blow,
A people starv'd and stabb'd in the untill'd field,
An army, which liberticide and prey
Makes as a two-edg'd sword to all who wield,
Golden and sanguine laws which tempt and slay,
Religion Christless, Godless -- a book seal'd,
A Senate -- Time's worst statute unrepeal'd,
Are graves, from which a glorious Phantom may
Burst, to illumine our tempestuous day.
More recently, the great Russian poet Anna Akhmatova wrote verse in secret that recorded and condemned the horrors of Stalin's regime. In the preface to her poem "Requiem," she wrote:
In the awful days of the Yezhovschina I passed seventeen months in the outer waiting line of the prison visitors in Leningrad. Once, somebody 'identified' me there. Then a woman, standing behind me in the line, which, of course, never heard my name, waked up from the torpor, typical for us all there, and asked me, whispering into my ear (all spoke only in a whisper there): "And can you describe this?" And I answered: "Yes, I can." Then the weak similarity of a smile glided over that, what had once been her face.
(Translated by Yevgeny Bonver)
If you have any doubts as to the power of a great poet's witnessing, you need only look at the impact of Al-Shabi's century-old words on Tunisia, and on Egypt and beyond. As the Jordanian dissident Laith Shbillat recently explained to The New York Times, "Shabi is leading us from his grave."
Support HuffPost
A No-B.S. Guide To Life
Related
Popular in the Community