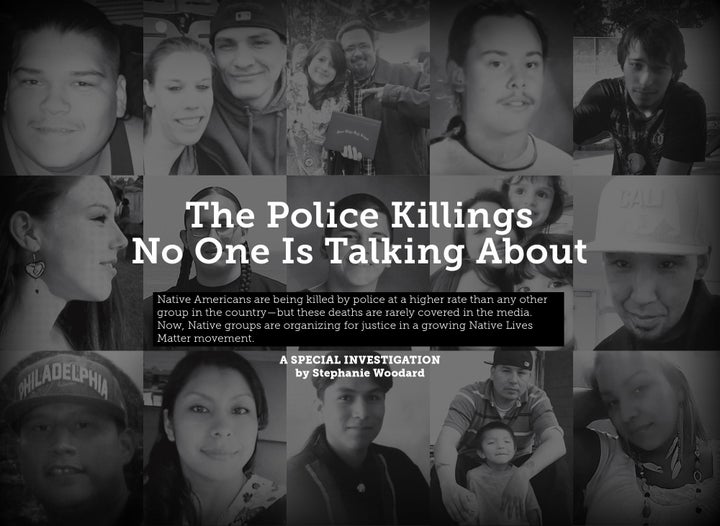 (This post is excerpted from my article in In These Times magazine.)
SUQUAMISH TRIBE DESCENDANT JEANETTA RILEY, a 34-year-old mother of four, lay facedown on a Sandpoint, Idaho, street. One minute earlier, three police officers had arrived, summoned by staff at a nearby hospital. Her husband had sought help there because Riley—homeless, pregnant and with a history of mental illness—was threatening suicide. Riley had a knife in her right hand and was sitting in the couple's parked van.
Wearing body armor and armed with an assault rifle and Glock pistols, the officers quickly closed in on Riley—one moving down the sidewalk toward the van, the other two crossing the roadway. They shouted instructions at her—to walk toward them, to show them her hands. Cursing them, she refused.
"Drop the knife!" they yelled, advancing, then opened fire. They pumped two shots into her chest and another into her back as she fell to the pavement. Fifteen seconds had elapsed from the time they exited their vehicles.
That July evening in 2014, Riley became yet another Native American killed by police. Patchy government data collection makes it hard to know the complete tally. To get a clearer picture, Mike Males, senior researcher at the Center on Juvenile and Criminal Justice, looked at data the Centers for Disease Control and Prevention collected from medical examiners in 47 states between 1999 and 2011. When compared to their percentage of the U.S. population, Natives were more likely to be killed by police than any other group, including African Americans, Males found.
Yet these killings of Native people, along with jailhouse deaths, go almost entirely unreported by mainstream U.S. media. In a paper presented in April, Claremont Graduate University researchers Roger Chin, Jean Schroedel and Lily Rowen reviewed articles about deaths-by-cop published between May 1, 2014, and October 31, 2015, in the top 10 U.S. newspapers by circulation: the Wall Street Journal, The New York Times, USA Today and others.
Of the 29 Native Americans killed by police during that time, only one received sustained coverage—Paul Castaway, a Rosebud Sioux man who was shot dead in Denver while threatening suicide. The Denver Post ran six articles, totaling 2,577 words. One additional death received a total of 515 words in the Washington Post and The New York Times (which misidentified him as Latino). The other 27 deaths received no coverage, at a time when both traditional and new-media outlets ran hundreds of news articles and opinion pieces related to police killings.
Information unearthed by the U.S. Commission on Civil Rights (USCCR) provides a context for the high rate of Native deaths. Over the past 40 years, the USCCR, an independent government agency, has held numerous hearings on discrimination in border towns surrounding reservations in New Mexico, South Dakota and Montana.
Incidents aired in even the most recent hearings sound like tales from the pre-civil-rights Deep South. They ranged from denial of service in public places to police brutality to the failure to investigate murders. In South Dakota, the commission heard testimony about a police department that found reasons to fine Natives hundreds of dollars, then "allowed" them to work off the debt on a ranch in a modern-day version of slave labor.
In recent months, many have been shocked to learn of the extreme violence North Dakota law enforcement officers are using in response to Native anti-pipeline demonstrators from the Standing Rock Sioux Reservation and their supporters. This brutality does not exist in a vacuum, as the research described here has shown.
For more on this issue, including additional anecdotes and analysis, please see my article in In These Times magazine, which the Marshall Project recently named one of the top criminal-justice stories of 2016. In These Times also published my companion story, Voices from the Movement for Native Lives.
Popular in the Community