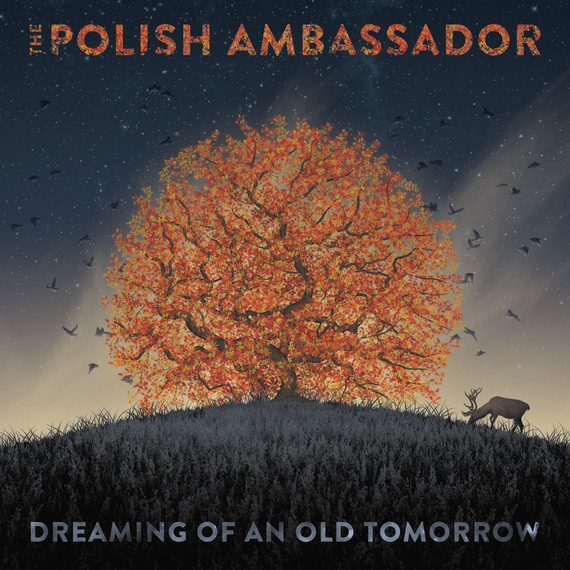 The language of music can often speak to more souls than the language of words. Hailing from Oakland, California is David Sugalski who is more famously known as The Polish Ambassador, the world's funkiest diplomat. He is known for his uplifting and funky beats as a producer and DJ but also uses his musical language to instill positivity and change. An advocate and participant of the vastly growing permaculture movement, Sugalski has reshaped the power of music. By garnering fans of his music he has opened a gateway to sharing his revolutionary perspectives.
The Polish Ambassador's newest album Dreaming of an Old Tomorrow was released on April 15th with his boutique label, Jumpsuit Records, for purchase, name your price, free download, and streaming. "Get it how you like it. Immense gratitude to be able to share my art with you guys," he posted on his Facebook page. The album features a wide range of sounds and genres with collaborations from artists such as Matisyahu, Nitty Scott, Pharroh, Dirtwire, Lulacruza and many more. Like a musical chameleon, Sugalski creates tracks unique to each artist he collaborates with forging an album that is cohesive yet eclectic in sound.
Dreaming of an Old Tomorrow begins with the ethereal song "Circus Bender," a solo track that showcases TPA's signature sound, a dreamy and euphoric melody backed by a rhythmic heart-like beat. "Circus Bender" is followed by "Tornado" featuring the lyrical prowess of Matisyahu which begins a brief hip hop motif that runs through the first few tracks of the album. "Chill Or Be Chilled Ft. Nitty Scott" continues the good vibes and happy hip hop beats. Scott's groovy flowetry is reminiscent of Ladybug Mecca from the Digable Planets, her luscious lyrics blending perfectly with Sugalski's rapturous instrumentals.
"Never Coming Down Ft. Pharroh" embarks on a lyrical journey which is peppered with moments of R&B and velvety, rhapsodic rhymes that flow with speed and ease. "Wonder Continental Ft. Beatbeat Whisper" returns from a run of hip hop-infused tracks to TPA's graceful and glittering style that can be heard in his work as Wildlight. He follows the slow, dreamy melody of "Wonder Continental" with the foot jiving, body whirling, head bobbing track "Center For Kids Who Can't Dance Good," giving the listener a quick sonic jolt that electrifies the solar plexus.
Journeying into a South American reverie is "Camino Rojo" which features Argentinian trio, Lulacruza. One of the most blissful and captivating tracks on the album, "Camino Rojo" features the alluring voice of Alejandra Ortiz and instrumentals by Luis Maurette and Pablo Paz. Together with The Polish Ambassador they fashion a timeless sound that merges two cultures into one otherworldly and resonant song. The listener is then whisked off to "Hicktronicka Ft. Dirtwire" which offers a veritable aural feast of instruments, beats, and twangs that enliven the spirit and tickle the mind.
Every track on Dreaming of an Old Tomorrow is like a different colored mosaic tile that when arranged together creates one, beautiful work of art. The Polish Ambassador has connected minds through his music and positivity, living as a prophet for change and improving the world through permaculture, love and sound.
Calling all HuffPost superfans!
Sign up for membership to become a founding member and help shape HuffPost's next chapter