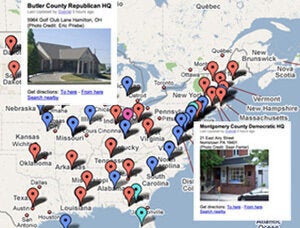 Where are the state campaign headquarters located, exactly, for the party that claims to represent Main Street? Where are they located for the party that claims to represent everyone? Thanks to the work of HuffPost OffTheBus Special Ops, you can visit offices around the nation in just a few key strokes.
Our OffTheBus Party Map plots the campaign headquarters using Google technology. Often the Democrats and the Republicans set up shop not just in the same city, but in the same neighborhood, across the street, down the round or around the corner.
Sometimes, of course, the parties' headquarters are miles apart, geographically and metaphorically. Take, for example, the Butler County GOP HQ in Ohio.
Perched atop a grassy mound just down the road from Walden Ponds Golf Course, Butler County HQ comfortably straddles a half-circular drive with a wide awning ideal for protecting guests from the rain. It's also the clubhouse for one of the country's most powerful Republican politicians, House Minority Leader John Boehner. President George Bush trolled for green here in 2004, and it paid off. The county voted overwhelmingly for the president and has contributed handsomely to Republican causes over the years. Maybe that's why this modestly-sized county sports a palatial office in a relatively high-rent neighborhood. Across the street you'll find a residential development with $300,000 single family homes.
Take a look at the four-pillared splendor using the OffTheBus Party Map (photo credit: Eric Priebe). For comparison, click on a few more of the red markers. Most of the photos you see come from Google satellite/street view images, but we'll continue to replace them with pictures taken by members of our OffTheBus Special Ops team. Their photos provide you a much closer and often clearer view, but take advantage of the Google streetview tool while you can (just click on "streetview" and you can zoom around the neighborhood).
If you happen to live near a regional or state HQ, take a pic and send it to us at campaigntrail AT huffingtonpost DOT com. We'll upload it to the map and give you photo creds.
That one visit made by Eric Priebe to the Butler County headquarters provides viewers an almost behind-the-scenes look at the GOP. Taken together, the special ops photos are an essay on how the the two main U.S. political parties look on the ground, how they interact on a basic level with citizens. That is one of the objects anyway of the OffTheBus Special Ops project in which we have asked members to scout out local and state party Headquarters. The results -- while inconclusive and anecdotal -- quickly challenge some popular narratives (and caricatures) of the parties, providing a starting point from which to develop more nuanced understandings of what's happening out in towns and cities around the country.
As of yet, the only office that competes with Butler County resides at East 83rd Street on Manhattan's Upper East Side. Located in an upscale residential neighborhood -- keep in mind we're talking about up-scale Manhattan, not Columbus Ohio -- the office is nestled in among brownstones and townhouses on a tree-lined street. "It's a smaller-scale version of one of the ivy clubs in Manhattan (ie. the Harvard Club) and is similar in its clubby ambience," points out OffTheBus member Lynne Glasner. But if you're worried about the Democratic digs, don't. The New York State Party Office isn't tucked away in a back alley tenement. They're situated on similarly pricey if slightly less posh Park Avenue South, a few blocks northwest of Gramercy Park. Photo credit: Harlan Erskine)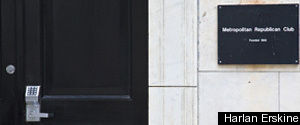 Proximity to Wall Street may get the GOP much-needed greenbacks, but apparently there isn't much there in the way of phonebanks or registration material or volunteers. After a recent visit to the Manhattan GOP office, Lynn Glasner wrote me:
There is no real party HQ here, and as such, no front desk. There is an office on the second floor of the Club which deals with all the GOP business in NYC; they do not deal at all with the presidential race. The office director/manager explained that she directs these (volunteer) calls to their Woodbridge, New Jersey, office, where they are organizing for the presidential campaign. She expressed dismay at the fact that she has to turn away volunteers who can't go to New Jersey; apparently she gets calls from all boroughs of NYC and surrounding counties, and all have to be directed to the New Jersey location. Rose has been in this position for several years as she explained that she alone was the person in NYC who dealt with the Bush and the Dole campaigns. "NYC is a Democratic state," she explained. It was the same kind of deal then evidently -- no real presence.

There's nothing for McCain in the office as it doesn't handle GOP presidential candidates. There was a flyer for a Republican state senate candidate (Tim Brown), a brochure for joining the Young Republican Club, and printouts from the New York Republican County website (both dated March 31, 2008 but neither page has changed since the printout). One shows the homepage - a picture of the chair and a call for "grassroots" efforts to get Republicans elected "at every level." They also are calling for candidates, and the organization sponsors an "annual Candidates' School Series" under the umbrella "School of Applied Politics (SOAP)." Since the site hasn't been updated, I don't know if it's still operative. The other printout shows the History page from the same website... There was also a copy of a news letter, "Manhattan Republican" -- dated Spring 2005."
Just couple Lynne's account with those from Deanna Martin, Amanda Morris, and Marque Dean, and the image you get of the GOP nationwide may begin to shift.
Deanna Martin reporting from Utah's GOP State Office:
When I entered the office the bell rang to alert them that I was there, but no one came to the reception desk. I even called out. After ten minutes I left. There is a receptionist and a small reception area.

Surprisingly there were no general election materials. There was a handout on GOP PACs on the counter and another about an upcoming GOP golf tournament. There were no posters or even a photo of John McCain.

There are none (upcoming events) planned until September. When I emailed the headquarters asking why and no events were listed on the website this is the response that I got: "The State Party does not need any volunteers until September, we have been recommending for people to contact their local candidates (who will be preparing for their official launch into the general) or contacting the County Parties who are actively working on campaigns. Come late August and September the State Party will need volunteers for mail, phone contacts and walking door to door for the Get Out to Vote."
Amanda Morris reporting from Napa Valley, California:
[Here's a] photo of the outside of the Napa Valley Democrats office. The Republicans don't have an official office; they just meet once a month at the local senior center.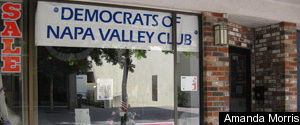 Marque Dea reporting from Austin, Texas:
Attempted a visit... The office was for lease. The Texas GOP website only lists a PO Box for Travis County, which is Austin. However the Travis County GOP website still lists the office on Lamar as a contact point.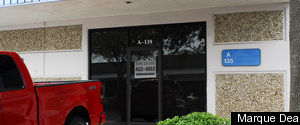 Kim Womantree reporting from Denver, Colorado:
The Republican HQ was situated in the Denver West Office Park, nestled close to the foothills in a booming business district. The GOP offices are directly across the hall from the offices of the Independence Institute., a conservative think tank.

However, "They (Independence Institute) are not allowed to talk to us," said Bunny Malm, one of three office staff in the Jeffco Republican HQ when I stopped by. "We're civil friends." Independence Institute President Jon Caldara's radio shows are listed on the Republican HQ calendar, as well as meetings by various Republican clubs and groups, including Hispanic Assembly, Republican Men, and Republican Women.
OffTheBus Special Ops members are combing through Democratic Party HQs as well.
Sean Ferrier reporting from Norristown, Pennsylvania:
No volunteer activities are currently up and running through the Montgomery County Democratic Committee; however, the local organizations (there are 14 of them within Montgomery County) are running various activities, and the county organization should have volunteer activities going by autumn. There were no volunteers at the office when I visited. There was an Obama poster on the wall, plus a collage of primary-campaign photos. A couple small stacks of brochures--maybe 100 total; these were party-related and not candidate-specific.
Martha McGrath reporting from Tucson, Arizona:
The whole front waiting area is full of brochures, posters, election materials. There is a large eight-foot table in front of the desk completely full with these materials, which included Raul Grijalva, Gabriel Gifford, Obama, and other local politicians. When I first arrived volunteers and staff were working, but soon moved to a large room to eat lunch with volunteers. The Pima County Democrats have a potluck on the last Friday of every month. In these meetings they share election strategy updates, problem solve, and have inservices. At the potluck I attended on Friday, June 27, 2008 Ken Jacobs -- the Executive Director of Pima County Democrats -- unveiled the Dem Party's first video, which will be aired on YouTube next week.
Among Martha's many observations came a lengthy list of upcoming volunteer activities that would probably put to shame any of the other offices we visited over the last week.
Marc Mears reporting from Valdosta, Georgia:
The office (Lowndes County) is open Monday, Wednesday, and Friday from 12:30-3:00pm. Large maps and a banner lined the walls. Folding tables displayed brochures, about 20 stacks of fliers and brochures. Flyers were for upcoming events, some for individual candidates, one listed all the Georgia deadlines for registering voters, advance voting, run-off voting, and the election dates. Another flyer listed all the candidates including Republicans for the upcoming January 15th primary election. In the reception room there was a large desk where Vicki Pennington, who was wearing a Barack Obama t-shirt, was sorting a stack of checks for the upcoming Lowndes County Democratic Party Annual BBQ scheduled for July 3, 2008. Tickets are $25.00/person. There were no other volunteers in the office.
Deborah Plummer reporting from Topeka, Kansas:
The Dem HQ is located in an old hotel called "The Jay Hawk" (look at the top of the photo and you can see it). Jenny said the interns are stated at the HQ and the volunteers are across Kansas at field offices, ie. Ramada Inn/Topeka; Johnson Co./Wichita; Manhattan; Garden City; Lawrence; and Winfield. Jenny said the volunteers were "phonebanking" at the Ramada Inn the day I visited. The Ramada Inn is about 1-2 miles away. She didn't know how many "phonebankers" were in attendance.
If you, like these OffTheBus Special Ops members, enjoy going out in your community and reporting for HuffPost's OffTheBus, join our Special Ops team.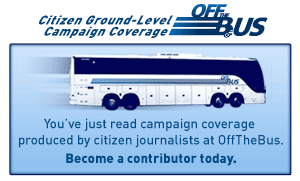 Related
Popular in the Community