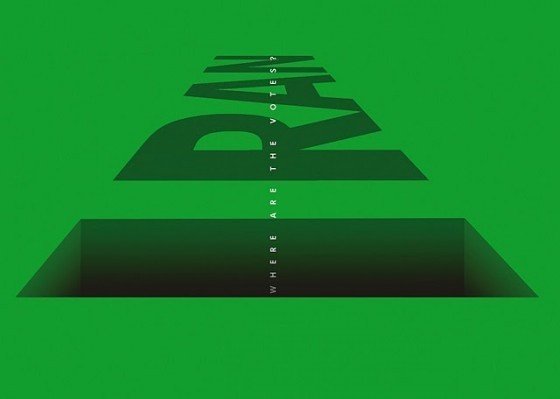 "© Anita Kunz From "Where is My Vote? Posters for the Green Movement in Iran."
American artists may have the luxury of distancing themselves from politics but in some countries one's freedom to express is held in check by a knife at one's throat.
The arrest of Iranian film-maker Jafar Panahi earlier this year generated media attention and his release was petitioned by many Hollywood signatories. But the repression of Iranian artists in general came into focus again when he was denied the right to attend this year's Venice international film festival - despite being a former recipient of the Golden Lion.

"Left: Juliette Binoche protests against the imprisonment of Iranian director Jafar Panahi. Photo: Valery Hache/AFP/Getty Images"
With the birth of the Green Movement following the 2009 summer elections, an Iranian photographer calling himself "Green Bird" rallied support from graphic artists around the world to design posters to show solidarity for the reform candidate Mir-Hossein Mousavi, and draw attention to the plight of his followers.
A subsequent show was organized at SVA's Visual Arts Gallery, with more than 100 artists participating. Milton Glaser, who has entered pop culture history for branding NY with his 'I Love NY' logo - along with many other designers like Anita Kunz, Jennifer Morla, István Orosz, Woody Pirtle, Andrea Rauch, Ralph Steadman, and Gary Taxali - are behind the exhibit entitled, "Where is My Vote? Posters for the Green Movement in Iran."
Though the show is of western artists, the exhibition underscores difficulties faced by artists living both inside and outside Iran. With the restrictions in artistic expression, the Islamic Republic of Iran seems at odds with its rich Persian heritage. Some Iranian artists living in Iran like Farah Ossouli perhaps have some protection against government scrutiny with more traditional routes for their inspiration like Persian miniature painting.

"Left: Majeed Beenteha, Untitled from National Riddle Series 2009, Courtesy Leila Taghinia-Milani Heller Gallery"
Post-revolution, many Iranian artists in exile have flowered while living in the West - like London based Shirazeh Houshiary - resulting in artworks that meld Iranian identity with western aestheticism.
New York artist and filmmaker Shirin Neshat's works revolve around issues of gender, identity and the artist in exile. In an interview I did with her recently Neshat spoke of having to justify herself as an artist/activist.
"I feel no shame in saying that I am also an activist...Being an artist we can also take political positions.
"Whether you are an artist living inside or outside Iran - it is inescapable - the question of politics. Those who are living in Iran are living with the question of censorship, harassment, arrest, torture and execution.
"[Those of us in exile], are bitter and angry from our inability to access our place of origin. The sense of resentment, the way in which our past present and future is defined - leaves us no luxury but to be involved with the question of politics," says Neshat.
She adds, "Our critics are not just the NYTimes, Artforum etc. but the Islamic Republic of Iran. If I go to Iran I can be arrested. It is impossible not to be political."
She concludes, "Having said that we need a little bit more activism in this country..."

"Shoja Azari's "Coffee House Painting," 2009. Video projection on canvas. © Shoja Azari / Courtesy LTMH Gallery, New York"
School of Visual Arts Presents "Where Is My Vote? Posters for the Green Movement in Iran"
125 International Artists Unite for Iranian Democracy
Visual Arts Gallery, 601 West 26 Street 15th floor, New York City
August 30 - September 25, 2010 Reception: Thursday, September 16, 6 - 8pm
An introduction to the world of Iranian Modern and Contemporary Art
Thursday, September 23, 2010 6:30 pm MOCA, Los Angeles
Moderated by Jeffrey Deitch and guest speaker Leila Taghinia-Milani Heller

REAL LIFE. REAL NEWS. REAL VOICES.
Help us tell more of the stories that matter from voices that too often remain unheard.