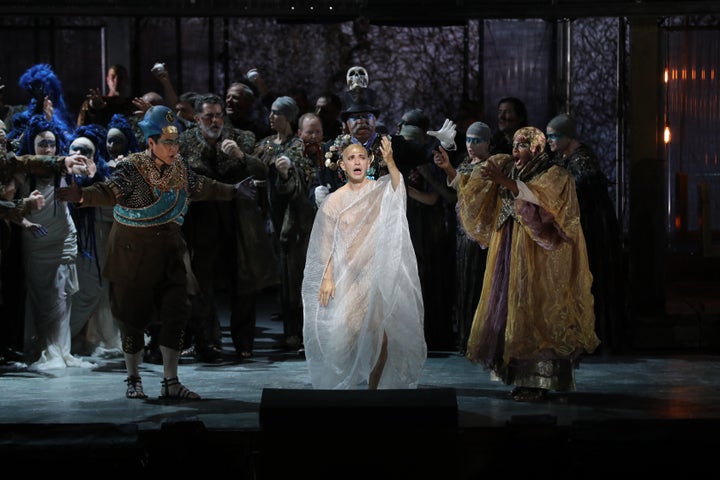 As the curtain opens, a new and vibrant light is shed on the story of Akhnaten at LA Opera. On the opening night of Akhnaten at Los Angeles Opera, Black History Matters protesters were active at the scene engaging audience members and expressing discontent in the decision to cast the lead as a white male. Of course Akhnaten, an Egyptian pharaoh, is not a white male. The protesters were angry because it seems that yet again, black culture was brushed aside and basically whitewashed for the sake of creating. Anthony Roth Costanzo, a strong countertenor with remarkable stage presence, delivered a beautifully emotional performance. Featuring one of the most diverse casts I have ever seen, the show is a re-imagined melting pot. Most notably, J'nai Bridges slays as Queen Nefertiti. Patrick Blackwell and Frederick Ballentine were also pillars of incredible African American talent and strength in this opera.
As a musical theater actor, I have been unfortunate enough to be involved with theaters that did not give opportunities to people of color. I also remember browsing YouTube and seeing an all white production of Ragtime. I'll let that sink in for a second. A musical that follows three diverse families trying to reach the American dream in New York. As a musical that confronts the contradictions saturated in American reality as it relates to race, class, and poverty, imagine my shock to see a stage lacking of any diversity. I basically had to clutch my pearls and request my smelling salts to keep from passing out. But, I digress as opera is a very different community and talent base. Fran Rizzi of LA Opera states that "opera is a small world, and the universe of qualified singers is equally small, so the people responsible for casting tend to know the slate of active opera singers and young upcoming talent, and are able to make educated guesses about what they will be successful at performing in the future (an opera singer's repertory is not stagnant, but changes as their voice, experience and range develops)."
What does that mean for casting in opera?
When considering this, one must learn to look at the situation objectively. I will be the first to say that I am troubled by race driven casting choices. My posters and picket signs will be the first things visible at a protest had LA Opera had Costanzo in black face, or if this entire show was Caucasian. That was not the case in this situation. Also consider the sheer difficulty in casting a role of a counter tenor, a rare type of singer. Take that knowledge with the unfortunate fact that the involvement of African-Americans in opera. Not to mention the lack of patronage given by African-Americans. During the first intermission I stood up to scan the audience and I could count the number of African-American audience members on both hands alone.
Understanding the history of African-American influence on music is not something that can be fully addressed in one article because the impact was immense. Due to segregation and lack of accessibility to the arts, a downward spiral and decreased involvement began happening over time. We are seeing that many minority children are not taught about the classical arts and are much less involved in them. LA Opera understands this and is making significant strides to improve that. Rizzi states "One of the cornerstones of LA Opera's vision is fostering a love of the arts. Through so many of our programs, we do just that. I call them "on-ramps." Whether it's bringing opera to children in schools or having campers – at Opera Camp – perform stories of social injustice, we feel it's our duty to foster that love."
Yes, the lead was white, but the entire cast was not. While the Black History Matters protester's motivation was the desire to educate, race was not even a factor in the final casting decision. We all understand that color blind is never actually color blind. The intention is to not cast with a particular race in mind unless it is needed. It simply needs to be a factor in shows where cultural accuracy isn't a fundamental theme of the show. If I attend a production of Porgy & Bess at LA Opera and I see non black leads, we will be having a different conversation. Embracing the idea of color blind casting needs to be embraced by all opera companies and the NEED for inclusion needs to be much more urgent. The talent is available. Lets make sure they know about the opportunity.
There are 3 more chances to see Akhnaten at LA Opera! For ticket sales and more information about LA Opera's Community Outreach programs visit WWW.LAOPERA.ORG.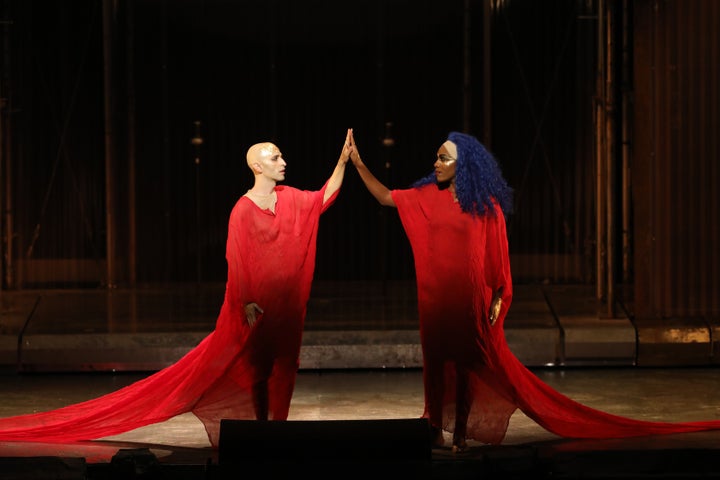 REAL LIFE. REAL NEWS. REAL VOICES.
Help us tell more of the stories that matter from voices that too often remain unheard.