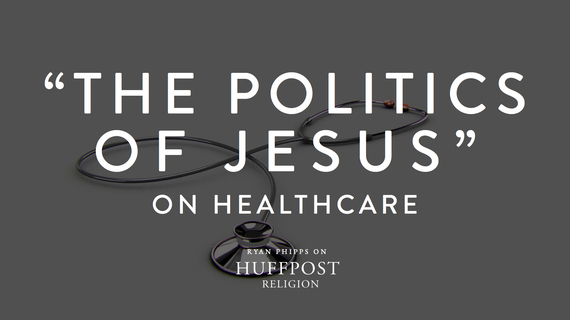 So what would Jesus' stance be on healthcare were he living today?
Below are three examples from The Gospels where we find some interesting things about Jesus' desire for the health and wellbeing of people.
As you are reading, pay close attention to the types of people that Jesus chooses to heal. (For a complete list of the healings of Jesus click here).
There was a government official in nearby Capernaum whose son was very sick. When he heard that Jesus had come from Judea to Galilee, he went and begged Jesus to come to Capernaum to heal his son, who was about to die.
Jesus asked, "Will you never believe in me unless you see miraculous signs and wonders?"
The official pleaded, "Lord, please come now before my little boy dies."
Then Jesus told him, "Go back home. Your son will live!" And the man believed what Jesus said and started home.
While the man was on his way, some of his servants met him with the news that his son was alive and well. He asked them when the boy had begun to get better, and they replied, "Yesterday afternoon at one o'clock his fever suddenly disappeared!" Then the father realized that that was the very time Jesus had told him, "Your son will live."
-The Gospel of John 4:46-53
As Jesus approached Jericho, a blind beggar was sitting beside the road. When he heard the noise of a crowd going past, he asked what was happening. They told him that Jesus the Nazarene was going by. So he began shouting, "Jesus, Son of David, have mercy on me!"
"Be quiet!" the people in front yelled at him.
But he only shouted louder, "Son of David, have mercy on me!"
When Jesus heard him, he stopped and ordered that the man be brought to him. As the man came near, Jesus asked him, "What do you want me to do for you?"
"Lord," he said, "I want to see!"
And Jesus said, "All right, receive your sight! Your faith has healed you." Instantly the man could see.
-The Gospel of Luke 18:35-43
As soon as Jesus heard the news, he left in a boat to a remote area to be alone. But the crowds heard where he was headed and followed on foot from many towns. Jesus saw the huge crowd as he stepped from the boat, and he had compassion on them and healed their sick.
-The Gospel of Matthew 14:13-14
One thing is clear from these passages. Jesus wanted people to be well- the rich, the poor, and those of the general populous.
So what would Jesus' stance be on healthcare were he alive today?
Based on the accounts above, do we see Jesus healing people based on their social status, income, or geographic location?
According to The Gospels, the answer is "no."
Can we assume that he would do the same today?
If so, maybe those of us who call ourselves "Christian" should imitate that with the policies that we support, for
"Jesus Christ is the same yesterday, today, and forever."
If The Bible (especially The Gospels) are something you don't believe in, that is fine. But if you do believe in them, my strong question to you today is, "Do your politics align with your beliefs about Jesus?"
A Christian is, by definition "one who believes in the teachings of Jesus Christ," and the life of Jesus teaches us that he wanted all people to have ready access to healing.
Calling all HuffPost superfans!
Sign up for membership to become a founding member and help shape HuffPost's next chapter