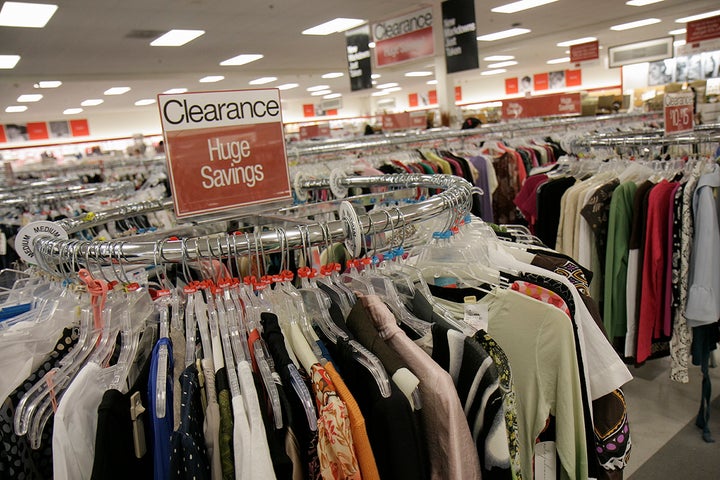 Designers are renowned for their bold political statements – from Tommy Hilfiger's use of white bandanas on the runway this year to fashion designer Tracy Reese's advocacy for Planned Parenthood.
However, many clothing brands and manufacturers choose a more subtle route by speaking with their wallets.
During the 2016 election cycle, the clothing manufacturing industry spent $6.8 million on political candidates. Cintas Corp. ($1.3 million), Global Brands Group ($799 million), Calvin Klein Studio ($501,000) and Vera Wang ($393,000) were the biggest spenders.
In the 2012 cycle, Republicans garnered 53 percent of the industry's contributions versus 46 percent for Democrats. For the 2014 midterms, the industry gave the two parties nearly an equal share of its total contributions.
The 2016 election cycle was a break from the general trend, as 73 percent of the industry's donations supported liberal candidates and three of the top four donors contributed exclusively to Democrats.
While the clothing industry's support for the parties is typically evenly split, most clothing companies are noticeably partisan. Often, companies give 100 percent of their overall contributions to one party or the other.
In the 2016 cycle, 12 of the top 20 contributors gave entirely to one party — 11 for Democrats; one for Republicans. And of the top 20 contributors, each company gave at least 70 percent of its contributions to one party. Only Guess? Inc. was the exception.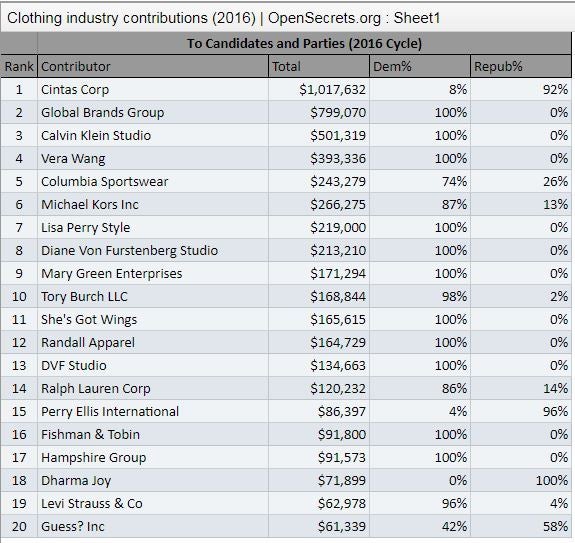 Delving into specific company examples further showcases this partisanship.
One hundred percent of the $389,000 spent by Vera Wang and employees affiliated with Wang was also given to Democrats last election cycle, with Wang giving the Clinton campaign $5,400 – the combined maximum an individual can contribute to a candidate for both primary and general elections.
The same degree of partisanship could be said of clothing industries who are supportive of Republican Party candidates or committees. In 2016, the Miami-based Perry Ellis International donated nearly exclusively to the Republicans.
Cintas, a large manufacturer of corporate uniforms among other products, was the largest contributor in the 2016 cycle. Of the $1.3 million spent by Cintas, 92 percent of it went to Republican candidates. Over the last five years, former CEO Richard Farmer has donated $328,000 to various Republican Party committees while current CEO Scott Farmer has added $151,000, according to FEC filings.
So far in the 2018 cycle, contributions by clothing manufacturers continue to be partisan, with nearly all of the top 20 contributors donating solely to one party or the other.
However, some non-designer-wear companies, such as American Apparel, Columbia Sportswear and The Hampshire Group, appear to be less notably partisan.
Columbia Sportswear gave nearly $47,000 to the National Republican Congressional Committee and $33,000 to the DNC Services Corp in 2016. American Apparel, too, appears to be a supporter of both parties as its PAC has donated to predominantly Republicans, while Dov Charney, its CEO, has donated to Democratic Party candidates.
The Hampshire Group, a men's clothing manufacturing company that filed for bankruptcy in 2016, was historically a staunch Democratic Party supporter but has so far donated only to Republicans in the 2018 election cycle.
Hampshire's former director Stevan K. Hill, who has donated the majority of the company's contributions, said the Republican Party's economic policies were the major reason for his shift in political support.
"Frankly, their regulations are better for small businesses, especially with the potential NAFTA renegotiations," Hill said.
Contributions by Guess? Inc. has also become increasingly divided, with 42 percent of its $61,000 contributions going to Democrats and 58 percent to Republicans in the 2016 election cycle. But like the Hampshire Group, Guess' contributions have not always leaned Republican. Until 2010, nearly all of the company's contributions went to members of the Democratic Party or the party itself (with the exception of the 2004 election). In 2012, however, Guess gave nearly equal amounts to both parties, and in 2014, all contributions went to the Republican Party. This shift may be attributed to the change in the donation habits of Guess cofounders Maurice and Paul Marciano, who have in recent years donated increasingly to Republican candidates and Republican Party committees.
Despite a few companies' bipartisan leanings, the industry as a whole remains strikingly partisan, and their strong stance on politics is a reminder that our choice of clothing can be a political statement.