President Barack Obama welcomed His Holiness Pope Francis to the U.S. during a White House ceremony, and I was there.
The experience was full of emotions. While of course I was excited to just see the pope and the president from a distance, I was also excited and curious to hear what His Holiness would say.
Pope Francis did not disappoint. His words of inclusiveness, justice, reconciliation and freedom resonated with me.
Mr. President, together with their fellow citizens, American Catholics are committed to building a society which is truly tolerant and inclusive, to safeguarding the rights of individuals and communities, and to rejecting every form of unjust discrimination.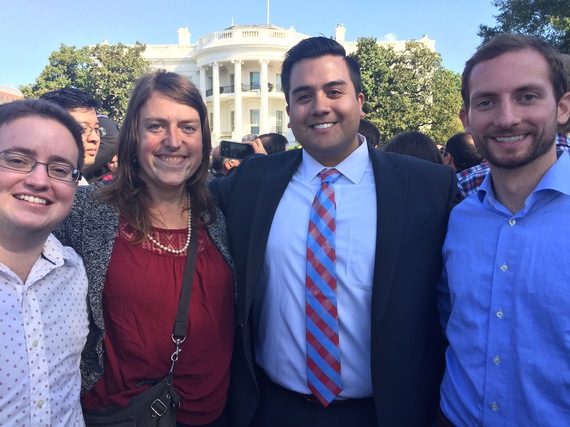 "LGBT. Catholic. Proud." -- I was fortunate enough to witness history with these inspiring men and women of the LGBT community. (From left: Mateo Williamson, of Dignity USA's Transgender Caucus, Vivian Taylor, a transgender activist, and Michael Tomae, founder of Owning Our Faith, an activist group for LGBT Catholics.)
His words served as a reminder to how he brought me back to the Church. Pope Francis has encouraged all Catholics to be more tolerant and inclusive, and I have witnessed that every Sunday at mass. That is why I return each week and why I hope to have a family someday that can be involved in the Church.
Pope Francis recognized the importance of family and its meaning in the modern world during his address to Congress.
Fundamental relationships are being called into question, as is the very basis of marriage and the family. I can only reiterate the importance and, above all, the richness and the beauty of family life.
Listen to how he says this. Pope Francis did NOT say that same-sex marriage cheapens or lessens the family dynamic. He focused on what truly matters -- the richness and beauty of family life. His Holiness went on to even address the troubles of the young.
For many of them, a future filled with countless possibilities beckons, yet so many others seem disoriented and aimless, trapped in a hopeless maze of violence, abuse and despair. Their problems are our problems. We cannot avoid them. We need to face them together, to talk about them and to seek effective solutions rather than getting bogged down in discussions.
Hearing these words made me smile. I remember being 13 and struggling with understanding my sexuality. I remember being scared and not having anyone to talk to. I remember thinking I was alone and forcing myself to avoid my problems.
We can prevent younger generations from ever feeling that way. We just need to work together.
His Holiness gives me hope, strength and courage.
Hope that I will continue to feel welcomed and embraced in the Catholic Church.
Strength to keep pursuing my relationship with God even when it can be difficult, doubtful or confusing.
Courage to share my experience with others so that we can support one another and learn, together, that we don't have to abandon who we are for our faith.
Pope Francis truly is the pope of inclusion.
My name is Aaron Jay Ledesma.
I'm from Houston, Texas.
I'm Catholic.
I'm gay.
I'm me.
Calling all HuffPost superfans!
Sign up for membership to become a founding member and help shape HuffPost's next chapter