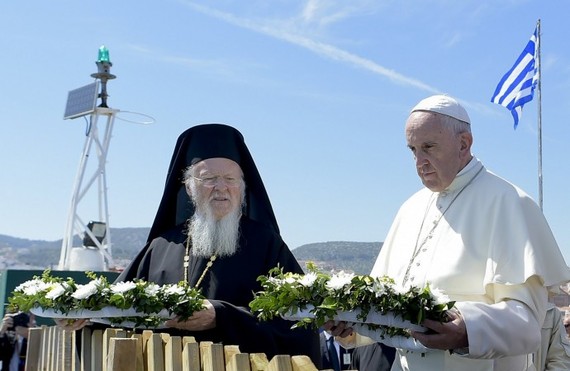 Pope Francis and Ecumenical Patriarch Bartholomew I, spiritual leader of the world's Orthodox Christians, in a prayer service on the Greek island of Lesbos (Credit: L'Osservatore Romano/Pool photo via AP)
Today, September 1st 2016, is a momentous occasion. All over the world, Christians from every major denomination are uniting in an official day of prayer dedicated to an issue of the utmost importance to all of us: our Earth, and the threats to its - and therefore our own - wellbeing. Indeed, the whole month of September and early October - known as the Season of Creation - will see a host of prayer services and other activities on the same topic. Pope Francis and Patriarch Bartholomew both just released very powerful statements warning of "the catastrophic world developments in environmental matters" and inviting us to "acknowledge our sins against creation, the poor and future generations."

These prayers are not taking place in a vacuum. The idea of praying for creation on September 1st was first introduced by the Orthodox Church in 1989, and several other Christian churches have followed since. In recent years these Christian churches have started celebrating the month-long Season of Creation (also known as Creation Time) running till October 4, which is the Feast of St. Francis of Assisi, author of the Canticle of the Creatures in the 13th century. It is no coincidence, however, that Pope Francis chose last year, just two months after his own Laudato Si' Encyclical on ecological issues and four months before the historic Paris Agreement on Climate Change, to announce that the Catholic Church would also participate.
Our planet is in an increasingly troubling state. Climate change, air pollution, contaminated water and wasted food all led the Pope to write in Laudato Si' that 'the earth, our home, is beginning to look more and more like an immense pile of filth' (21). Temperatures that were once considered extreme are becoming a dangerous new norm. July was the fifteenth month in a row to break the monthly temperature records. While Louisiana and India struggle to cope with devastating floods linked to climate change, temperatures in the Middle East this summer have been described as "hellish" and linked to an increase in the number of refugees and regional conflicts.
During this Season of Creation we pray for a solution to the root causes of this tragic climate injustice, namely the exorbitant consumerism of the richest billion and the harmful arrogance of many in the fossil fuel industry who look only for gain at the expense of the poor and the planet. As Pope Francis said in his message today to mark this day of prayer, "[t]he world's poor, though least responsible for climate change, are most vulnerable and already suffering its impact".

But prayer is also always part celebration. We live in a world of incredible beauty, and for that we should be thankful. Progress is being made to preserve our planet: more and more countries - including massive emitters of greenhouse gases such as China and the US - are turning away from fossil fuels like coal that contribute both to climate change and to respiratory diseases. Renewable energy sources such as wind and solar are becoming so cheap that they are starting to compete with non-renewable sources in many parts of the world, and the record amounts of money invested in renewables in 2015 reflects this.

Since 196 countries concluded the Paris Agreement on Climate Change in December 2015, this transition has only gained momentum. Christians have not shied away from doing their bit: figures released today show that more than 3,500 UK churches have either switched their electricity from fossil fuels to renewables or registered to do so. The recent Laudato Si' Week campaign, organised by the Global Catholic Climate Movement which I serve as Global Coordinator, was joined by thousands of Catholics in all continents who celebrated the Laudato Si' anniversary by greening their parishes, pledging to live more sustainably, divesting from fossil fuels and joining anti-coal mobilizations. However, with lives and livelihoods at stake, particularly in the poorest countries, the progress we have seen globally to date is simply not enough.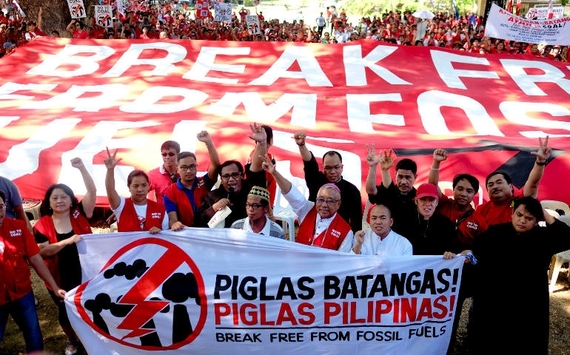 Archbishop Ramon Arguelles of Lipa, Philippines, center, joins more than 10,000 marchers against a coal plant. (Credit: 350.org/Veejay Villafranca/Institute for Climate and Sustainable Cities)

This is something the leaders of the world's 20 largest economies - the G20 - should have at the forefront of their mind as they gather in China from 4-5 September. The vast majority of these leaders are people of faith, and indeed many of them are Christian. They can rest assured that we will be praying that they, and we, may have the strength and courage to take the necessary action to preserve our planet and the most vulnerable. In the words of Patriarch Bartholomew's special message, "we recall the attention of all those in positions of power and every man on the need for the protection of the natural environment, which is in danger because of climate change".

Made up of the richest countries in the world and the largest emitters of the greenhouse gases that are causing climate change, the G20 must first of all deliver on those promises it has already made. Despite pledging to phase out inefficient fossil fuel subsidies way back in 2009, the G20 continues to pour an estimated $452 billion every year into supporting the production of fossil fuels, far exceeding the support given to renewables. When they meet in China, countries must put a 2020 deadline on the fulfillment of their pledge if it is to be taken seriously.

G20 countries were also instrumental in achieving the Paris Agreement, and continue to publicly praise it. None of the top emitters in the G20 have yet ratified the Agreement and allowed themselves to be bound by its terms, however. Swift ratification and immediate action must be forthcoming. The credibility of the G20's dedication to tackling climate change is again at stake.

In this momentous month, then, G20 leaders have their own opportunity to make history and protect the poorest by accelerating their response to climate change. Let us pray.
Related
Popular in the Community