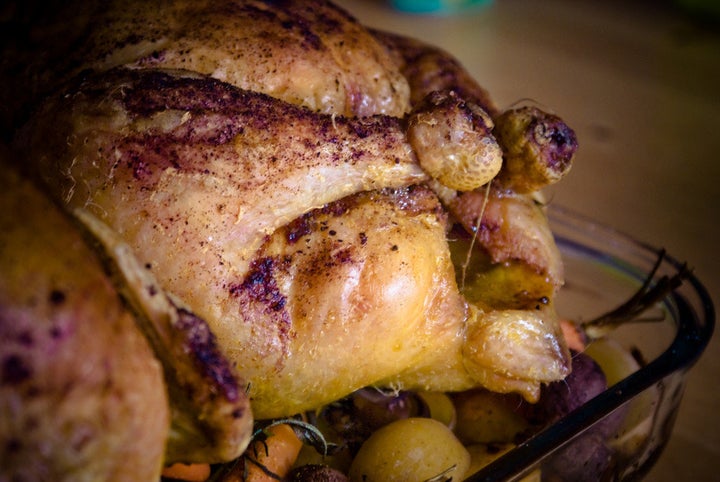 We all know that eating poultry is a good, lean source of protein, which is why it's a go-to meal for many of us. But chances are that you may be overlooking the most nutritional part of your bird.
A recent study released by the Nutrition And Dietary Studies Of America has found that the pygostyle -- the little heart-shaped flap covering the chicken's posterior, where the feathers of the tail gather -- is a nutritional powerhouse.
The pygostyle -- also known colloquially as the pope's nose, parson's nose or chicken butt -- is not only a great source of protein but has now been found to house a high concentration of iron and calcium. An average chicken breast provides eight percent iron and two percent calcium. But, the pygostyle, as small as it is, contains nearly 11 percent iron and eight percent calcium.
There's a bit of controversy over this part of the bird in the culinary world. Some chefs, such as Heston Blumenthal, feel that it's best to remove the pygostyle before roasting an entire chicken as they say it can impart a bitter flavor. Some home cooks simply overlook this body part not even aware of its existence (Is this true for you?). And yet others feel that it's a delicacy that cannot be missed.
Chances are though, that with this new finding, more people will be cooking and enjoying the pope's nose. And the best way to reap the rewards of this part of the bird is to roast your own. If you've never roasted your own chicken or turkey, watch the video below for a quick tutorial. If you're looking for a little inspiration, we've gathered a handful of our favorite roast chicken recipes below.
Oh, and by the way, April Fools! We know of absolutely no evidence indicating that the pope's nose is nutritious. Happy April First!