An old Italian dish is inspiring a new trend here in L.A. You'll find it at some of the finest restaurants in town, as well as a local butcher and even a food truck. It's porchetta (pronounced por-KEH-tuh) -- and for the uninitiated, it's a traditional dish from central Italy; a moist boneless pork roast wrapped in fat and skin, heavily seasoned, spitted on a rotisserie and slowly roasted over a wood fire.
"Porchetta is a huge, huge seller at our shop," Amelia Posada of Lindy & Grundy butcher shop told me.
"We get requests for it during the winter months and especially around the holidays. Foodies, gourmands, whatever you call them -- folks who know and love great food are coming to order this. We have about a dozen Italians that shop regularly with us who swear by our porchetta," says Posada (a.k.a., "Shop Mama").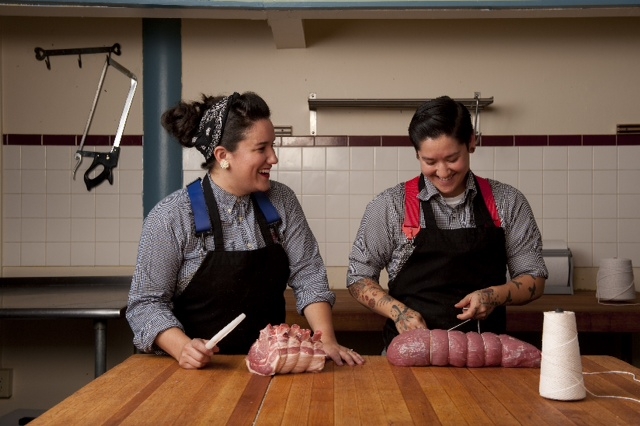 Amelia Posada and Erika Nakamura of Lindy & Grundy offer a Tuscan-style porchetta at their butcher shop. (Courtesy photo)

"We offer a traditional Tuscan style of porchetta, in which we debone the entire loin and belly section of the pig, and season it generously with salt, cracked black pepper, rosemary, fresh garlic and Italian fennel pollen," says Erika Nakamura (a.k.a., "Meat Maven").
"The skin is then cross-hatched, and we roll it up and tie it. We offer this cooked or uncooked. We also offer the porchetta unseasoned, for the home chef who wants to have fun seasoning it at home," she added.
Every Sunday, Lindy & Grundy throws something of a meat soiree, called Smokey Sunday, and while they offer something different each week, they've been known to offer a unique porchetta.
"[We] season it with our sweet and spicy house-made pork rub, then slather it with our homemade barbecue sauce," says Posada.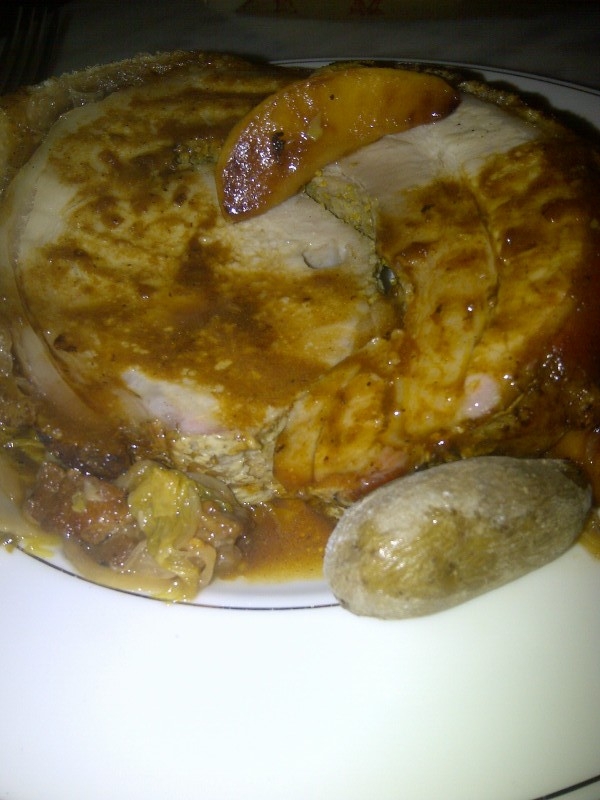 The Parish's porchetta is served with vinegar-braised cabbage, caramelized apples and salt-roasted baby potatoes. (Photo by Scott Bridges)

The porchetta craze is also underway at The Parish, in downtown L.A., which was recently named one of Zagat's Top 10 restaurants in the world. Chef Casey Lane was receiving a hog and a half between his two restaurants (the other being Venice's The Tasting Kitchen) and decided to get creative with his wood-burning stove. He is currently serving his unique version of the Italian pork roast every Tuesday evening.
I asked the chef how he seasoned his porchetta.
"We use a lot of fennel pollen," says Lane. "We use mortared garlic, kosher salt." He says that because he uses a big piece of meat, he uses a lot of salt. "Maldon salt, next -- it's what we use on most meats ... random seasonings here and there," (perhaps protecting his proprietary blend) adding, "cracked pepper, and cured overnight."
It turns slowly over a wood fire for six hours, he says.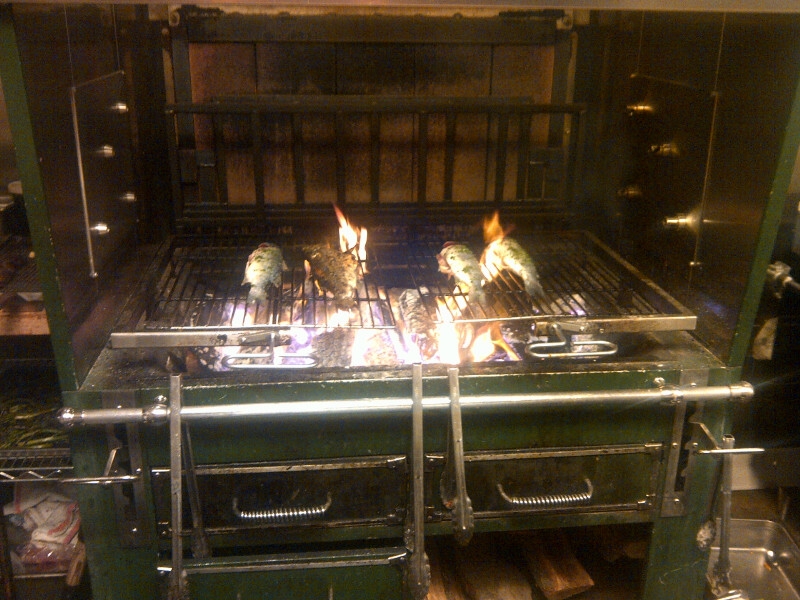 The wood stove at The Parish, where porchetta is cooked for six hours. (Photo by Scott Bridges)
The roast, layered ring-like is progressively fatter and juicier until it reaches the crispy, charred skin layer, and is served alongside vinegar-braised cabbage, caramelized apples and salt-roasted baby potatoes. Throw in some Brussels sprouts, grilled rapini, celery root mash or caramelized green beans, and it's more than most appetites can handle. But, fear not, it heats up nicely the next morning.
Another chef who has put porchetta on the menu is Jason Mattick of Santa Monica's Milo & Olive. The Mediterranean-influenced restaurant offers a breakfast sandwich of thinly sliced porchetta, arugula, a touch of maple syrup and a fried egg on a flaky croissant. Frankly, it's as good a breakfast sandwich as I've ever had.
Mattick, who describes his porchetta as "simple" and "rustic," relies on almond wood his oven, which heats to between 550 and 600 degrees. It is over this fire that roast cooks for six hours.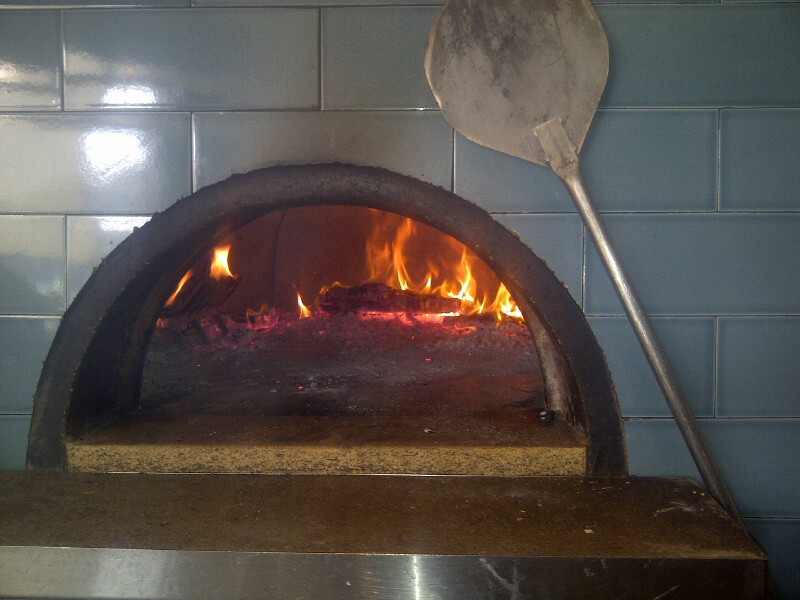 Chef Jason Mattick uses almond wood to fire his oven at Milo & Olive. (Photo by Scott Bridges)
He seasons his porchetta with rosemary, crushed red pepper, roasted garlic, Italian fennel pollen and, of course, plenty of salt and pepper to create a tender and flavorful meat with a touch of spice.
At Pecorino in Brentwood, brothers Mario and Raffaele Sabatini do their porchetta a little bit different. Chef Raffaele used to live in Rome, where the dish is very popular, and he says that preparing it is like a trip back home.

Chef Raffaele Sabatini uses leg of pork for his monthly porchetta dinner at Pecorino. (Photo by Scott Bridges)
The chef starts with leg of pork with the skin on. The meat is punctured throughout and it is covered and filled with a mix of ground spices including rosemary, bay leaves, black pepper, oregano and salt. The seasoned pork sits for four days and then it is baked for about three to four hours, depending on its size, at 300 degrees Fahrenheit. It is hand-sliced and served with sautéed spicy broccoli rapini. Mario recommends a pairing with an earthy Italian red like a Cantine Mucci.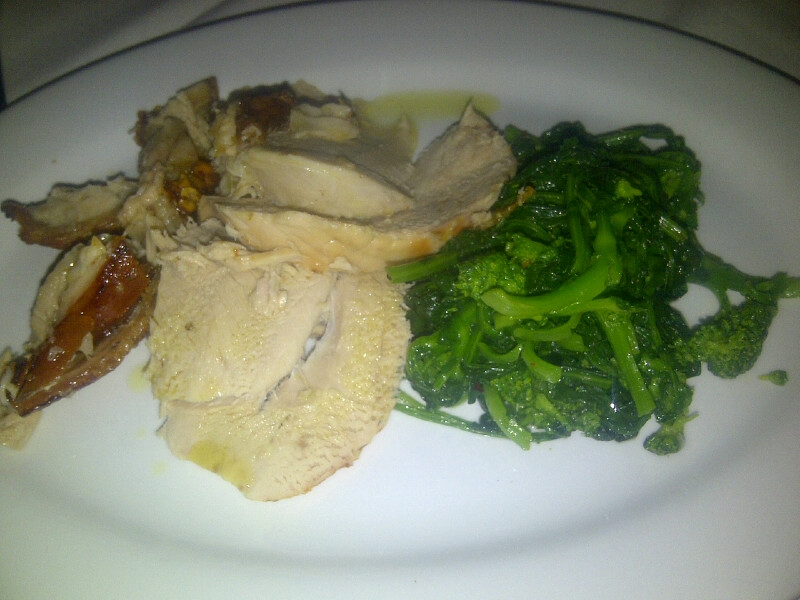 Hand-sliced porchetta with sauteed spicy broccoli rapini at Pecorino. (Photo by Scott Bridges)
Meanwhile, at Cecconi's in West Hollywood, Executive Chef Andrea Cavaliere came up with the idea of serving porchetta on a wood-fired pizza. The porchetta at the Venetian-style restaurant is sliced razor thin and has a slight smokiness. The meat is accented by wild mushrooms and Tallegio cheese, and the crust is cracker-crisp and ever so slightly charred.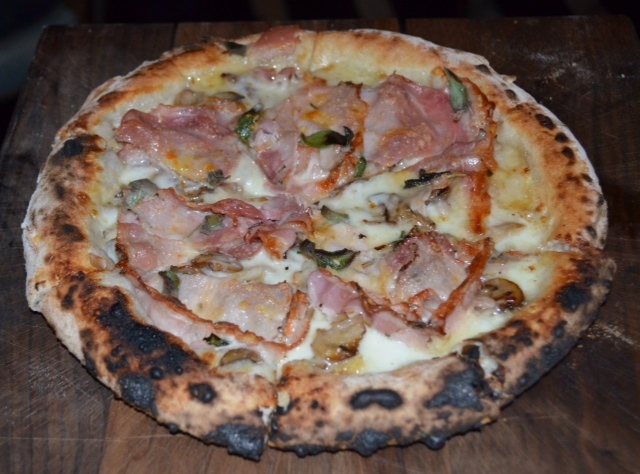 Cecconi's Porchetta Pizza with Wild Mushrooms and Tallegio Cheese. (Photo by Lynne Tucker)
In the artsy Helms District in Culver City, Chef Evan Funke of Bucato Restaurant has begun sending its food truck to the streets, and offering a traditional Umbrian-style porchetta sandwich. Funke reportedly sold 120 sandwiches in an hour in Santa Monica, so expect a line. I'm in the process of tracking down the truck, which isn't currently operating on a regular schedule, following @BucatoLA for updates of its whereabouts.
Funke recently showed up at the popular new This is Not a Pop-Up temporary restaurant held at Hollywood's Four Square restaurant space, where he served up his Porchetta di Bucato Disordinato to a crowd of enthusiasts.
The chef also offered an unusual take on the dish. His Ricci di Mare "in Porchetta" featured sea urchin with pork crackling and lardo, seasoned with lemon, rosemary and wild fennel.
These are just a few of the restaurants around town that offer this special dish. But don't be surprised if you notice it popping up on more menus in the very near future.
Popular in the Community