My list of the "Top 50 Most Social CIOs in Higher Education" includes 14 women. Because that seemed low to me, I spoke with #8 on the list, Melissa Woo, Vice Provost for Information Services and CIO at the University of Oregon (UO) for her view. Melissa is on the Survey Advisory Board of the Center for Higher Education CIO Studies (CHECS), which conducts an annual survey of CIOs in higher education. The results of the 2013 CHECS survey are consistent with the proportion of women on my Top 50 list. Looking deeper into the survey data, Dr. Wayne Brown, the founder of CHECS, feels the percentage of female CIOs in higher education is poised to increase. This is based on leading indicators like the percentage of Technical Leads who are women.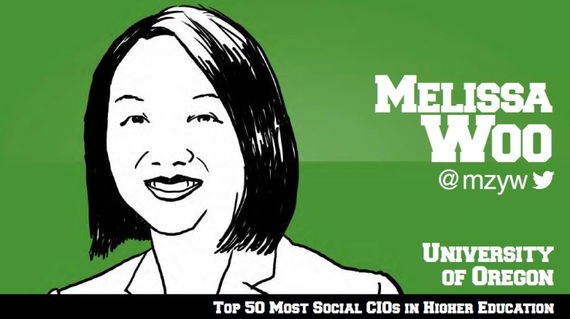 Melissa Woo, CIO - University of Oregon
What effect will an increasing number of women in higher education CIO positions have on the transition of the CIO to a more social leadership role? The Qualities that Distinguish Women Leaders, a recent study by the management consulting firm Caliper, found women leaders to be stronger in interpersonal skills than their male counterparts. The study reported that the profile of the woman leader is "... much more conducive to today's diverse workplace, where information is shared freely, collaboration is vital...". The skills that the study talks about are the very same traits that are critical for social networking success.
There are, of course, plenty of empathic, open male leaders, just as there are certainly female leaders who can improve their collaboration and innovation capabilities. However, the results of the Caliper study are consistent with other sources such as Psychology Today's Why Women May Be Better Leaders Than Men, Harvard Business Review's Why Do So Many Incompetent Men Become Leaders?, and 8 Traits Every Male Leader Needs to Learn From Women. The evidence from these and other studies is that women leaders outperform their male counterparts in emotional intelligence, are more empathetic, and excel at networking and use of social media to support their connections.

What does this mean for the future of the social CIO in higher education?
CIOs need to be more engaged with social media. As Tom Catalini, CIO of Boston's Museum of Fine Arts, notes in CIOs and Social Media, social media is changing how businesses (including higher education) work. In order to speak to other senior leaders intelligently about the benefits and uses of social media, one has to engage in it and experience it -- simply reading about social media doesn't provide the same level of insight as immersion does. The benefits of social media for CIOs is something that all business leaders must understand.
Women leaders tend to be more open, share more freely, and make good use of social media. As the number of women CIOs in higher education increases, we can expect greater engagement of campus communities through social media. CIOs will be reaching out to solicit feedback more frequently, and share information with students, faculty, and staff more openly and freely through social media. There will likely be more crowdsourcing of decisions about campus technology services, as well greater collaboration and teamwork exercised when adopting technologies. CIOs, collaborating with Chief Media Officers, will lead their campuses to reach out to prospective and current students, faculty, and staff through social media. The new social CIOs will not only engage their campus communities more, but will be better able to leverage the collective intelligence of an extensive network of colleagues discovered through social connections. The stereotype of the introverted IT geek as CIO will diminish, changing the image of the CIO on campus to one of a communicative collaborator. Is the ivory tower of academe ready for the new social CIO?
Although gender stereotypes can often pose a barrier, some stereotypes may be of benefit in fostering interactions with students, faculty, and staff. As the head IT geek, the CIO is sometimes perceived as an intimidating individual holding the reins over very technical resources that everyone needs. As women, Melissa and her female colleagues feel they are accepted by faculty as collaborators more readily than their male counterparts, because they are seen as more open and collaborative, and perhaps less threatening.
Woo noted that at University of Oregon, the central IT organization had been marginalized for a number of years, and a lack of trust in its ability to serve campus had built over time. Melissa, who is relatively new in her CIO role there, has been leading an effort to improve openness, transparency, and communication through various methods, including social media, as a means of improving the organization's image. She uses Google+, Twitter, and LinkedIn to engage others on topics ranging from higher education IT issues, to leadership and management, to educational and research technologies, to life in Eugene, Oregon. Web-based communication avenues are being used to spread the word about notable IT accomplishments, upcoming initiatives, and current status of operating services. The initial feedback on this new openness has been very positive, and is encouraging the organization to look for more ways to harness the power of social.
In addition to gaining greater social savvy, the UO IT organization is also driving increased teamwork both internally and externally. Whereas the traditional IT approach relies on individual problem-solving and competition, today's more complex, integrated technologies demand collaboration and partnership. It's still too early to determine if the initial efforts will lead to greater success, but in order to be successful, IT professionals of both genders have to adopt the collaborative style often attributed to female leadership.
The changing mix of men and women, as well as transitioning from traditional to new approaches to IT support, has its share of challenges. Melissa often finds it difficult to convey the need for empathy towards other viewpoints in order to inform decisions. There are continual challenges in helping other IT professionals understand why there is a strong emphasis on strategic communication. There is perhaps a fear that these new approaches dilute the nuts and bolts task of delivering technology services to campus. However, increased attention to communications, teamwork, and empathy -- typically feminine traits -- are the tools that now must be added to the IT staff toolkit.
There is still a long way to go to improve diversity, and not just gender diversity, in order to transition IT into the future. Melissa relates that a few months ago, as members of the UO central IT leadership team were beginning to convene a meeting, one of the male leaders looked around and remarked, "This wouldn't have happened ten years ago... but, right now I'm the only man in this room." What will the next ten years bring?
This post was co-authored by Melissa Woo. Melissa can be found on Twitter, Google+, and LinkedIn, sharing info about higher education, leadership, and life in Eugene, Oregon.
REAL LIFE. REAL NEWS. REAL VOICES.
Help us tell more of the stories that matter from voices that too often remain unheard.