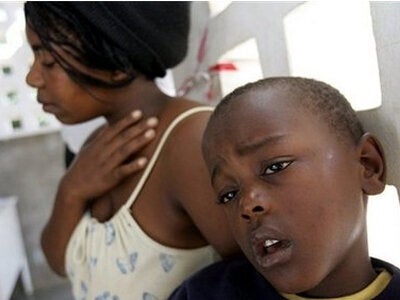 The World Health Organization, global health community and political leaders worldwide have responded with commendable speed and efficiency to the swine flu virus sweeping the globe.
That has me wondering, though, why an equally (if not more) devastating illness continues to receive comparatively little attention: diarrheal diseases, which kill approximately 2 million children under the age of five in developing countries each and every year.
What if we responded with the same urgency?
Diarrheal diseases -- cholera, rotavirus, shigellosis, and others -- are the second leading killer of children under the age of five in the developing world (pneumonia is #1). Diarrhea actually kills more young children around the world than malaria, AIDS and TB combined.
Worse yet, this is the case even though we have many solutions that are easy and affordable, and that could be deployed today to save millions of infants and children.
At OneWorld Health, we are working on developing unique new treatments to complement traditional approaches for fighting diarrhea. Collaborations like the one we have with Roche, granting us free access to their pharmaceutical compound library, will allow us to assemble a portfolio of product candidates to address various aspects of diarrheal diseases, with a special focus on treatments for infants and young children.
These partnerships are extremely valuable and crucial if we are to make the goal of reducing child mortality a reality.
Awareness and advocacy are equally critical. Not long ago, many of us in the US weren't paying much attention to malaria. Now, thanks to the malaria community's relentless advocacy, we are engaged in a myriad of campaigns and efforts to eradicate this scourge.
We can all learn from the success of efforts to eradicate malaria, and we must do the same for diarrheal diseases to prevent millions of needless deaths each year.
That's why OneWorld Health is proud to join our colleagues from PATH, WaterAid America and other groups across the health and development communities in a Call to Action -- imploring the international community to take actions necessary to stop the wholly preventable deaths caused by diarrheal diseases.
Diarrheal diseases don't have to be a top killer of children in low income countries. We already hold in our hands cost-effective and proven solutions for preventing and treating diarrhea.
With more resources and effective implementation of available health, water and sanitation solutions, we can save millions of children right now. That diarrhea remains a leading cause of death among children around the world exemplifies the urgency of reinvigorating efforts to improve child health and human development.
Please join this effort and help OneWorld Health prevent and treat a senseless killer.
We have the ability to stop diarrheal diseases. What we need is the public and political will to do it.
Calling all HuffPost superfans!
Sign up for membership to become a founding member and help shape HuffPost's next chapter