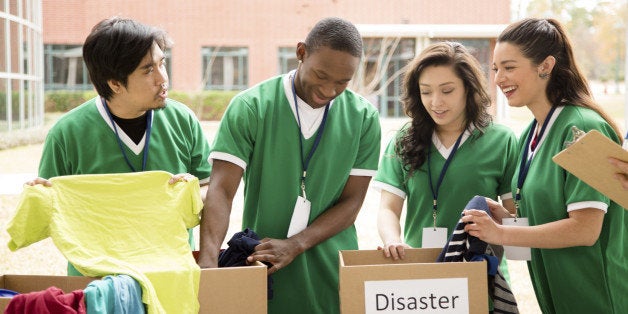 This week's 20th anniversary of AmeriCorps marks an erosion of the program's bipartisan consensus. Five years ago, Senators Ted Kennedy (D-MA) and Orrin Hatch (R-UT) passed the widely bipartisan Serve America Act, authorizing AmeriCorps' expansion to 250,000 volunteers. Today, the House Republican budget proposes to zero-fund the program and eliminate the Corporation for National and Community Service (CNCS).
Many in the national service community now believe this issue is the latest casualty of polarization in Congress. However, Millennial social entrepreneurs, impact investors, and policymakers are forging a different path forward on national service, creating a new space for "post-partisanship" -- that is, instead of left or right, the best of both worlds.
First, let's establish that the Millennial Generation, the primary participants in AmeriCorps, is a Service Generation. Millennials lead our nation with the highest service rate of any generation, according to the National Conference on Citizenship. The latest Millennial Impact Report similarly found that 97 percent of us want to use our skills to help a cause.
But as a generation deeply rooted in entrepreneurial culture, we don't expect all the solutions -- or all the funding -- for service to come from the federal government. Instead, we prefer multi-sector, bottom-up, impact-driven approaches. We want to see the work get done, whether the funding is public, private, or both. With that Millennial pragmatism in mind, below are two emerging, post-partisan approaches to national service that deserve more attention:
Social Impact Bonds

: Social impact bonds (SIBs), or "Pay For Success," are an innovative financing mechanism in which governments utilize outcomes-based contracts with private impact investors to fund social programs. With this arrangement, every public dollar goes towards programs that have

already

worked, saving taxpayer money and rewarding private investors for contributing to the public good. This year's budget for CNCS includes a $14 million "Pay For Success Demonstration" using the SIBs model for national service programs. The idea is gaining traction in Congress too. Representatives Todd Young (R-IL), Joe Kennedy (D-MA), and other members of the bipartisan Congressional Future Caucus -- the Millennial-led caucus in Congress -- have sponsored the first federal legislation on SIBs to reform a range of social programs with this model.
Social Innovation Fund:

In 2010, the Social Innovation Fund, housed in CNCS, introduced an evidence-based, public-private match program to find the most promising community solutions and scale what works across the country. This model requires intermediaries and grantees to achieve at least 1:1 matches from nonfederal sources and employs the type of rigorous evaluation found in businesses subject to market forces. Since the program's inception, $177.6 million in federal grants have leveraged $423 million in private sector match commitments to invest in demonstrated nonprofits working in low-income communities. This program represents an emerging shift towards awarding federal grants based on results instead of familiarity, which promotes innovation in the social sector.
Both models call for solutions from outside Washington and leverage private capital to scale effective service programs. These programs are post-partisan because they are not watered-down, mushy bipartisan compromises. Rather, they take great ideas from the left and right and simultaneously advance the aims of both sides (expanding social programs and deploying market-oriented solutions). That's why conservative think tanks such as the American Enterprise Institute and progressive ones like the Center for American Progress voice support for these proposals.
Of course, some established national service programs already leverage tremendous private sector resources from relatively minimal federal investment. Take Teach For America (TFA), for example. In fiscal year 2012, TFA received over $211 million in private funds for $61 million in government grants. Habitat For Humanity was $192 million to $74 million in private-public financing.
Applied to challenges like youth development and early childhood education, these innovative partnerships multiply the scale of investments in the short term, as well as reduce the burden on the government safety net over the long term.
Beyond the policy frameworks and economic returns, national service should be post-partisan for another reason: it connects us to our common civic values. I had a profound personal experience with service growing up in Milwaukee. In the most segregated city in the country, volunteerism was one thing I found transcending the divides of race, class, religion, and political party. I realized the power of service to not only impact the lives of others, but to also bring people together through the act of serving.
At a time of historic polarization, a Millennial approach to national service can harmonize conservative and progressive values and put our generation back to work rebuilding America. Our nation ought to empower this generation of policymakers, investors, and entrepreneurs to create a post-partisan future for national service.
Steven Olikara is the co-founder and president of theMillennial Action Project, a national organization dedicated to overcoming political gridlock through next generation, post-partisan leadership. He helped form the bipartisan Congressional Future Caucus, the first Millennial-led caucus in the U.S. Congress.
This post is part of a series produced by The Huffington Post and The Franklin Project at the Aspen Institute, in conjunction with both 9/11 (designated a national day of service & remembrance) and the 20th anniversary of AmeriCorps (9/12). The Franklin Project envisions a future in which a year of full-time national service -- a service year -- is a cultural expectation, a common opportunity, and a civic rite of passage for every young American. The Franklin Project is chaired by General Stanley McChrystal. To learn more about The Franklin Project, watch this video.
Calling all HuffPost superfans!
Sign up for membership to become a founding member and help shape HuffPost's next chapter