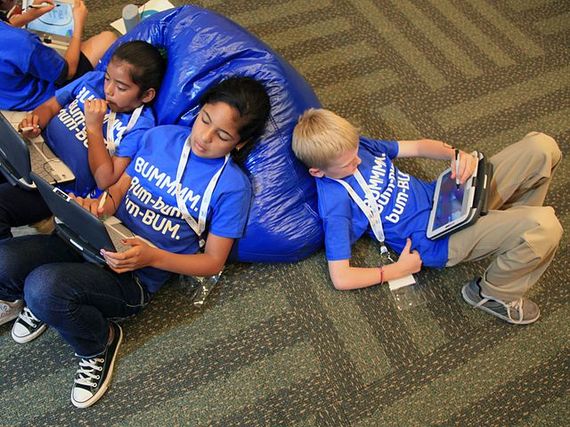 Bringing technology into a classroom awakens students to the world outside of it. A case study indicates that when technology is effectively implemented in schools, students become more engaged and are more likely to graduate; they attend more classes and gain marketable tech skills.
Today is Digital Learning Day, and it is rightly underscoring those benefits. But in the day's conversations about technology in the classroom, we must remember to talk just as much about the problems this digital learning push could cause if unfairly applied. A digital divide stands between our country's rich and poor students, and it's a divide that is perpetuating the already-dangerous inequities these groups find in post-high school educational and career opportunities. Digital learning holds promise for our students, but in many ways it will be doing harm if problems of technological access aren't solved.
Many teachers in low-income schools say they see the impacts of the digital divide all around them. In a 2012 survey by the Pew Research Center, nearly 40 percent of teachers of low-income students say their school is "behind the curve" in integrating technology as a learning tool, while only 15 percent of those teaching high-income students said the same thing. And more than 50 percent of teachers in low-income schools report that a lack of resources among students to access digital learning is a "major challenge." A Pew Research Center analysis of 2013 U.S. Census Bureau data found that roughly 5 million households with school-age children don't have high-speed internet access at home, and that low-income households - particularly those that are black and Hispanic - are disproportionately represented in that number.
The limitations that come with that unequal digital access extend far beyond students' classroom time. A student who hasn't grown up with the Internet is likely to be excluded from employment in the tech sector, one of today's most lucrative industries. And for a variety of reasons, that's just what we're seeing: a USA Today analysis in 2014 found that within seven Silicon Valley companies that released staffing numbers, only 2 percent of employees were black and 3 percent were Hispanic. In other words, many of the populations that would most benefit from high-paying tech jobs are unlikely to get there because of an experience that starts in grade school.
So how can we start to narrow this gap? Fortunately, Digital Learning Day 2016 is focused around exploring answers to that question. Throughout the day, live Twitter chats, webcasts, and Google Hangouts will engage experts in the topic of digital equity. A Federal Communications Commission representative will talk about the agency's proposal to support broadband access for low-income households and school districts serving poor populations will talk about the various ways in which they've tackled the digital divide.
Teacher training in digital tools will need to keep apace with these other forms of support, and groups like Code.org, a nonprofit founded in 2013, offer technology trainings to teachers and their students.
The promise of digital learning is real, and I know that every single professor at the University of San Francisco believes in it just as much as the next. But we need to insist on making sure that that promise is used not as a wedge to widen the gap between rich and poor, but as a step in self-advancement -- one wide enough to reach all students.
Calling all HuffPost superfans!
Sign up for membership to become a founding member and help shape HuffPost's next chapter