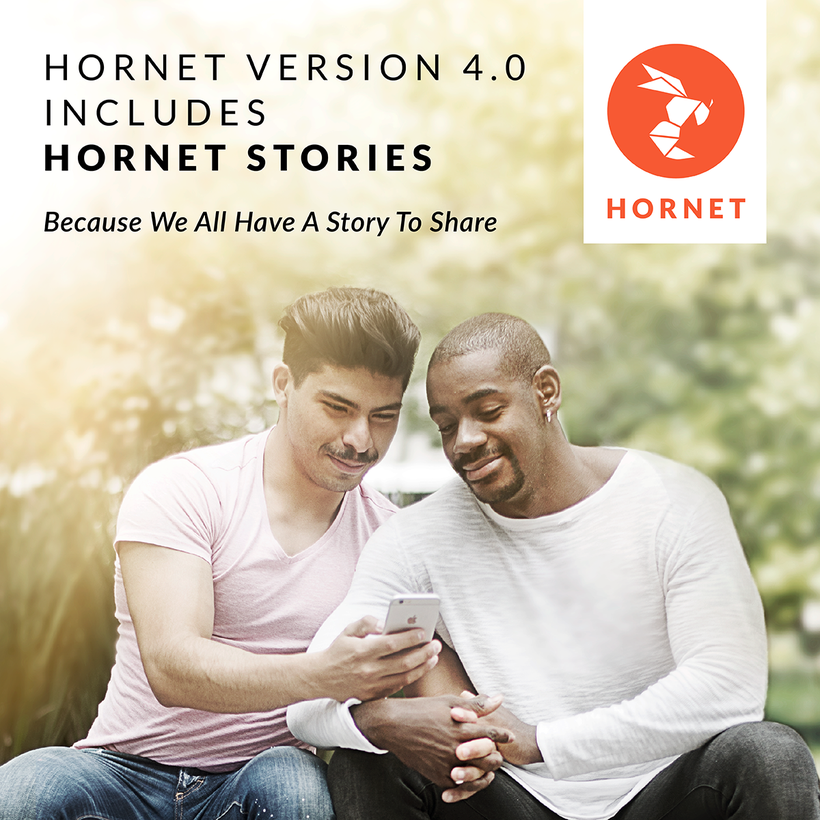 Our stories are at the heart of who we are as LGBT people. They give us a sense of history and culture, and they teach us that those who came before us kept our community alive. To tell a story conveys determination and resilience and to hear a story is to gain empathy and hope. Our stories are our power and Hornet strives to amplify that power. The debut of our Version 4 fully integrates Hornet Stories and makes them a fundamental part of the user experience.
We all have a story to share. It's how we tell the world who we are and what we've endured. It's a way to better understand one another and to find commonality. Our modern LGBT movement is founded in a story of queer people at a bar called Stonewall. They had enough of violence, harassment, and discrimination and wielded the audacious belief that they were human beings deserving of dignity and respect.
That story has inspired generations. A group of outcasts and misfits, mostly queer and trans people of color, found their strength in resisting a power structure that had criminalized and dehumanized them. That story has tremendous power as a piece of history but is profoundly relevant today as our community continues to struggles against hate and violence.
The world learned about the imprisonment, torture, and murder of gay men in Chechnya because survivors were able to tell their harrowing stories. Determined journalist and activists shared those stories in hopes of bringing an end to the atrocities but also to validate the experience of the gay men who endured such violence. A story is an act of bearing witness and of acknowledging that someone matters. The lives of queer people around the world have value and even if governments, religions, and families can't recognize that our stories can make it incontrovertible.
Our stories can expand the sense of who we are. They can shift culture and can change policy. The undocumented movement has made tremendous strides in the last few years by stepping forward and telling the world who they are. Queer undocumented people have shown the world the complex diversity of the immigrant experience.
They have put the humanity of immigrants front and center by telling stories of family, culture, and sexual and gender identity. The narratives they have constructed have functioned to dismantle the ugly lies of a right wing movement led by a president who pardons convicted racists. Undocuqueers have shown the world that human beings are not "illegal" and that a community can prevail when it rejects fear and accepts very real risks in hopes of strengthening the most vulnerable among us.
For over 36 years our community's story has been of an epidemic. An epidemic that decimated our community, robbed us of a generation, and forced us to confront the most despicable parts of humanity. But our story is not just about a plague or a virus or a government's failure. Our story is about a community that fought back and changed the world and ultimately survived.
The story of my entire adult life has been about HIV. As I continue to tell my story of a queer Chicano living with HIV I work to expand the modern narrative of the HIV experience. When the time came to create marketing videos that told the story of men making connections on Hornet I knew those stories had to reflect the experience of HIV-positive gay men. It wasn't just about telling my story but the story of all the poz guys I had chatted with online who had a question, wanted to hook up, or who simply wanted to make a connection with another HIV-positive guy.
Our stories change the world. They help people understand the nuance and complexity of our LGBT experience. The integration of Hornet Stories in Version 4 provides our community access to all kind of stories – stories that are funny, compelling, inspirational, or political. Everyone has a story to tell and now we have more ways to tell those stories to ensure they can have an impact on our world. What's your story?
Calling all HuffPost superfans!
Sign up for membership to become a founding member and help shape HuffPost's next chapter
This post was published on the now-closed HuffPost Contributor platform. Contributors control their own work and posted freely to our site. If you need to flag this entry as abusive,
send us an email
.