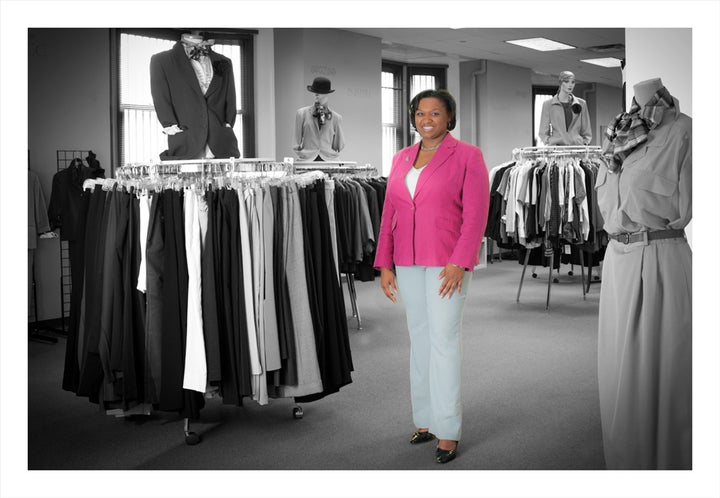 Guest Post by Sheri K. Cole, Career Wardrobe Executive Director
Were you one of the millions of women and men who pulled a pantsuit out of your closet last Tuesday to go vote? Perhaps you went to a resale store like The Wardrobe Boutique to buy a white suit to commemorate the suffrage movement while you cast your ballot for the first woman to be President. Even if you supported another candidate, did you smile as you stood in line with your neighbors dressed up for the occasion?
Do you remember how you felt walking into the polling place in your pantsuit?
Did you hold your head a little higher?
Did you speak a little clearer when asked your name by the poll worker?
Did you feel just a little bit better while going about your day?
You might be one of the few who still puts on a suit and tie or heels to go to work every day, or you might be someone who forgot that suit was hanging in the back of your closet. Surveys show that the majority of professionals are no longer required to wear a suit to work.
Still, you can't deny the power of a pantsuit.
As Executive Director of Career Wardrobe, a nonprofit organization that has been providing professional suits to women transitioning to work for 21 years, I followed the #pantsuit social media feed with a great interest because at Career Wardrobe, we understand the power of the pantsuit… we see it every day.
It won't change your skillset or your background, but the pantsuit we give to a job seeker at Career Wardrobe is a great equalizer.
The pantsuit makes her feel more confident in her ability to ace a job interview. And it helps him forget about his background for a moment and believe that he deserves a supervisor position.
If you felt that power the last time you put on your professional suit, please consider how you can give back to organizations like Career Wardrobe who are working to empower unemployed people in our communities every day.
Your donation of a suit doesn't just outfit a person looking for work… it EMPOWERS them to hold their head higher, speak clearer, and see a future of independence.
Don't have a suit to give or want to give more than a suit?There are so many ways to give back and do something powerful!
Volunteer! Have a few hours a week to give back? Bring your friends, colleagues or children with you to sort clothing donations at one of our monthly drives in Fairmount, East Falls or the Mainline. Sign up to volunteer!
Learn more about our work and how you can support people in your community at www.CareerWardrobe.org. Not local to Philadelphia? Find a group like Career Wardrobe in your community at www.ACDNonline.org.
Related
Popular in the Community