This week, on the heels of the 150th anniversary of the Battle of Gettysburg, 400 leaders from every sector of American life gathered there to rededicate themselves and the country to what Lincoln called "our unfinished work." America could use a civic shot in the arm.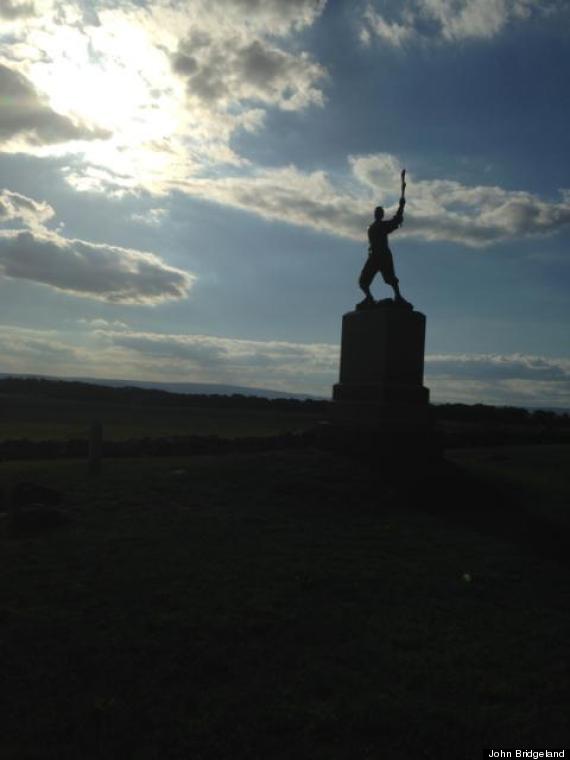 Surveys show that trust in one another and key institutions are at historic lows. Political leaders wage their ideological wars with little to show for it. Americans wonder if we can do big things together as a country anymore. It didn't start out this way.
Washington said, "When we assumed the soldier, we did not lay down the citizen"; Adams urged that our duty to serve our country ends but with our lives; and when Jefferson penned the mystical "pursuit of Happiness" with a capital "H", he meant the public happiness that we help one another achieve. They ended the Declaration of Independence with the words -- "we mutually pledge to one another our lives, our fortunes, and our sacred honor" -- transforming that charter of freedom into a declaration of interdependence.
Our Founders worried that in creating a system so strongly focused on rights, future generations distant from the sacrifices of the Revolution to secure those rights would neglect their duties. Again and again, Americans emerged to meet the test of their times -- for independence, to preserve the union, to save Europe, to promote civil rights, to build an interstate highway system to connect us, and more.
Today's easy citizenship does not require much of us. Taxation enables us to support common projects and voting to elect candidates that a majority supports. But there are far too few experiences that bring us together in shared community and national purpose.
At Gettysburg, General Stanley McChrystal, who commanded our troops in Iraq and Afghanistan and noted that for the first time in history less than 1 percent serve in our military, continued to inspire and lead an effort to make a "service year" for every 18 to 28 year old a common expectation and opportunity in America. The effort, spearheaded by his Franklin Project at The Aspen Institute, Voices for National Service, ServiceNation, and the National Conference on Citizenship, would not be mandatory or some big government program.
Instead, it would build on and work to expand the success of proven national service programs such as Peace Corps, VISTA, and AmeriCorps, including programs like Teach for America, Habitat for Humanity, YouthBuild, City Year and Global Health Corps, to give young people from different backgrounds, races, ethnicities, income levels and yes, political affiliations, an opportunity to work together for at least a full year. The new 21st Century Conservation Service Corps, a modern version of America's largest experiment in national service -- the Civilian Conservation Corps -- received a significant boost at the Summit at Gettysburg with Delaware North's multi-million dollar investment, in cooperation with the National Trust for Historic Preservation.
To ensure everyone could do a service year, regardless of income, a small living stipend would be provided, giving all of those who serve opportunities to deepen their connections to community, schools, employers and the country. Such service also has impact and has been effective in mobilizing mentors and tutors to the lowest-performing schools, cleaning up rivers and parks, helping veterans improve their transitions back from war, and more.
Cisco has stepped up -- and has challenged others -- to help build an innovative new technology platform that will connect young people with service year opportunities offered by nonprofits, colleges and community institutions and funded by the private sector, with local, state or federal support, or through individual crowd-funding.
Colleges are innovating to encourage a service year for accepted students before they start college or after they graduate and tying learning to their service experiences. The Lumina Foundation believes all learning should count, including a service year that can translate into college credit. A service year must be a pipeline to high-quality credentials and meaningful employment.
Nonprofits, such as the United Way, Catholic Charities, and the American Red Cross, are working to expand service year opportunities. And local and state governments, including through an innovative executive order from the Governor of the State of Iowa, are looking at how existing resources across departments and agencies and in partnership with the private sector can support more opportunities for Americans to help solve our public challenges.
When Joshua Chamberlain returned to Gettysburg in 1888 to dedicate the Maine Monuments, he echoed the words of Founder Benjamin Rush -- that when you serve today you connect yourself to generations past, many of whom died to protect our freedom, and to generations of the future whose world will be strengthened by the legacy of service we leave them.
Former Senator Harris Wofford, who closed the Summit by noting that Lincoln had a hard time finding his general and the Franklin Project was fortunate to have General McChrystal at the helm, said the two key words to inspire a generation are "ask" and "all." We need to restore that sense of unity and purpose and offer service year opportunities to a Millennial generation that is ready to get America moving again.
John Bridgeland and Alan Khazei are Co-Chairs of the Franklin Project at The Aspen Institute, which hosted, together with Voices for National Service, ServiceNation and the National Conference on Citizenship, the three-day Summit at Gettysburg this past week.
REAL LIFE. REAL NEWS. REAL VOICES.
Help us tell more of the stories that matter from voices that too often remain unheard.