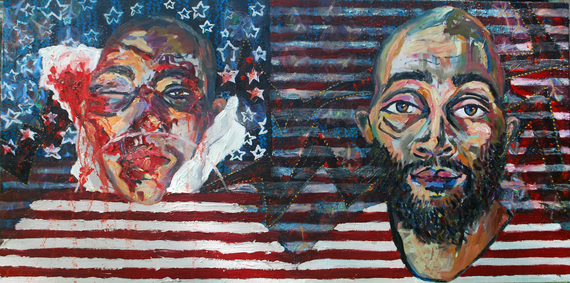 Before everybody loses their sh*t over this painting about police brutality, know that art can ask big questions and stir strong emotions for a reason. Images bypass intellect, and can transport us into another's world. Awakened and aware of another's experience, we just might be moved to become part of the solution. Let's help one another by being brave enough to understand one another. Art can help with that.
I 'm spelling out my intentions behind the painting like a magician explaining how a trick works because we are all trudging through the emotional carnage of recent events. I'd rather you find meaning through your own experience of the image without me saying anything. But the nuanced leap from What's that? to How do we make change? is near impossible with racial tensions fraying everyone's nerves.
The police shootings of Alton Stering, Philando Castile, and now the bloody retaliatory killings of 5 officers in Dallas and 3 in Baton Rouge leave us despaired. We're rattled just being in public in stores, restaurants, malls, crowds, always wondering if violence will erupt.
The police brutality painting is about finding peace by way of a reality check. It is the first in a painting series that will examine all voices – victims, families, police, community. The art project is called Art As Social Inquiry. The painting of Alex Landau is from ASI's War / Violence series.
The years have brought different reactions to my activist art. "STFU you lyin' OFA shill." (What's OFA? Had to Google it.) "F*** YOU!!!!" sent in a private Facebook message meant to intimidate. In person, people were not so free with their taunts as I discovered in 2012 when I demonstrated in front of the US Supreme Court and Capitol in Washington DC. Debate about the new healthcare law raged at the time. I stood with signs and portraits from Art As Social Inquiry's painting series, Healthcare in the US, to advocate for access to healthcare as a human right. I measured people's disdain for my message by how loud they yelled. But hey, 1st Amendment, free speech and all that. My line is not easily crossed. I will tolerate a lot.
Through it all, though, I have never been censored. Until now.
The untitled painting of Alex Landau before and after a police beating he received in 2009, after being stopped for an alleged illegal left turn, was enough for Facebook to deny my request to "boost" the post, a paid promotion to augment a targeted audience.
I interviewed Alex for this portrait in 2015. The picture for the brutalized Alex in the painting is from a photo Alex insisted be taken before he would let doctors "treat my broken nose, multiple lacerations and serious head injuries including a massive hematoma, a concussion, and a hemorrhage in my right eye. It took 45 stitches to control the bleeding. A doctor with a PhD in neuropsychology later diagnosed the hidden damage -- brain injury and PTSD." Here is an excerpt from my interview with Alex.
Nixon (police officer) headed toward the trunk. I took a couple of steps forward with outstretched arms to signify no ill intent, and again asked to see a warrant. In response, Officers Middleton and Murr grabbed my hands and arms, and placed me in a restraint. I was obviously immobilized. Nixon looked at me and said, 'You don't have your license.' He began punching me in the face. All three cops then began beating me with their fists, a police radio, and a police issue 'Mag' flashlight. I heard Murr yell, 'He's reaching for her gun.' As I struggled just to breathe, I yelled with every ounce of energy, 'No I'm not. No I'm not. I'm not reaching for anything.'
Paintings can make us feel what it might be like to suffer what the Alex-es of the world suffer. Others suffer, but we will not allow ourselves to empathize too much. Words, yes. But pictures, too upsetting. Social media honors those boundaries by censoring images like this painting.
What if we let ourselves feel and see others' suffering? We just might have to answer the call to participate in finding solutions. Our shared humanity will demand it of us. Yes, it will. We will suffer a crisis of conscience if we don't. So we avoid asking too many questions, and end up even more uncomfortable with circumstances and ourselves. Wanting to be part of the solution does not mean we abandon our lives for the cause.
Answering the call to act is personal. WE are the answer to the thoughts and prayers being offered after every human tragedy. WE are the instruments of change, large and small. One person's march on Washington is another's quiet admission at a cocktail party that she called her congresswoman to demand bad cops be removed from the force.
I paint Art As Social Inquiry's paintings to help us find our bravery to be truthful with ourselves, and to encourage us to become change agents. Our success is not measured by how big we respond, but that we listen to our sweet inner voices reminding us of our beautiful shared humanity, and act accordingly.
Popular in the Community