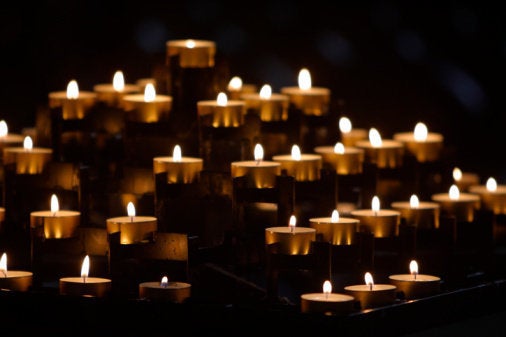 This post was inspired by an email I received from a reader regarding last week's blog, "The Power of Bearing Witness." He wanted to know how to bear witness to a friend who had died. When bearing witness to the living, it is essential to take our cues from them. However, when bearing witness to the deceased, we are guided primarily by our own hearts -- our love for them and our memories and knowledge of them. It is an action that while focused on the deceased is really for our own benefit. We need to know that they were sufficiently honored and that their memory will somehow live on through our actions.
For some of us, we cannot really let go until and unless we feel that the deceased has been appropriately honored. Whether this entails a Michael Jackson style memorial service extravaganza or a simple prayer is for each of us to discover. For many this is done through a traditional funeral and/or a memorial service or celebration. For others, it is the completion of an action that we know would have been important to the deceased -- something that is our very own way of saying goodbye and that it mattered that this person lived. Here are some specific examples:
My aunt died two and a half years ago, and I have been participating in a legal process to remove a tenant from her home who has been blocking all entry. As a result of his actions, I was unable to get her clothes for her funeral, to search the apartment for an original copy of her will, to remove my uncle's ashes, or to put her affairs to rest. I might add I am not a beneficiary of her estate and have nothing material to gain in this situation. This is a matter of honoring and respecting her. Seeing this through is my way of bearing witness to her.
My dear friend Joni lost her young husband unexpectedly. In addition to the funeral, she arranged to have a bench with a memorial plaque on it placed on the boardwalk near their beach house. For her, that is Manny's bench and she often sits there, imagining him by her side, watching the ocean together as they had so enjoyed.
My friend Arlene lost her husband several years ago. He was an accomplished artist. She is now writing a book about him and his work to keep his memory alive.
Another friend, Carol, strengthened the community of her husband's friends from near and far by writing a daily blog that bore witness to his journey to the end, inviting friends to send him messages that she read to him each day. Now that he has died, she continues to write about him, claiming and bearing witness to all the blessings he brought into her life.
Some families and/or groups of friends make donations in the name of the deceased or create an ongoing event in their memory. Whether it is a donation to his or her religious or spiritual community, or to research for the disease that brought about his or her death, the action is a tribute to the life lived by the deceased.
Whether in a group or as an individual, we can be creative in personalizing our tribute. I have a number of my mother's possessions in my home and none is more meaningful to me than a little turquoise and yellow rubber lizard. It sits on a bookshelf that I pass many times each day. It is there because sometimes it catches my attention and fills me with my mother's love and the memories of the silly game we used to play with it. I had found the lizard on the beach one year and when my mother was becoming less and less mobile, we invented and played a game where one of us would hide the lizard in plain sight on the first floor of our shared home and the other would have to find it. We played it because we loved and cared for each other. Now, I bear witness to her by letting that lizard flood me with her love as she lives on through me.
The point is that bearing witness to a deceased loved one is about doing whatever it takes for you to feel that you have done your part to preserve and honor his or her memory. Whether this is done in some form of private or public tribute, ritual or action, the point is that it allows you to feel complete with the person's passing and to carry forward the treasures they brought into your life while letting go of them.
The reader who wrote last week wanted to bear witness to all that was good and kind and loving about his friend. Prior to self-destructing, overcome by the tragedies of his own life, the deceased had lived a full, good and blessed life, bringing joy and love to all he met. Yet, in death he was scorned and rejected by most of the people he had so loved in his life. I think that one of the most powerful ways that this reader can pay tribute to his friend is by forgiving those who turned away from the deceased and were unable to keep their love for him alive. With this reader's permission, I am sharing this story with you. I invite you to share your ideas and inspirations about how this reader can best keep the memory of his dear friend alive and be at peace with his passing. I also invite you to share your own stories and ideas about how to bear witness to those we loved who have passed away.
As always, your comments below and emails to me at judithjohnson@hvc.rr.com are always welcome. Also, please share this article with anyone you think might benefit from it.
Related