If we needed another call to action regarding the transformative power of education - on individual lives and the world we live in - here it is.

In a just-released United Nations Educational, Scientific and Cultural Organization (UNESCO) report, education is cited as the catalyst for development, poverty reduction, nutrition improvement, health gains, gender equality and empowerment, water and energy sustainability, economic growth, inequality reduction, environmental protection and resilience, and promotion of peaceful, just and inclusive societies.
But across the globe, including even here in the United States, tens of millions of children don't have access to the most basic educational tool: books.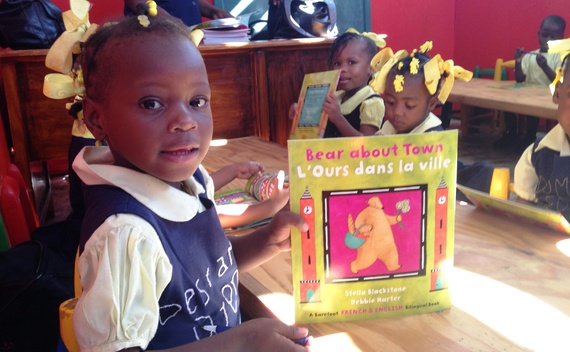 In 2013 at the Clinton Global Initiative, First Book, the nonprofit social enterprise that I lead, made a promise. A promise to work with partners and funders toward the goal of bringing millions of brand new books, digital resources and educational materials to children - especially women and girls - around the world.

To do so, we're building on First Book's 20+ year history of innovative, award-winning models that have enabled us to distribute 120 million brand new high quality books through the largest and fastest growing network of educators and programs serving children in need in the U.S. and Canada - currently numbering 140,000 strong.

Since making our commitment just one year ago, we've started to move the needle on our global outreach with big and small steps.
Launching Innovative Models Worldwide

We launched the First Book Global Marketplace, an expansion of our First Book Marketplace: an online site offering high quality books and resources at 50 - 90% off. Shipping is available to those serving children in need anywhere in the world.
This means that NGOs, schools, and others serving children in poverty can access the books and resources they need - to date, numbering more than 1,000 titles for children ages 0 - 18, including books in French, Spanish and English. The current titles include board books, hard cover and paperbacks, including more than 100 selections at $2.00 or less, and audio books, such as Nelson Mandela's Favorite African Folktales, with 32 folktales selected by Mandela preloaded on a portable, ready-to-play digital audiobook.

To date, NGOs have ordered books through the First Book Global Marketplace that have been shipped to Guatemala, Costa Rica, Senegal and the Marshall Islands. And we are continuing to add books and resources on an ongoing basis.

Empowering Educators with New Resources

First Book aggregates the buying power of educators and NGOs serving children in need, enabling us to elevate the voice of educators and provide the best quality resources. Signing up with First Book is free, with the only requirement that organizations serve 70% or more children in need. We are actively reaching out, directly and through partnerships, to connect educators and NGOs to First Book's resources.
Through a built-in feedback loop, organizations provide ongoing input on content to add to the site. In addition to the current titles available on the First Book Global Marketplace, in the coming years we plan to work with in-country publishers to carry books by local authors, and to expand the types of educational resources we carry.
We are also hearing from organizations that want help to raise funds for brand new books. For example, in Alexandria, Egypt, Bibliotheca Alexandrina used First Book's online fundraising tool, the Virtual Book Drive, to raise $1,300 to buy books on the First Book Global Marketplace for children in need in Egypt.
Leveraging the Power of Partnerships
Local and national partnerships are critical, both to understand and to meet the expansive global educational needs. We've worked with corporate, nonprofit and government partners to help further our understanding of needs in locations around the world, and/or to subsidize the cost of distributing books. This includes:
distributing more than 200,000 books and educational resources to teachers in India, thanks to support from Disney.
piloting an effort to bring books to children in Sierra Leone through School Without Boarders (SWB).
exploratory meetings in Colombia to build relationships for future work.
working with JetBlue to bring books to schools and nonprofit partners in Peru and Haiti.
expanding our knowledge and understanding of global needs by working with diplomatic representatives for South Africa, Jamaica, Senegal and the African Union Spouses.
launching a school library pilot project with Mil Milagros for schoolchildren in Chutinamit, Guatemala, enabling them to bring books home for the very first time. Through a grant from TD Bank, the school also trained five adolescent volunteers from the community to serve as school librarians, to help care for the books and promote reading with their younger siblings, cousins and neighbors.
While these efforts are a start, we have barely begun to address the vast need that exists around the world. An estimated 126 million young people cannot read or write a simple sentence.

Meeting these needs will take collaborative partnerships of all kinds: to bring the best, most culturally relevant free or low-cost resources, and to ship them where they are needed, to teachers and NGOs ready and able to use them on the ground.

Children the world over have an insatiable desire to learn, and UNESCO's recent report gives us even more reasons to act.