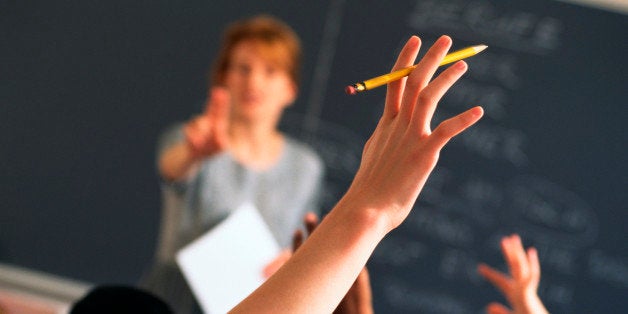 Teaching is our heart. Our students are our soul. And the union is our spine.
I heard that sentiment over and over again this past week during the American Federation of Teachers' biennial TEACH conference, one of the largest professional development conferences for educators in the nation. That's right, a conference on teaching and learning, sponsored by the union.
Two-thousand educators descended on Washington, D.C., to learn from experts and one another, and once there, the theme was resounding: The voices of educators matter. Especially in an era of toxic debates and top-down dictates, the voices of educators matter.
Where educators are raising and combining their voices, the seeds of positive change have emerged. Collective voice, exercised through the union, is power -- the power to drive real change for our kids, families and communities. The stories we heard this week speak for themselves.
"At the PROSE schools, teachers stay in the classroom and do the jobs that we love and also have leadership roles that allow our voices to be heard," Nieves said. "The collaborative piece--it's not just a buzzword. It does work. I honestly believe the more voices in that room, the better our chances of answering that question, of finding that solution, of better meeting the needs of our students."
Afra Khan and Lily Holland, two Boston teachers, are part of the AFT's Teacher Leaders Program. The AFT launched this program three years ago to empower teachers to help shape education policies governing our schools.
As a teacher leader from Washington, D.C., Alicia Hunter, put it: "Every teacher has some aspect of leadership in them."
Jamy Brice-Hyde is a social studies teacher in Horseheads, N.Y. Concerns about stress on the job inspired her and other teachers at the Badass Teachers Association to work with the AFT to design a survey on well-being, working conditions and stressors in schools. This spring, the 80-question survey--the first of its kind--was filled out by more than 30,000 educators from across the country. The results show professionals who, while determined to keep at it, are worn down after years of top-down, failed education reforms.
"We have results that show and prove to the federal government and policymakers the damage they are doing to public educators," Brice-Hyde said.
Through the union, educators are raising our collective voice. Together with parents and students, educators are turning the tide. We are working to make public schools places where parents want to send their children, children are engaged and educators want to work. When educators raise their voice and their power, we can reclaim the promise of public education. Join us.