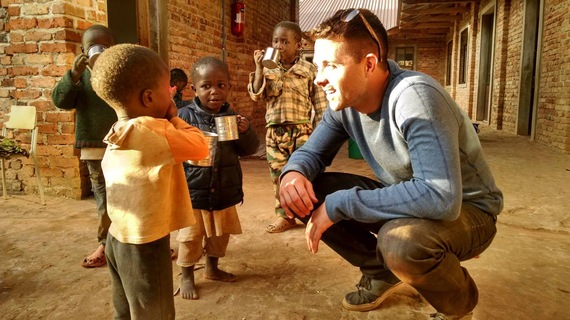 Last Sunday, I returned from a two-week volunteering trip to a remote village in Tanzania. My time was spent teaching at the local primary school, building bunk beds for the orphanage, working at the AIDS clinic, doing manual work like gardening and shoveling, and playing with an endless amount of children.
Truth is, I was nervous and apprehensive about the trip. There were many times I reconsidered going, and I even rescheduled it -- twice. I've never traveled alone, I've never been to Africa, I can't remember the last time I'd gone more than a day without Internet or a phone, and I didn't quite know what to expect or how the community would receive me. I couldn't think of anything further out of my comfort zone.
Stepping Outside the Comfort Zone
There were a hundred reasons not to go -- an event we were prepping for at work, fun weekend plans, financial constraints, etc. But I remember the moment I pulled the trigger and set a date for the trip. It was a Tuesday morning, I woke up much earlier than I needed to, and >obsessively checked my phone and responded to emails for the first several hours of my day. I only took a break to devour lunch I had bought from a vending machine. My entire day seemed to be full of technological distractions and was centered around myself. I had to go; I had to break the monotony and break out of the prison I had created for myself.
I got to the airport, texted my friends and called my mom, whose maternal instincts kicked in. She got very worried about me traveling seven thousand miles away, and her dramatic side took over. She couldn't help but to skip forward a couple weeks and put herself in the place of Liam Neeson in the movie Taken.
I think what really scared me about the whole trip was being alone -- alone with my thoughts and without my daily, constant distractions. But a good friend told me before I left that this is a time to discover yourself--what you love about yourself and what you want to improve. "You'll come back a few weeks older, a lot wiser, and with a different sense of the planet and why you're here," he said.
To fully experience the world around us, we first have to be able to free ourselves from the distractions that are constantly begging for our attention. - Arianna Huffington
As soon as I stepped foot in Tanzania, I felt as if I was on a different planet. We slept under mosquito nets to protect us from bugs you'd expect to see in Jurassic Park. To get water, children had to lug buckets larger than themselves over long distances. Very limited electricity meant students couldn't study when night fell. Limited electricity in particular had big implications for me, as I had no phone and no Internet for two weeks.
At an event this year, I had the pleasure of listening to Arianna Huffington speak. She spoke to the importance for your mental health of turning off your devices and being in the moment, giving yourself the opportunity to experience life for all it has to offer. Her speech couldn't have come at a better time, and I bought her book Thrive shortly after to read while on the trip.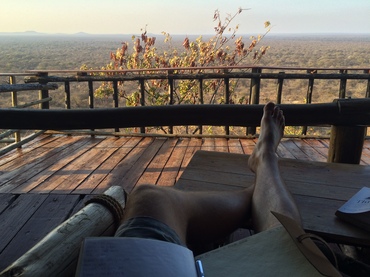 Only when the brain is confronted with stimuli that is has not encountered before does it start to reorganize perception. The surest way to provoke the imagination, then, is to seek out environments you have no experience with. - Kary Mullis
Disconnecting inspires creativity. It allowed me the time to write for fun for the first time in years in a journal that my colleagues so thoughtfully gave me before my trip. My best ideas don't come when I'm attempting to multitask at work or in the middle of a meeting. They usually come to me when I'm unplugged and relaxed, listening to music, or taking a walk. It's essential to maintain mental health and clarity.
What happens when we take even just a few moments to disconnect and really look at the world? We see life in its most raw state.
During an off-day on the trip, we had the chance to go on a safari, and tour the terrain that surrounded us but still felt foreign. About halfway through the day, we pulled up to a location where a giraffe stood just a few feet from our car. My first instinct was to pull out my camera and capture the moment, even though I already had taken several photos of giraffes on the trip.
However, I also had a conscious urge to put my camera down and actually look at the animal, see the texture in its coat and glint in its eyes, and that moment turned out to be a lot more beautiful than any picture I could have ever taken. I will appreciate those few minutes a lot more than I would appreciate that photo. I would've missed that moment of clarity entirely if I had chosen to stay tethered to my devices. I felt liberated--like I was a part of the experience rather than just an observer.
I left Africa with a renewed focus, with a new perspective in both my personal and professional life, and with the hope that I'll have the discipline and the wisdom to take the following with me, many of which apply to content marketing:
Maintain perspective. Appreciate all that I have--big and small. After spending time in the village, the things I worry about seem so trivial. I won't take things for granted as much as I have before: things like washing machines, purified water, ice, electricity, and bugs smaller than the size of my face.
Keep stress levels low. We aspire to be storytellers, but our stories lack inspiration if we let the stresses of the world distract us.
Get plenty of sleep each night. There are many studies that show the positive benefits of getting seven to eight hours of sleep regularly, including increasing creativity, productivity, and happiness, and decreasing stress.
Give more. Charitable events are full of emotion and teach us empathy. As Arianna Huffington mentions in the "Giving" section of her book, you don't need to go across the world to find opportunities to give to those in need. Constantly ask: "How can I benefit someone else today?"
In order to accomplish everything above, I had to set limits so I can have more time for what really matters and be completely in the moment. For example, setting "dark" times every day to limit tech usage. While it may seem like a small step, it could make a big difference in how I approach work and life.
Looking back, it's hard to imagine not going on the trip. I realize how foolish the decision to not go would have been. I will tell stories from it for the rest of my life.
Related