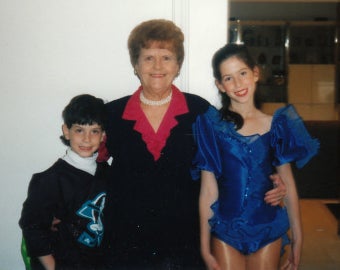 My parents had been married for twenty-one years when I was born. My brother was serving in the Army and my sister was in high school. At four years old, I was the flower girl at their weddings, and by six, I was an aunt to a nephew and niece. You could say I was the caboose or my parents' swan song, but definitely not an "accident." My mother made it clear, rather, that I had been a happy, serendipitous surprise. Soon after I was born, my father went into business for himself and my parents were able to buy their own home a couple years later. I grew up on the narrative that I had brought them luck and kept them young.
Unlike the other women in my family, I didn't have children until my thirties. When my daughter was born, my (now-widowed) mother was already in her late seventies and when my son arrived she was at least eighty (we were never sure of her exact birth year). At that age, people are viewed as no longer being able to make a contribution to society or able to impact those around them. My mother paid no attention to those stereotypes.
My beautiful, vivacious, and energetic mother easily looked ten to fifteen years younger than she was. Through a combination of great genes, healthy lifestyle, a positive outlook on life and good fortune, she was still robust and active. She entertained, travelled, exercised, participated in cultural activities and did meaningful volunteer work. As busy as she was, she made it clear that her family was her first priority and she always had time for her grandchildren.
Grandma Ruthie was my children's favorite babysitter, their unabashed cheerleader and their staunch advocate. She participated in all their birthday parties, rooted for them at rainy soccer games and shivered through chilly ice-skating shows. She was the family historian and shared stories about her childhood and our ancestors. Though old enough to be their great-grandmother, she played catch, shot baskets, and kicked soccer balls with my children. Her heart was filled with love and her purse with their favorite candy.
One night, we got a phone call from the emergency room with alarming news: my mother had been diagnosed with an advanced stage of cancer and told that she had weeks to live. She was given a pain patch and no hope. Upon being discharged from the hospital, she sought out medical advice and eventually found her way to an exceptional young medical oncologist who treated patients on a case-by-case basis. When he examined my mother, he saw an otherwise healthy woman with a determined and lively spirit. Under his direction, she began a challenging course of chemotherapy, defied expectations and responded positively. Late at night, when I searched the Internet for the success rates of chemo for patients in their nineties, I found nothing; there were no such studies with people in that age group.
The treatment added a few years to my mother's life. She resumed the activities she loved: walking outdoors (at a brisk pace no one else could match), dancing, keeping up with friends and family, following the news, worshipping. She helped neighbors and friends at her retirement home, carrying trays for those less mobile and taking meals to those too sick to go to the dining room. Most importantly for us, Grandma Ruthie was able to celebrate holidays, graduations and other milestone events with us during that precious time, as well as the everyday moments that often mean so much.
Sadly, the cancer came back and the treatment was no longer effective. As the disease progressed, my mom required more medical intervention. On what turned out to be her last birthday, she was in the hospital. Our entire family had plans to gather for dinner that evening at a local restaurant to celebrate Grandma Ruthie's birthday. I'll never forget that to convince the doctor to discharge her, she got out of bed and showed off her dance moves. It worked! I assured her that we could reschedule the party, but she wouldn't hear of it. Surrounded by family, eating birthday cake, and opening presents, my mother was radiant and it was a memorable evening.
Eventually, she became too weak to leave her bed; even with assistance, she could no longer go for her beloved walks or just go outside for fresh air and sunshine. Yet she never gave up and never stopped engaging with us. In fact, we continued to see flashes of her trademark humor and wit, and any one of us could still find ourselves on the receiving end of her advice.
The day before Mom passed away, my husband, my daughter (home from college), my son, and I gathered in her hospice room. She noted warmly that we were all together and said she knew our children would continue to be a source of pride and joy for us. Her final words to us were, "I'm so happy."
The last twenty years of Mom's life were every bit as powerful and beautiful as what came before. Through her words and actions, Mom left us all a legacy of gifts, lessons and inspiration.
Popular in the Community