One evening, as we were getting ready to sit down for dinner, my wife and I took a phone call from our child welfare agency. At that time, we had a personal policy of only fostering children who were no older than our oldest child. This was the first time we broke that family rule. At that time, our oldest was ten years old, and the child in need was a thirteen year old boy, abandoned by his mother. After some prayer time together, listening to God's will for us, I called the case worker back and told her that we would take the child, on the condition that he would have to leave our home if he were to cause any problems or be a negative influence upon our own children. Both my wife and I were a little hesitant about taking in a teen aged boy, and were concerned that it might not work out for the best for our family.
When the teenager arrived, I was taken aback at how scared and frightened he was. He looked like a deer in headlights, and was obviously terrified about his situation and his surroundings. My wife and I felt so very sad for him, and tried to comfort him as best as we could. Yet, perhaps the saddest thing about his situation was how he came into care. His mother had abandoned him under a highway overpass outside of a very busy Atlanta, Georgia. Apparently, his mother had pulled the car over to the side of the road, asked him to get out and get something out of the car's trunk, and then sped off, leaving him alone. When he arrived at our house the next evening, he was nervous, afraid, and anxious. He said very little to us, except to note that his birthday was the next morning. As Kelly and I lay in our bed late that evening, we could hear him cry himself to sleep.
I felt anger towards his mother; outraged that she could abandon her own son on a busy highway; outraged that she did so just before his birthday. My stomach churned with anger, and the emotion clouded my outlook on everything else. It took my wife to remind me that she was a child of God, herself, and needed forgiveness for her actions. After I spent some time in prayer, and with God's grace, I was able to forgive her, which helped me, as well.
As I write in my newest book Faith and Foster Care: How We Impact God's Kingdom, love and forgiveness are two actions that are intertwined, and cannot be separated. If we truly love as God asks us to, then we need to forgive, as well. Without forgiveness, there is no love. When I was angry towards our foster teen's mother, I was in no way sharing God's love. Instead, my stomach was in knots, and I was one tense parent. I was shackled by my own inability to forgive someone, a prisoner to a debilitating emotion. Yet, when I did forgive her, it felt like a weight was taken off my own shoulders. One of the amazing things about the act of forgiving others is that it allows us better use our energies towards something that is more constructive, more positive. Forgiveness frees us from the forces of hate and evil, and instead allows us to draw closer to God, and gives us more strength to do Jesus' work. When we forgive the actions of our foster child's birth parents, not only are we showing God's love to them, and empowering ourselves, we are also honoring our foster children. Remember, these children, despite the many forms of abuse they have been subjected to, still love their mommies and their daddies. Remember this, as well; their mommies and daddies are also children of a loving God.
_____
Dr. John DeGarmo has been a foster parent for 13 years, now, and he and his wife have had over 45 children come through their home. He is a speaker and trainer on many topics about the foster care system, and travels around the nation delivering passionate, dynamic, energetic, and informative presentations. Dr. DeGarmo is the author of several foster care books, including the brand new book Faith and Foster Care, and writes for several publications, including Foster Focus magazine. Dr. DeGarmo is the host of the weekly radio program Parent Factors with Dr. John, He can be contacted at drjohndegarmo@gmail, through his Facebook page, Dr. John DeGarmo, or at his website.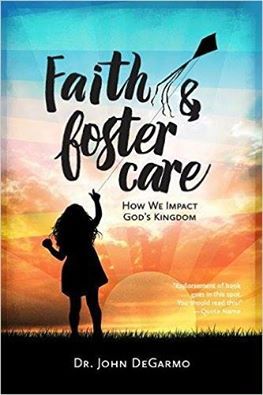 Calling all HuffPost superfans!
Sign up for membership to become a founding member and help shape HuffPost's next chapter