Both writers on this post are aware of the the epic, 16 hour Live Aid concert in 1985 -- an event which raised $125 million for African famine relief. A billion people in over 100 countries saw it via satellite and witnessed a great marriage of philanthropy and technology. That event helped shape Sean's approach to service. So when #GivingTuesday - the global day of giving - emerged in 2012, both writers immediately jumped on board.
Why #GivingTuesday? Because we understood the logic behind its creation. During the holiday season, there are two popular days for commerce: Black Friday and Cyber Monday. When you add in Small Business Saturday, two becomes three. And commerce is certainly important. But there were no days for service projects and giving back -- the two things that are most associated with the period from Thanksgiving to New Years Day.
GivingTuesday has come along and filled that void. In just 4 short years, it has taken the world by storm, and evolved into a phenomenon. The online space has emerged as a viable option for anyone looking to fundraise for charitable initiatives. Indeed, Stephanie has experienced how #GivingTuesday harnesses the power of social media and the generosity of people worldwide providing a platform for them to encourage the donation of time, resources and talents to address local challenges.
As the NYC President of The United Women in Business Foundation, Stephanie leads the non-profit's efforts to help members excel despite the challenges and inequalities that women face in today's business environment, and she has been inspired by the lifetime of community service dedication and work of First Lady Michelle Obama.
In 1996, Mrs. Obama joined the University of Chicago with a vision of bringing campus and community together and she developed the university's first community service program. Under her leadership, volunteerism skyrocketed because students finally had a platform to donate their time, resources and talents. #GivingTuesday is having that same effect on a global level.
Our lives are a journey, one that will have many ups and downs, challenges and triumphs -- but we are here for a unique purpose. We encourage you to never give up, to be fearless in the pursuit of what sets your soul on fire, be open to changes and new ideas as you transform the world around you. #GivingTuesday is an incredible outlet that encourages and amplifies small acts of kindness.
So this #GivingTuesday, join the movement! Whether it's some of your time, a donation, gift or the power of your voice in your community. If you love graphic design-- offer to help an entrepreneur with marketing materials; if you are great at event planning-- volunteer to help an industry group at their next event; if you are an outstanding baker or chef-- donate goods to small businesses in your area. You will gain strength, and more importantly, help others along the way, and gain supporters as you impact our world.
For more information on #GivingTuesday, click here.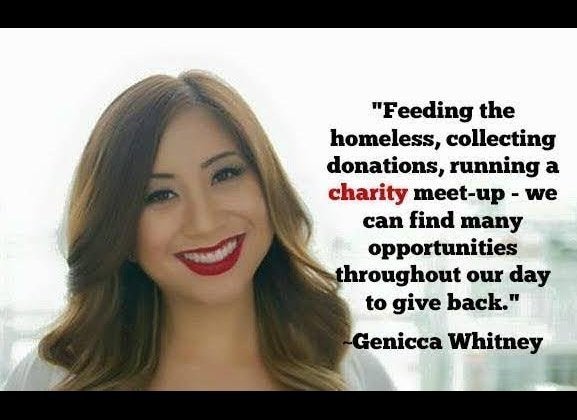 Huffington Post Writers on Giving Back
Related
Popular in the Community