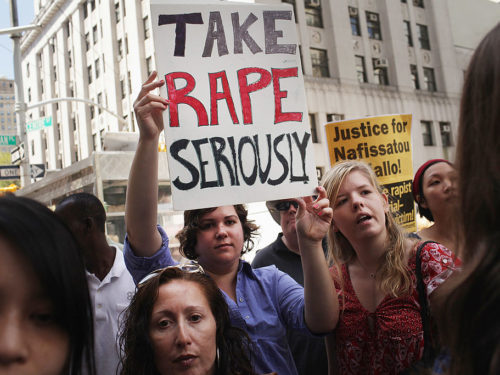 "To girls everywhere, I am with you." These are the concluding words to a powerful statement written by a Stanford assault victim that went viral this past weekend. In a letter to her attacker at his sentencing hearing, the woman recounts with chilling and candid details the traumatic experience of waking up in a hospital after a sexual assault that took place behind a dumpster. After the young woman delivered her speech at the close of the trial, she shared her words with Buzzfeed, and soon after the letter went viral.
The web was originally created to share information between scientists and universities, and eventually was opened to the public for general communication. These days, the information that goes "viral" -- that which is viewed and shared most often -- differs greatly from what was most likely intended to be shared at the web's inception. Indeed, what is considered "newsworthy" has transformed drastically over the years, a result of the greater demand for entertainment and gossip. Scrolling through my favorite blogs and websites Sunday morning, I read discussions of Taylor Swift's and Calvin Harris's breakup, expectations for the upcoming Warriors game, and a satirical meme of Donald Trump. One article, though, stood out to me: "Stanford Victim Releases Harrowing Letter She Read To Her Rapist In Court."
Reading the victim's letter, I was struck by her bravery in sharing her story both in a courtroom and online. By sending her letter to Buzzfeed, this woman has made the details of her assault available to anyone with internet access. This is what the internet was made for. In a time of viral political memes and celebrity spottings, it is even more crucial that we understand and appreciate the truly impressive action this woman has taken. She has shared her experience online, and in doing so she has renewed our understanding of "viral" news. The power of the internet - and of technology in general - is that it may be used (and created) for any purpose. As we continue to develop technology, continuously innovating and stretching the limits of what is considered possible, we must remember just how powerful our creations can be. The app you build could help to end the California water crisis, decrease homelessness, or improve our way of life. Technology for entertainment is desirable, but technology for social change is vital.
Thank you, brave Stanford student, for the exceptional courage and strength it must have taken to release your story online for all the world to read. Your statement has brought light to the rape culture that does not get nearly enough attention and has, I hope, provided some solidarity and support for other victims.
To the girls who code, boys who code, and all other creators and developers, I ask this: keep building, keep innovating. Technology is a driving force of change in the world, and code is one of the tools to create it. Build new platforms for the exchanging of information, inspiring social activism, and forming networks among people who can help each other heal and move on. To the Stanford student who shared her story, on behalf of girls everywhere: we are with you.
Lucy is a passionate advocate for feminism and CS. She's a Girls Who Code 2013 Alumnae & a member of Claremont McKenna's Class of 2019.
Photo Credit: Spencer Platt/Getty Images
Calling all HuffPost superfans!
Sign up for membership to become a founding member and help shape HuffPost's next chapter