Imagine if we could do this in the workplace.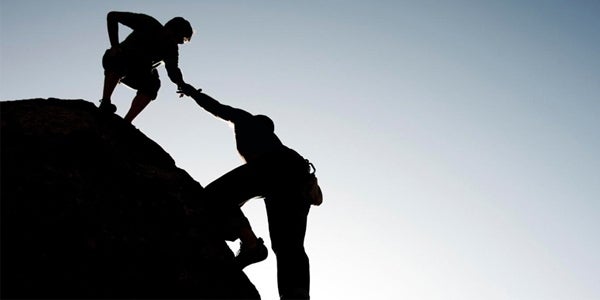 I recently returned to my hometown of Cincinnati, Ohio for the purpose of helping inaugurate a college scholarship for the wrestling team at Wyoming High School. I was fortunate to see not only wrestlers, but many of my old football buddies. Of course, we talked about old games like it was yesterday. A female classmate overheard us talking and said she was amazed by the amount of detail we remembered. I attribute this to three things; the love of the game, our comrades in arms, and the coaching.
I have seen more than my fair share of coaches over the years, some good, some bad. However, we were fortunate to have a handful of good ones at my high school; people who genuinely cared about the kids, including football coach Gary Jump, and wrestling coach Tink Miller. Jump started the wrestling program which was soon passed over to Miller. We were very lucky to have such men and I praise their abilities to this day.
The wrestling team was founded around November 1968 and I can remember the first meeting as if it were yesterday. We didn't have the fancy mats or uniforms they have today, but we still put our best foot forward.
Football was king at my high school, as it typically is throughout Ohio. Friday night is football night, and the whole town seems to attend the game. During my day, I was fortunate to play on every team except the kickoff team. By the end of the game, I was tired and dirty, but had the time of my life. Again, I attribute a great deal of this to our coaching.
We were lucky to have such men as Jump and Miller. They taught us more than just the mechanics of the sport, they taught us how to be men.
It wasn't a matter of winning at all costs; it was about being the best we could be. And if we weren't, we heard about it, rightfully so I might add. We didn't want to disappoint our coaches, be it in football or wrestling.
They also taught us to love and respect the sport, to play fair and the importance of good sportsmanship. We didn't play for the high school, we played because we simply loved the game. We may not like to lose, but these gentlemen taught us to be gracious in victory as well as defeat. More than anything, they taught us to have fun. To play each game like it was our last.
They also taught us to push ourselves, which certainly had meaning later in life.
What I do not think they realize is the indelible impression they left upon us and carried forward to future generations of athletes. For example, whenever Gary Jump wanted us to suck it up and get tough in the midst of battle on the football field, he would yell from the sidelines, "Come on guys, time for a little STUG." A code word meaning GUTS spelled backwards.
I coached little league for ten years, both boys and girls, and they all learned the meaning of STUG. So there are things we say and do which gets carried forward to future generations. Other coaches had foibles we enjoyed, but that silly little word, STUG, will be with me forever.
The fact I can talk about this, 48 years after it started, means they left an indelible impression on me. They weren't our friends at the time, they were our coaches, people who we respected, trusted, learned from, and knew they had our back. These are rare qualities today, not just on the playing fields, but in the workplace as well. If more managers today took the same approach as these coaches did, loyalty would soar and they could conquer just about anything they put their heads to.
So, here is to you Gary and Tink, thanks for being who you are and having a positive impact on our lives.
Note: All trademarks both marked and unmarked belong to their respective companies.
Copyright © 2016 by Tim Bryce. All rights reserved.
Related
Popular in the Community