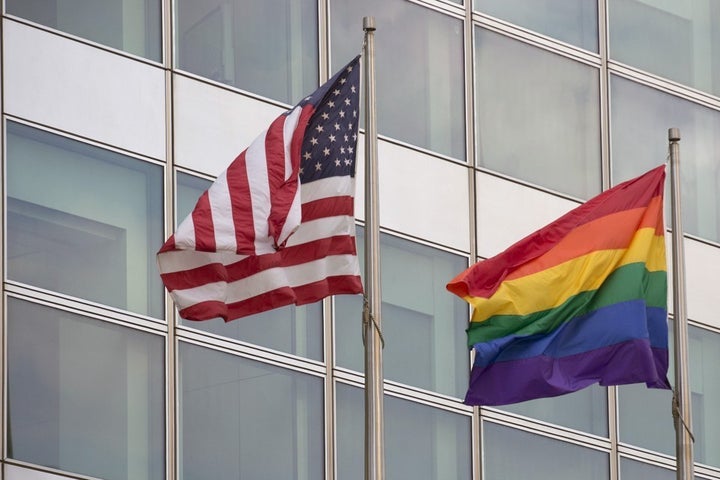 The night the cable channel Freeform aired an LGBTQ sex-education-themed episode of its teen drama The Fosters earlier this spring, Madison Russell spent the evening in front of her television with tears rolling down her face. A high-school junior, Russell has identified as a lesbian since age 11, but when she took a school-mandated sex education class at her Hiram, Georgia, high school, she couldn't see herself in the curriculum. "We were informed on the types of protection for heterosexual couples, but never the protection options for gay/lesbian couples," Russell said. LGBTQ kids weren't even mentioned.
Russell's experiences aren't unique to rural Georgia. According to a 2013 survey by GLSEN, a national nonprofit focused on providing safe educational spaces for LGBTQ students, just 5 percent of LGBTQ students reported having health classes that included positive representations of LGBTQ-related topics. And a 2015 study by the Public Religion Research Institute found just 12 percent of millennials said their sex education classes covered same-sex relationships at all.
But sex ed is changing in America, and not just on teen TV shows. An increasing number of school districts from Washington state to Washington, D.C. are revamping their sexual-education courses to look more like the student populations they serve.
"Sex ed is changing in America, and not just on teen TV shows."
Currently, 12 states require discussion of sexual orientation in sex education, according to a Guttmacher Institute review of sex ed in America, while the rest leave the matter up to individual districts. Of the 12 with a requirement, three require the schools only disseminate negative information about sexual orientation. The remaining nine states mandate that any sexual-health classes taught in public schools be inclusive, providing science-based information that addresses sexual orientation; four of those states require public-school teachers to cover gender identity.
The state of Washington, one of the latter four, passed the Healthy Youth Act in 2007, mandating that if public schools provide sex education, it "be appropriate for students regardless of gender, race, disability status, or sexual orientation." In Iowa, a 2007 law allows districts to provide abstinence-only education, but it requires that it be "free of racial, ethnic, sexual orientation, and gender biases." Colorado updated its sex education laws in 2013 to mandate public schools that have sex education programs to provide comprehensive sex ed to students. California followed suit in 2015, with its own Healthy Youth Act, the first in the country to not only require sex education in public schools cover both sexual orientation and gender identity but to also make it mandatory for schools to provide comprehensive lessons that include information on abortion, sexual assault, and sexual harassment. Districts in these states have developed guidelines for supporting transgender and non-conforming students, and some schools have ended gender segregation in fifth-grade sex ed classroom discussions.
By the time kids get to high school, the topics get more detailed. Kids may get lessons on consent couched in the context of a gay relationship or learn the differences between anatomy and gender identity, in addition to learning about STDs, contraception and other traditional sexual-health topics. Teachers are typically instructed to speak in broad terms about sex, rather than putting instruction in the context of male-female relationships.
"It's not saying there's this thing called gay sex, and this is how you do it," explained Odette Edbrooke, the director of health and culture at the Boulder Valley School District in Colorado. "A teacher might say, 'This contraception would be used for a penis, and that would be vaginal, anal, or oral sex.'"
Nor are kids at every level discussing types of sex, said Lisa Love, the manager of health education for the Seattle Public School District. In Seattle, teachers follow a curriculum called Family Life and Sexual Health (FLASH), which breaks down how to teach sexual-health courses, including lessons on sexual orientation and gender identity, into age-appropriate chunks. Fifth-graders learn about gender roles, the reproductive system, pregnancy, and HIV/AIDS, among other topics, laying a groundwork for later lessons. Middle and high-school health classes specifically address gender roles, sexual orientation, and gender identity.
FLASH teachers have recommended videos and panels of LGBTQ kids, along with other resources, that they can incorporate into the lessons to ensure that all kids see themselves reflected in the curriculum and that kids see their peers as part of the discussion as well.
"These age-appropriate lessons introduce terminology, discuss the importance of treating others with respect, and begin to dismantle harmful stereotypes that impact LGBTQ young people," Love said.
But the districts where Edbrooke and Love are managing curricula are still far from the national norm. In seven states — Alabama, Arizona, Louisiana, Mississippi, Oklahoma, South Carolina, and Texas — even mentioning homosexuality in a positive light could get a teacher in trouble. Called "no promo homo laws" by LGBTQ advocates, regulations in states like Alabama instruct educators to teach kids that "homosexuality is not a lifestyle acceptable to the general public and that homosexual conduct is a criminal offense under the laws of the state."
Laws like Alabama's are archaic and dangerous, argued Ellen Kahn, the director of the Children, Youth, and Families Program at the Human Rights Campaign. She warned that ignoring LGBT kids in school curricula or purposely portraying them in a negative light can have damaging effects on all kids.
"If you're in a school environment, and you spend half of your waking time there, even if you have a supportive family, or maybe if you don't have a supportive family … and you do not get any positive messages or find a safe space at school, that's weighing on you every day," Kahn said.
A 2015 GLSEN National School Climate Survey found a direct correlation between schools with inclusive curricula and "a student body more likely to say that their classmates and teachers were supportive of LGBTQ people/identities," said Becca Mui, the education manager at GLSEN. The survey found LGBTQ students with inclusive curriculum were also less likely to miss school in the month leading up to the survey; LGBTQ children often skip school if they're facing bullying and harassment. They were also less likely to say they might not graduate high school.
Stats like that are all Ron Cabrera, assistant superintendent of instructional services and equity in Colorado's Boulder Valley, needs to hear. From his perspective, talking about LGBTQ families in English class and discussing kids' sexual identity in sex ed class are equally important in helping kids feel included in their school community.
"We're not trying to create anything subversive," said Cabrera. "We're trying to treat people as people."
Not supplying that treatment can have long-term effects on kids, said the Human Rights Campaign's Kahn. Cis-gender, heterosexual students who don't hear about LGBTQ peers in their classroom are sent the subtle message that there's something "bad" or "wrong" with their peers, and it increases the chance the latter will be bullied.
In turn, the stress on LGBTQ students manifests itself in increased risk for depression, substance use, and sexual behaviors that place them at risk for HIV and other sexually transmitted diseases. Self-identified gay/lesbian and bisexual teens have been found to have experienced early heterosexual sex, to not use contraception and to be victims of sexual violence more than their heterosexual peers. In line with those estimates, the CDC reports LGBTQ students who are sexually active are significantly more likely than other students to report becoming pregnant or getting someone pregnant.
But when Mary Anne Mosack, the executive director of Ascend, a nonprofit that advocates schools adopt "sexual-risk avoidance" curricula, looks at statistics like that, she sees a problem with teen sex, not a problem with sex education. "We care very much about our gay teens," Mosack said, and the problem isn't that kids aren't being taught about homosexuality and gender identity — it's that they aren't hearing about abstinence.
"Teen sex is designated by the CDC as a risk behavior," Mosack says. "All students, no matter what sex they're involved in or what orientation, they're all at risk. Sexual delay for a teen is a protective factor. The fewer lifetime partners, the healthier they are."
Studies have shown abstinence-only education is better than no sex education at all in terms of getting teenagers to delay sex. But advocates for LGBTQ-inclusive sex ed say directly speaking to kids about the realities of relationships for homosexual and transgender kids is important for harm and risk reduction, too.
"Often times, students will check out of sex ed if it doesn't reflect them," said Taylor Stein, the program specialist of OASOS, an initiative for lesbian, gay, bisexual, transgender, questioning, intersex, and asexual youth offered by the the Boulder County, Colorado, health department. "We need to empower kids to make decisions, and when they do that, to make healthy decisions."
And some advocates say students should be exposed to these lessons when they're young. Kids shouldn't have to wait until a high school health class to recognize themselves in their education, said Bethy Leonardi, the co-founder of A Queer Endeavor, a program housed at the University of Colorado, Boulder, that teaches grade-school teachers and other school staff how to tackle the topics of gender and sexual diversity in the classroom. The universal approach to gender- and sexual-identity inclusion is one that provides a building block for all kids, so by the time they enter health class, they're comfortable talking about not just healthy sexual relationships but also how they might fit into them.
"As a queer kid in the Catholic South, as you might imagine, I could have benefited from hearing more sooner, having role models, hearing about LGBTQ people not as pathologized or sinful or unhappy or as defined only by their gender or sexualities," Leonardi said.
That's all kids like Russell are asking for — to see themselves in their education, the way she saw herself on a TV show.
"I sought out all of my sexual education information on my own, but I know many of my classmates do not feel comfortable doing that," the 17-year-old said. "Watching the [Fosters] episode made me feel like the next generation of gay kids will be much better supported than my generation, and it felt amazing."
Popular in the Community