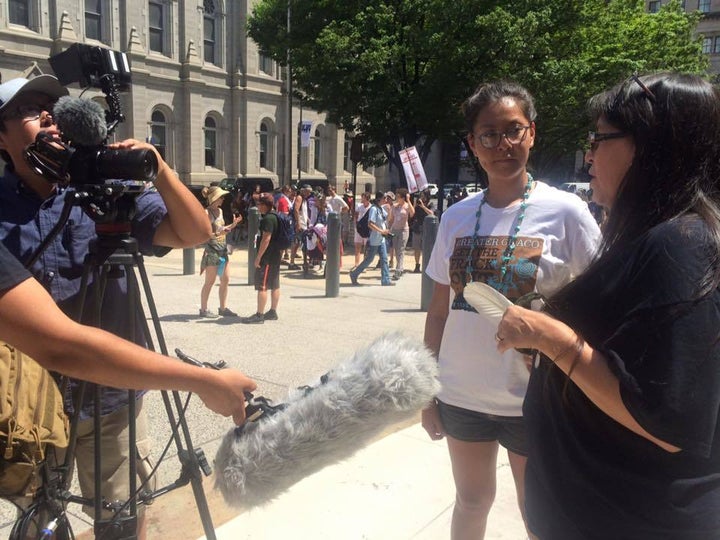 From Betsy Taylor: Over 20 Indigenous activists have just completed several weeks of pilgrimage across the U.S. for the "Protect Our Public Lands Tour". They were all ages, from youth to elders, and came from diverse tribal affiliations. I have been following their travels with fascination, as they sent short reports from the field in spare moments in their grueling travel schedule. I just received the update below from John Foran who has traveled with the Tour from California to Philadelphia and back again. Below, he conveys key moments from the oral testimonies that Tour members gave at the "Clean Energy Summit" in Philadelphia on July 23, 2016.
"The Power of Indigenous Activists at the
Summit of the Climate Justice Movement"
GUEST COLUMNIST: John Foran
A caravan of Indigenous people traveled more than 3,000 miles to come to a climate summit in Philadelphia. There was a grandma in her 90s, children and grandchildren. They were about 30 all told from many nations. Each one had stories to tell of how the white corporate structure and all the white consumers who support that structure has effected and affected them personally. They were in tears as they talked. I was in tears.

The audience was in tears.
Two days before the opening of the Democratic National Convention in Philadelphia, one day before 10,000 people marched for a Clean Energy Revolution, a much smaller group of people gathered in the Friends Center for an all day summit on clean energy and how to make it happen.
At the very end of the day, many inspiring, illuminating sessions later, the speakers described by Crystal Zevon above took the stage, and spoke of their lives on some of the front lines of climate change and fossil fuel and uranium extractivism. They had spent five days traveling from as far away as Santa Barbara, California, as the Protect Our Public Lands Tour (POPLA), taking testimonies from Indigenous communities along the way that will be part of the evidence for the International Permanent Peoples' Tribunal on the Human Rights Impacts of Fracking, scheduled for October 2017. Now it was their turn to speak.
Everyone who participated in this conversation was exhausted, but no one was not awake. These were people who were tired, not only from lack of sleep, but from the fullness of what they endure every day.
Their testimonies are somber. One hears anguish, feels the incalculable pain of their loss. They are elegiac, stories from a way of life always close to the verge of destruction.
This is some of what they said.

John Benally, Navajo elder, Big Mountain, Arizona
Speaking of clean energy, some of us in Black Mesa have no electricity whatsoever….

It's a question for our children, what's their future? These are questions we all are facing…. We are providing a lot of energy (coal, uranium) but we don't have energy ourselves. We have diabetes, lung disease, shortness of breath. It's up to you, talk to your kids in your home places. This beautiful earth was given to us, nice and pure.

I don't vote, myself, because it seems that nothing changes on our horizon…. If we don't wake up as human beings, maybe Mother Earth will do it for us.

Glenna Begay, Navajo Elder, Cornfields, Arizona, spoke in Diné/Navajo, and was translated by her daughter Salina
We're still on the long walk. We've lost a lot of people. The government doesn't help us. We'll never sign their papers.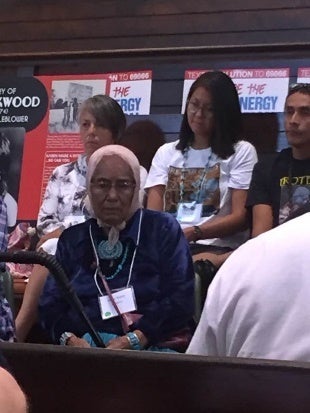 Salina Begay, Navajo, Cornfields, Arizona
I live between the mine and the Hopis. It's a double whammy for me. The Hopis are coming after our livestock. The mine is destroying Mother Earth. Our herbs are gone. When the mountain's organs are damaged, our bodies suffer.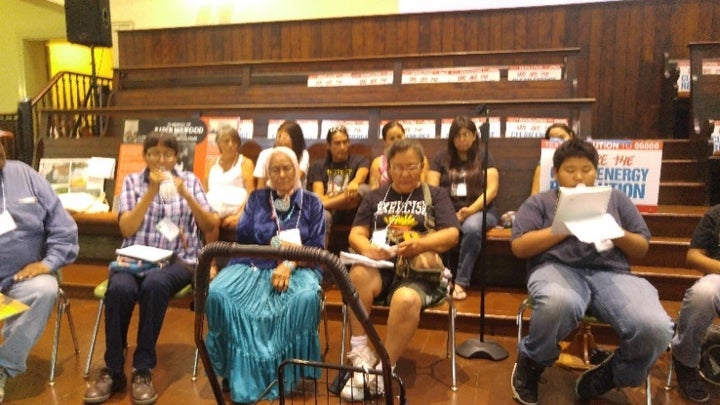 Elouise Brown, Glenna's niece, Navajo, Chaco Rio, New Mexico
Our relatives were never told the dangers of uranium. My father died two years ago of brain cancer and damaged lungs. I represent clean air. I realize we'll probably never have clean air anymore. But we still have to do what we can for our children. It makes you cry, when you think about our kids. That's why I am so proud that my three grandkids are here. We've had fun every so often, but we are here for a purpose.

Jeremiah Castillo, Navajo, 11 years old
I don't want to live in a world that is contaminated. And I also want my family to have clean air.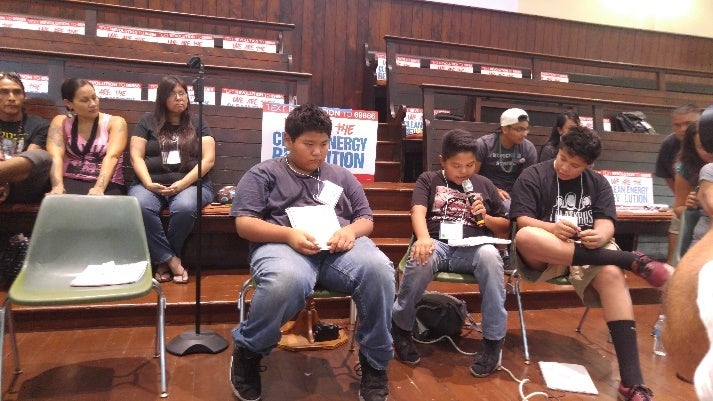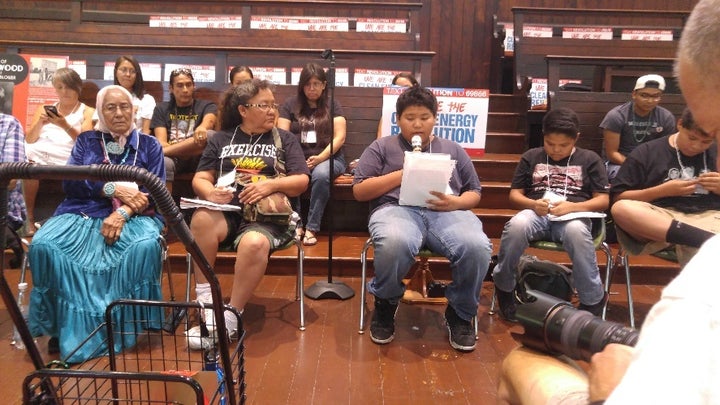 I have hope, because of these three young men. I stand here for the Earth, for our people, for my family back home…. It's really heavy stuff that we're working on. But it's also empowering.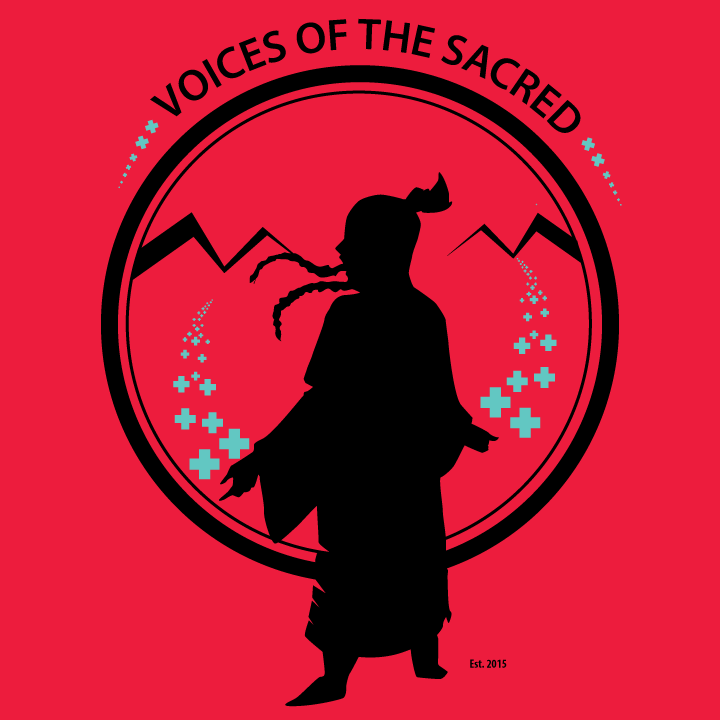 Sheldon Tenorio, Voices of the Sacred, Albuquerque, New Mexico, teenager
There's a war against humanity going on. And if it wasn't for resistance, we wouldn't be here. These corporations are raping the land, they're raping our Mother. To come together like this, to stand together, means a lot.

We come together for our Mother, for our life, in solidarity. And we will never be silenced. We will be heard.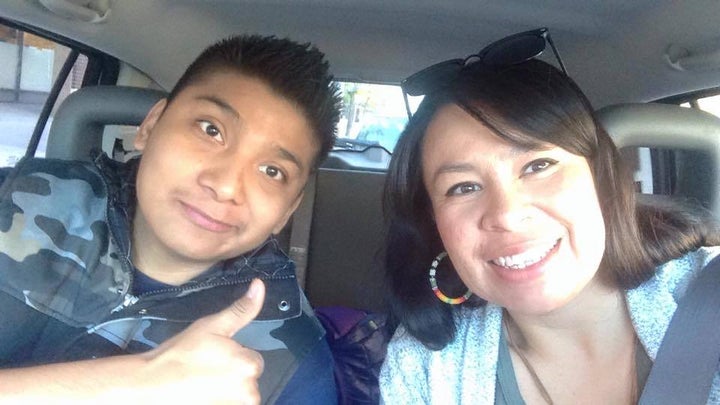 Alecia Onzawah, Absentee Shawnee, Norman, Oklahoma, with Indigenize Inc.
There is no coincidence that we are all here together in this place and time…. We are not decolonizing, we are indigenizing. We are trying to keep our children alive. Look at the statistics on suicide…. How are we supposed to keep fighting for a better world? We have to empower our children and our neighbors.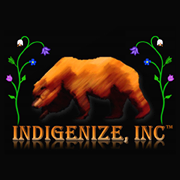 Jake Toledo, Navajo, Norman, Oklahoma
All across Turtle Island, all of our children need fresh food, water, produce. We've done so much for our country, from our relatives who have served in the military. We are really fighting for all of our children, for a happier future. This is pretty much our last chance…. Change is possible, on many different fronts, for many different things. Let's really think about where our future is heading. This is a fight for humanity. We all have to get together on a global scale. For harmony, balance, respect. We're still here.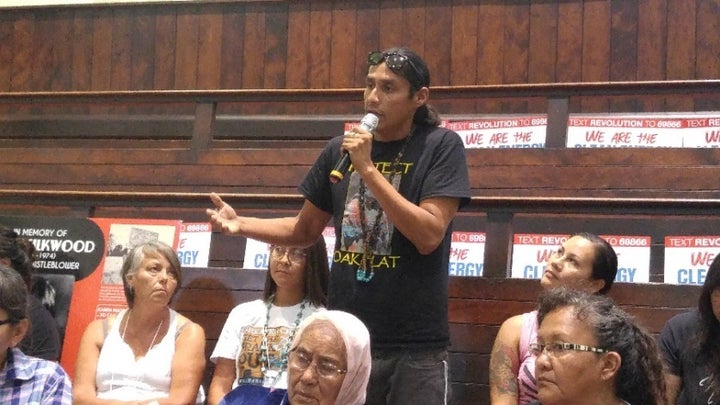 Kendra Pinto, Indigenous Community Member, Twin Pines, New Mexico [a gifted storyteller, see her story in the Huffington Post]
A week ago, thirty-six storage tanks exploded at once. People had thirty minutes to pack up their lives and evacuate. When you see what's happening around you, it's really hard not to get emotional. This explosion is just a really nasty reminder of the effects of fracking….

We are a really small community. Just help in any way you can.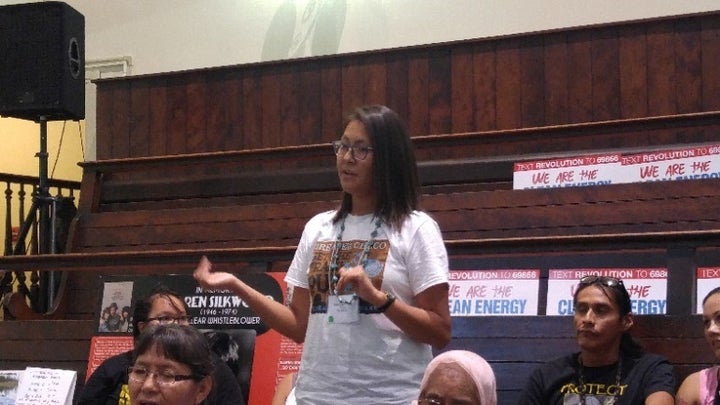 Margaret Montano, Elder, Voices of the Sacred
I'm not going to apologize for my anger and for my voice. [Margaret spoke of the outrageous incidence of cancers in her family and of her sister who died before the age of fifty. Of the government and the corporations, in particular, the National Lead Company "that didn't tell us of the dangers my father faced at work, my father who died of pancreatic cancer."]

The creator is crazy and wild, and he will lead you to places you never imagined existed. Indigenous people keep the world in balance. And right now, it is shifting. If you want to know why Earth is going to hell in a handbasket, it's because we talk about our Mother, we talk about Indigenous people, but often this is just talk, it's fluff.

The rain comes, and it can cleanse the Earth.
In our prayers we talk to everyone, we talk to the universe. We pray for everyone. We've been talking to you about our experiences, the tragedies in our communities. Creating golf courses and filling swimming pools shows no respect for the water. There needs to be more conversations between people. I am here for the water…

The audience stayed for fifty extra minutes, and in fact, just got larger as the panelists for the final session of the summit came into the room.

It was as if people recognized that this was the high point of the Clean Energy Summit. That what they had just heard, from so many speakers, had the ring of truth. That this is what truth looks and sounds like.

There was so much more to say, to hear. It could have gone on, for the five days the caravan travelled to get here, for more than five hundred years of suffering and resistance, for every precious day of our lives, for every generation that comes after us.

These are the shifting terms of a conversation, one among the countless conversations that must be had.

Now is the time. This is the place. No more deferrals, no more silence.
Let's wake up. And listen.
"At the end of the day, social and environmental justice are connected."

― Julie Maldonado, POPLA Caravan Organizer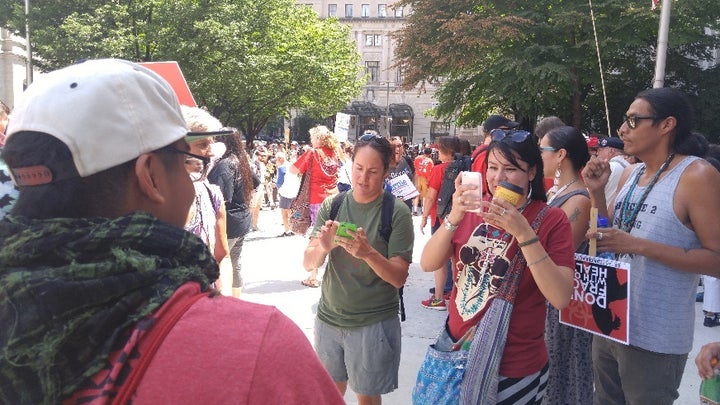 Related
Popular in the Community