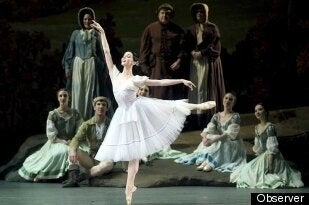 In my travels across the nation I have been hearing a lot of discussion about the glut of arts organizations and the need to "thin out" the field.
This scares me greatly. I am certain that those proposing reducing the number of arts organizations have in mind eliminating those that are weakest. Who, after all, would want to eliminate an arts organization that is producing good art and sustaining itself financially?
No, reducing the ranks really means getting rid of those arts organizations that are fiscally weak and that are viewed as a burden to donors and board members. But the weakest arts organizations are not always those that are producing the worst art; nor are financially strong arts organizations always the ones producing ground-breaking art. What if the Alvin Ailey organization had been "thinned out" in 1991, another recessionary time, instead of turned around to become one of the strongest arts organizations in this nation?
Instead of eliminating arts organizations, I think we need to find ways to make existing organizations stronger and better able to support themselves.
My prescription, that good art, abetted by strong marketing, helps to create health, is viewed as a contradiction by some. How can a sick organization develop important art when it does not have sufficient resources to make payroll?
One approach that works well is to form a joint venture with another organization. A joint project can create important art while reducing the cost to each participating organization.
When I arrived at ABT in 1995, we were truly destitute, but I announced the largest artistic venture in our history -- the first commissioned full-length ballet to a new score. We were able to find a partner, San Francisco Ballet, to share the costs of producing Lar Lubovitch's Othello. We each got to present this new work but only paid half the production costs.
Not every joint project must be pursued with a similar type of organization. Hubbard Street Dance Chicago and the Chicago Symphony Orchestra entered into a joint venture in 2004. Each year, Hubbard Street performs with the orchestra on one of its programs. This gives the CSO a chance to diversify its programming while Hubbard Street has a chance to associate itself with one of the world's great orchestras. This arrangement has led to a number of other engagements for Hubbard Street with the St. Louis Symphony, the National Arts Centre Orchestra in Ottawa, and at the Hollywood Bowl.
Joint ventures can also be formed with non-arts organizations. The Ailey Company entered into a joint venture with Fordham University in 1992. Ailey dancers got to take college credits at Fordham and Fordham students could fulfill physical education credits at the Ailey School. Both organizations benefitted from the relationship.
Building a good joint venture takes time and effort. I believe it takes at least one year prior to the start of a project to develop the concept, create the venture, write the contract and ensure that both parties are benefitting.
Taking time to develop a clear contract that establishes the responsibilities of both parties is especially important. Who controls the art? Who controls the budget? How are potential cost overruns communicated and resolved? The world is littered with joint ventures that ended bitterly because one side spent more than budgeted and did not communicate the overruns in a timely manner to the other partner.
But a well-formed joint venture is one important method for building both artistic health and fiscal viability, especially in troubled times.