The support for our nation's wounded veterans can be found in any walk of life, or any professional industry - anyone can provide it, and it can take many forms. For years, Wounded Warrior Project® (WWP) has been lucky to have the support of the X Ambassadors, an alternative rock band from Ithaca, New York. They recently released a hugely popular album and saw one of their singles, "Renegades," achieve platinum status.
But through their recent successes, band members Sam Harris, Casey Harris, Noah Feldshuh, and Adam Levine haven't forgotten where they got their start or why they're able to do what they love every day.
Their first big break came out of a radio station in Norfolk, Virginia - home to a large naval base and significant military community. These service members, veterans, and their families were some of the X Ambassadors' first fans - a loyalty and connection that recently inspired the band to team up with Wounded Warrior Project and Flow Nonfiction, an Austin-based motion picture firm, to release a new WWP Sessions version of the band's hit track "Unsteady."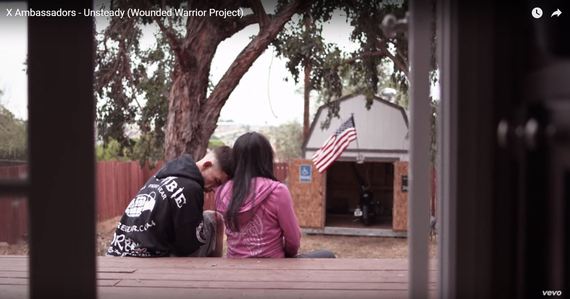 The newly produced music video, inspired by a wounded veteran's struggle to find care, not only pays tribute to America's soldiers, but reminds us of the sacrifices warriors make both in combat and once they return home. It's something that people may not realize - that the battle continues back home, on a sometimes difficult road to recovery.
These battles include those with deeply personal wounds, such as post-traumatic stress disorder (PTSD), which go beyond the physical and visible injuries. As I can personally attest, PTSD and other invisible wounds can have devastating effects on our nation's veterans, their families, and caregivers. Today, 14 percent of post-9/11 veterans - or approximately 378,000 warriors - meet symptom criteria for PTSD.
Yet, as a nation, we don't sufficiently understand this mental health condition. Many veterans don't seek help or know where to go for care. Others don't understand that PTSD can be treated, while many are afraid of appearing weak or damaged.
In reality, PTSD is a normal reaction to a traumatic event or experience, and it takes a much stronger person to ask for help, than to suffer in silence. Fortunately, there are supporters who are raising awareness of this condition, and organizations like WWP offer a way forward and provide the resources that can help with recovery.
And there are many available treatment options and care - including using music as therapy. One pilot study conducted in 2011, demonstrated that among 40 veterans returning from Iraq and Afghanistan with significant PTSD symptoms, music therapy was shown to have a positive benefit in relieving symptoms. At WWP, music therapy is provided to warriors because of its healing effects. The study findings, and my own experience, show music's power to reduce depression symptoms and improve health-related quality of life.
This video reinforces the importance of learning about the wounds of war, including the symptoms of PTSD, raising awareness of this condition, and connecting with veterans and their families to make a positive difference in their lives. As the video goes live, we hope that it will give viewers an opportunity to reflect upon our military's service both abroad and at home, and remember the sacrifices they make - both visible and invisible.
REAL LIFE. REAL NEWS. REAL VOICES.
Help us tell more of the stories that matter from voices that too often remain unheard.