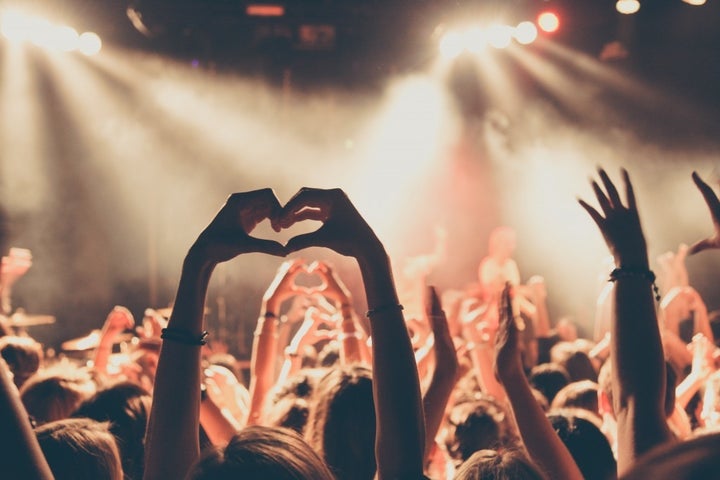 This weekend, tens of thousands of music fans will flock to Indio, California, for Desert Trip, the grand finale of the 2016 summer concert season. The festival is an oasis of classic rock, headlined by the Bob Dylan, Neil Young, Paul McCartney, Roger Waters, Rolling Stones, and The Who, among others. While these are some of the most iconic names in music, it's noteworthy that average age of these artists is 72.
Music, whether in 2016 or 1968, has always been a powerful force, with musicians pledging love and allegiance, championing for change or simply appreciating the simple things in life. Such a passion is transformative, used not only as a tool to voice the concerns of a generation, but also escape from those same frustrations. Increasingly, escape is becoming a priority among fans, with many of the year's biggest concerts centered around nostalgia and veteran acts such as Bruce Springsteen and Madonna bringing in the highest revenue.
Concurrently, recent festival lineups have often boasted older performers playing alongside significantly younger acts; this year alone, Guns N' Roses took the stage at Coachella while the Red Hot Chili Peppers headlined Lollapalooza. And last year, I saw the clout of nostalgia firsthand with the Fare Thee Well reunion tour, which totaled more than 200,000 attendees over three shows, and shattered the attendance records at Chicago's Soldier Field. But as artists like Taylor Swift and Kanye West remain eminent in the mainstream, why are so many fans convening to see aging rockstars?
Fans are drawn to music that moves them, regardless of the era it comes from. Whether a sixteen-year-old listening to Nirvana for the first time or a Deadhead recalling their favorite tour, music-lovers yearn for a better place. Often this is a place etched in their memories, a place where they've come of age and a moment in time they escape to for years to come. Never has this been more true than upon the passing of legends Prince and David Bowie. These staggering losses serve as a stark wake up call that our favorite acts are fleeting and the time to experience their talents, live, is limited. As we look to celebrate the lives of these pioneers, it's only natural to take a look back and revisit the depths of their careers.
Similar to the tumultuous '60s and '70s, we're living in an era of social unrest and political tension. After a long day at work, headlines surrounding the election and tragedies overseas are overwhelming and ever-present. With our news feeds and televisions flooded with disheartening headlines, never has there been more of a need to escape than today. Recent research from Cornell indicates deep emotional connections between fans and the music released the first two decades of their lives; it makes sense fans would would seek refuge in the songs of their youth. In the wake of such turbulence, people are increasingly drawn to times they consider simpler, seeking safe spaces where artists like Dylan and the Stones serve as respite from everyday concerns.
Even so, the concept of nostalgia is nothing new; the celebration of songs past is as timeless as music itself. Whether the re-release of celebrated albums or anniversary celebrations like Woodstock '94, fans have always looked to the past to inspire the present. We see it every day -- teenage girls donning Pink Floyd shirts, a father taking his son to his first Phish fest. Performers themselves are also greatly influenced by those who have come before them -- look no further than Beat Generation musicians, who were heavily influenced by Americana, reimagining dated folk songs. Even the Beatles, who are the embodiment of 60s nostalgia, were heavily inspired by earlier acts, such as Chuck Berry and Carl Perkins.
Now, with the entirety of music history only a few clicks away, reflecting on artists, bands and events from different eras is easier than ever. Nostalgia also enables sense of rediscovery, empowering fans to continue building their individual music history. Desert Trip attendees may be seeing The Who for the first time since the '60s, or for the hundredth time. Regardless, nostalgia invites the past and present to converge, perpetually delighting fans and spurring continuous opportunities for bands, festivals and venues alike to connect with audiences.
Ultimately, Desert Trip is only one iteration of nostalgia, a glimpse at how yesterday's flower children celebrate an era that deeply resonates. Nostalgia has always been there and, as long as it has meaning, it will always be marketable. Though all eyes are on the '60s and '70s, we're already experiencing the next iteration as '90s acts launch themed cruises and artists like Celine Dion, Britney Spears and, most recently, the Backstreet Boys, take up and extend Vegas residencies. The Taylor Swifts and Kanye Wests of today will be the Janis Joplins and Jimi Hendrixes of tomorrow. Though technology contributes to the need to escape, it also provides a deep sense of refuge, allowing fans to engage with the past and the present simultaneously -- so when festivals like Desert Trip are over, the experience never has to end.
Calling all HuffPost superfans!
Sign up for membership to become a founding member and help shape HuffPost's next chapter