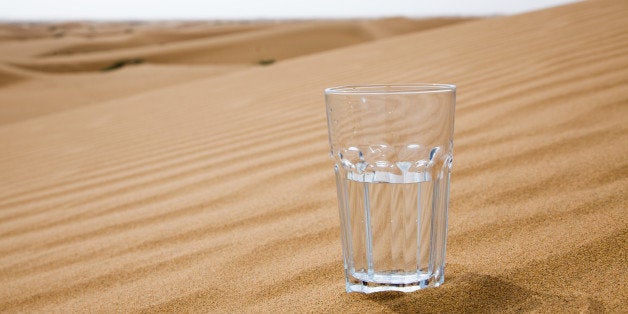 I've always been an optimist, always striving to see the glass as half full. In fact, it's something that comes naturally to me. I just automatically look to what is going right and focus on that. Fifty things could be going wrong but, damn it, let's look at the two things that are amazing! I make that statement in jest because, in actuality, there are always a ton of amazing things going right; you just need to look for them. There's always a silver lining.
As a result of the foregoing, I am a happy, cheerful, and productive person. Despite being thrown some lemons in recent years, which included but aren't limited to my youngest child being diagnosed with cancer at the age of 4 and my marriage coming to an end, I have managed to pull through the wreckage and remain happy. I could have fixated on the negative and become absolutely miserable, but I chose not to. This is how I choose to live and I've never quite understood people who are enveloped by the negative. I want to shake them and say, "Open your eyes! Yes, certain things suck right now but look at A, B, and C! Look how fortunate you are. Let's focus on that!"
Then I met my daughter. My oldest, I dare say, is more of a pessimist. When looking at the same glass as me, she definitely is focusing on the empty part. I have watched her do this over and over and struggled with how to change her mindset. I truly believe that your mindset is what differentiates happy from unhappy people and I adamantly refuse to let her be unhappy.
One night she woke up upset about something that seemed like the end of the world to her, but, in actuality, was something only a child from a privileged upbringing would lose an ounce of sleep over. I got up at 3 am with her and demanded she come downstairs with me and brought up pictures online of children who were starving. It was very graphic - you could literally see their bones protruding. I told her, "next time you start to get upset or down about something, I want you to think of these kids - think of how bad it could actually be and how good it actually is! Change your perspective, or you are going to grow up to be an unhappy person and that's not what I want for you." I explained to her that it is harder for some people to focus on the positive than others and that she may need to make an extra effort, but that it was up to her.
We often wonder if what we say to our children makes an impact or if it goes into one ear and out the other. I was delighted to hear from my babysitter the next day that my daughter had mentioned our discussion and how it made sense to her and that she was going to try and focus on her many blessings.
We have struggled on and off with her positive thinking. Then, recently, we had the opportunity for her to meet her favorite singer of all time. And, I don't just mean go to her concert, but actually get to meet her, hug her, and take pictures with her. An awesome experience and any kid's dream! So, we went and it was amazing. Watching the excitement in her very being was priceless. On the way home she started crying and I asked her what was wrong. With tears streaming down her face she said, "I will never, ever get to meet her again!" I was flabbergasted. I thought to myself, wow - most kids could only dream of meeting their favorite singer. And, here, my daughter is not basking in the glory of what she just experienced, but fixated on the fact that it would likely never happen again. It was such a light bulb moment for me. As annoyed as I wanted to be with her behavior, I felt sad for her - sad that after having such a unique experience, tears of sadness are what she was left with.
I truly believe that people are just wired differently. If it were me, I would have thought back on the experience and smiled whereas my daughter was reflecting on it and crying. She was fixated on the one negative aspect - that it was over.
So, alas, we have much more work to do. I will continue to fight for her to be positive; to see the world through rose-colored glasses, and to focus on the beauty of life, as opposed to what is not perfect. It is more difficult for some people to do this than others, but we are in control. We have much more power than we give ourselves credit for when it comes to choosing if we are going to be a happy person or a miserable person. Be an advocate for yourself - not your own worst enemy.
After explaining to my daughter how I believed that she was looking at this experience all wrong, I left her with the following quote by Dr. Seuss, which can be applied to so many different situations in life. "Don't cry because it's over. Smile because it happened."
I believe in my daughter. And, I believe in you. Choose happy.