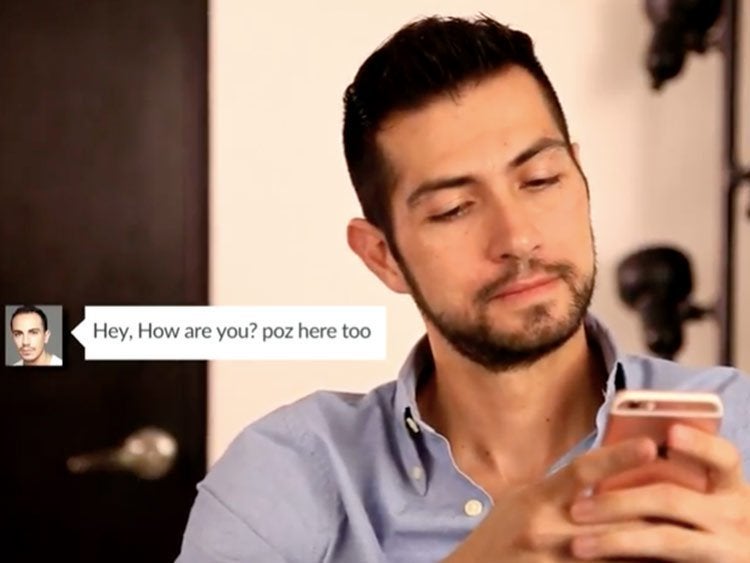 The LGBT community has fought for years and demanded representation of our community in media and marketing. Media is meant to reflect the world around us and when the diversity of the LGBT community is absent we are rendered invisible. In the last few years we've seen moderate success as representations of LGBT people have expanded beyond just white gay men to include more people of color, more trans folks, and a variety of gender expressions and body types. Yet the experience of people living with HIV (PLWH) hasn't changed much in the past 20 years. As a result there is still very little understanding of the modern experience of HIV.
When PLWH are depicted in film and television it's almost always to illicit pity or shock from an audience. At other times HIV is a punishment that happens to a deserving character. Rarely are people living with HIV portrayed as multi-dimensional and it's even more rare for them to be seen as sexual.
In marketing images HIV-positive people are seen as a condition in need of treatment or as a tool of prevention, utilized as a cautionary tale to keep men negative. But the experience of HIV is not that of a patient or a walking prevention billboard, it's nuanced, multifaceted, and diverse.
Hornet's new marketing campaign, written by a person living with HIV, depicts one of the experiences of living with HIV in the modern world. The video, which is part of the "Making Connections" series, is entitled "Making Connections That Can Change The World" and features two HIV-positive characters having a discussion on the app. One is approached by the other with the simple phrase, "Poz here too" and that begins an online chat about dating, disclosure, and life with HIV.
The experience of HIV-positive gay men on gay social networking apps has generated great debate and discussion. HIV-positive men often report experiencing stigmatizing messages on various apps. This Hornet marketing video shows an example of some of the benefits of positive men making meaningful connections. Many HIV-positive men experience isolation or are lacking in support and social networking apps allow for support, community, and a way to bring HIV-positive men together.
This video is not a prevention message and it's not a public service announcement. It's simply marketing that reflects the experience of HIV today. It's one of the first times HIV has been integrated into marketing, as opposed to the main focus of marketing. It successfully utilizes HIV as a part of the every day lives of gay men, particularly in the virtual world.
The depiction of people living with HIV in marketing has meaning. The portrayal of the lives of HIV-positive people can have a profound impact on stigma. It increases the visibility of people living with HIV and allows for a complex reflection of the experience. If we can expand the narrative of HIV beyond the realm of clinical and preventative then we can show people living with HIV as complex characters.
There portrayal of life with HIV can also have an impact on the fear so many men experience when it comes to knowing their status. Too many men are still petrified that testing positive will mean a loss of family, friends, community, and sexuality. That fear prevents people from testing and it prevents people from being open about their status. This epidemic is over 36 years old and there is still so much more we can do to combat the fear and provide a space for people to affirmatively declare they are HIV-positive.
This integration of HIV into marketing is a groundbreaking step toward shifting the narrative of what it means to live with HIV today. We are living in a time when world leaders are denying the existence of LGBT people, religious authorities are denying our humanity, and HIV is still criminalized around the globe. In order to advance the audacious nothing that LGBT lives have value all parts of our community must be represented. HIV is incidental to our lives and our communities will be strengthened by a variety of representations of people living with HIV.
Calling all HuffPost superfans!
Sign up for membership to become a founding member and help shape HuffPost's next chapter
This post was published on the now-closed HuffPost Contributor platform. Contributors control their own work and posted freely to our site. If you need to flag this entry as abusive,
send us an email
.