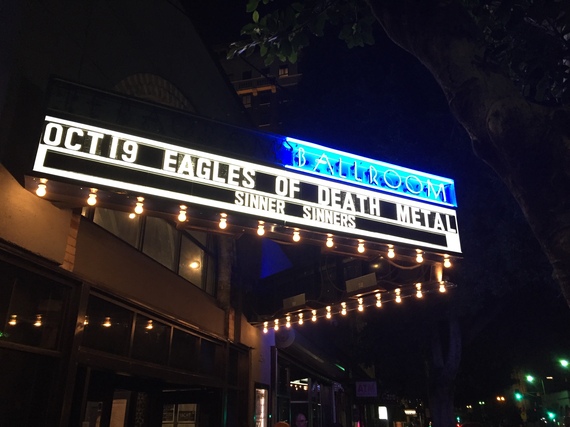 This week, on consecutive days, I got to see up close and personal the power of in-your-face rock 'n roll. On Sunday afternoon, the Foo Fighters proved it is the best cover band in the world and Monday night, Eagles of Death Metal (EODM) laid claim to be one of the best pure, down and dirty, rock 'n roll bar bands around.
While the Foos were playing a daytime, lakeside show at Castaic Lake as part of the 32nd Annual Love Ride, the largest and longest-running one day motorcycle charitable fundraising event in the world, this year benefiting the Wounded Warrior Project, EODM was kicking off its tour in support of its latest release Zipper Down. Dave Grohl and company took the approach of playing a Foo Fighters song followed by a classic cover, and during its rendition of AC/DC's "Let There Be Rock," the day just couldn't get any better. Likewise, EODM's brand of dessert boogie felt like classic Bon Scott swagger personified during its show at the packed and sweltering Teragram Ballroom in downtown L.A.
Not to be outdone, punk rock legends Social Distortion opened for Foo Fighters and delivered a knockout blow with its Americana brand of urgent punk rock.
"We've wanted to be a part of the Love Ride for years now, so we are stoked that our friends the Foo Fighters asked us to be involved for the final ride; which makes it bittersweet," Social Distortion frontman Mike Ness said.
Founded by Oliver Shokouh, the Love Ride Foundation has raised over $25 million in charitable funds for organizations such as the Muscular Dystrophy Association, United Service Organization, Autism Speaks, and long term support for Glendale Community College. Earlier in the day, Grand Marshall Jay Leno, who co-hosted the event with founder Oliver Shokouh for the last 26 years, led a pack of 13,000 bikers that included honorary marshals Peter Fonda (Easy Rider) and Robert Patrick (Terminator 2: Judgment Day) from Glendale to Castaic Lake some 40 miles outside of Los Angeles.
And once the mighty Foo Fighters took the stage, Grohl, who is still nursing a broken leg, morphed his current throne where he's been performing to a makeshift, oversized Harley Davidson chopper where he sat tall and delivered a ruckus and rousing set. The Foo Fighters are a bona fide arena rock band playing a catalog of anthem rock songs that build to a fever pitch. Songs like "Learning to Fly", "This Is a Call", "Times Like These" and "Everlong" are radio hit staples. Even if you weren't a diehard Foo Fighters fan at the show, chances are you knew every song.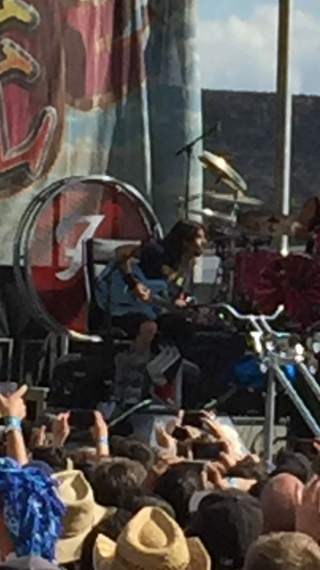 The covers they played included The Faces' "Stay With Me" (perhaps making them the modern day cover band kings since The Faces), Van Halen's "Ain't Talkin' Bout Love", Queen's "Tie Your Mother Down" and "Under Pressure", AC/DC's "Let There Be Rock" and The Rolling Stones' "Miss You". The party never stopped as each song played was an absolute favorite.
Likewise, Eagles of Death Metal who play an infectious mix of bad boy boogie that has been labeled a carnal blues-rock project is perfect for dancing and a few other non-vertical activities, delivers its sonic assault in a more confined space. The brainchild of Queens of the Stone Age singer Josh Homme (aka Baby Duck on drums, an arena rock star in his own rite) and singer/guitarist Jesse Hughes (aka Boots Electric), the band is armed with an arsenal of humor, wit and sass. Zipper Down champions the female anatomy, especially women who like to shake their ass ("Got a Woman" and "Slight Return"), as well "Silverlake" hipsters who encourage their girl to get with the bouncer so they can score entry into a hip club. Personally, I'm obsessed with the band's cover of Duran Duran's opus to "a one-night stand" in "Save a Prayer."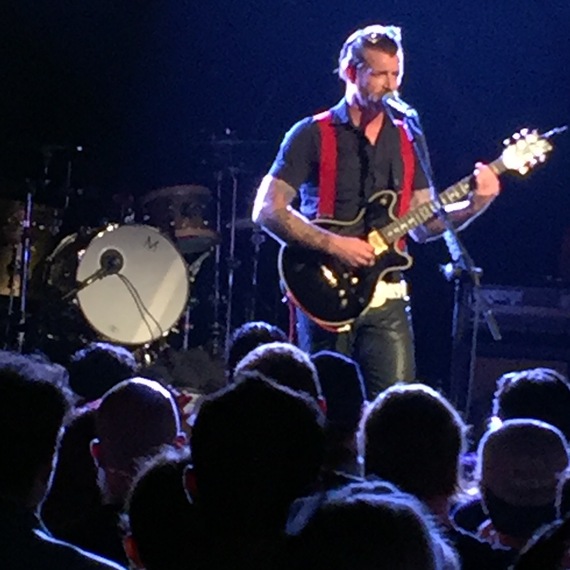 When live music, whether indoors in a hot, tight sweaty space or in the great outdoors, for a good cause or for a good time, delivers, there's nothing like it.
Foo Fighter's Set List:
Learn to Fly
Stay With Me (The Faces)
The Pretender
Ain't Talkin' Bout Love (Van Halen)
This Is a Call
In the Flesh (Pink Floyd)
Times Like These
Tie Your Mother Down (Queen)
All My Life
Let There Be Rock (AC/DC)
My Hero
Breakdown (Tom Petty and the Heartbreakers)
Best Of You
Under Pressure (Queen and David Bowie)
Walk
Miss You (The Rolling Stones)
Everlong
Calling all HuffPost superfans!
Sign up for membership to become a founding member and help shape HuffPost's next chapter