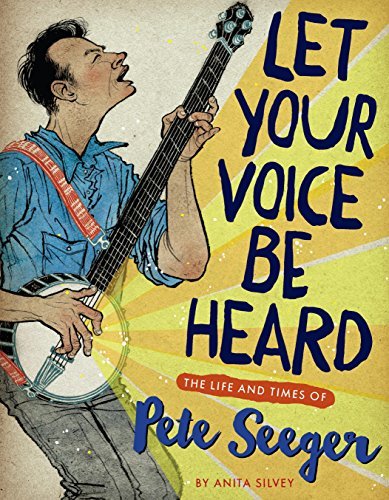 How does a privileged young man fight for social justice, rights for labor, world peace, civil rights and a clean planet and actually make a difference? Would you believe that he sings? And the words of the songs he sings come from the people whose plight he is championing. I'm talking about Pete Seeger; whose songs I sang in my childhood. A new biography for children, Let Your Voice Be Heard: The Life and Times of Pete Seeger by Anita Silvey is a page-turning narrative of the long and influential life of a folk singer.
What was the secret of Seeger's success as a musician and an activist? It wasn't his thin reedy voice or his brilliant banjo picking. It wasn't the artfulness or lack of it of the songs. It wasn't his performance, which was bare-bones with nary a pyro-technic to be seen. The key to Pete Seeger is that we all sang with him. As we sang those words and their memorable tunes we felt the heavy hammer of the railroad worker, we felt tears in our eyes during "This Land Is Your Land; This Land Is My Land," and it was no surprise that "We Shall Overcome" became the anthem of the Civil Rights Movement. Our voices were joined in song with the authentic voices of the folk who created them. Pete Seeger found these songs and brought them to us. And when he couldn't find a song for a cause, he made one up.
In distilling the story of Pete Seeger's life, Anita Silvey did meticulous research, reading primary sources of Seeger's own words and interviewing the man himself who told her to "Take your time. Write a good book. I will probably be dead by the time you finish." She did and he was. Children deserve to read such a finely crafted, lovingly honed piece of nonfiction that depicts a modest giant of a soul who sang the talk as he walked the walk. We all do.
REAL LIFE. REAL NEWS. REAL VOICES.
Help us tell more of the stories that matter from voices that too often remain unheard.