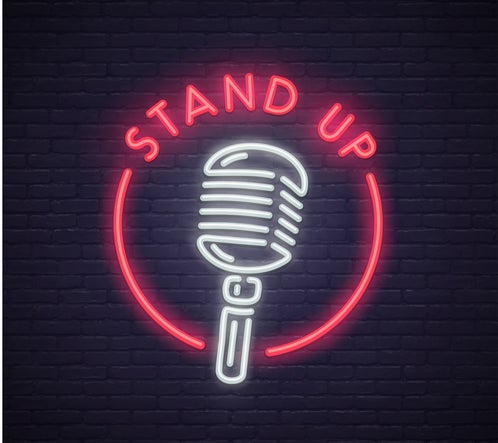 One of my fondest memories as a young adult was when my dad took me to see Chris Rock. I was so excited to see him live, as we sat somewhere in the middle of a Palm Springs event center, wedged between bouts of explosive laughter and a few sharply drawn gasps. I loved seeing the whole place light up as Chris worked the stage, boldly reckoning with life's cold truths. And while he got me laughing hysterically, he also got me thinking about the vast injustices of the world — and my place among them, respectively shaping my love and appreciation for stand-up comedy.
"While [Chris Rock] got me laughing hysterically, he also got me thinking about the vast injustices of the world."
Last week while I was on the phone for nearly two hours with an income tax representative, we covered the sobering reality of teacher's pay, and Dave Chappelle's latest stand-up specials, "The Age Of Spin" and "Deep In The Heart Of Texas." True to form, Dave examines a set of polarizing topics, like sexism, racism and... O.J. Simpson, once again drawing forth a succession of sighs from his audience. My tax agent was quick to note how excited he was for Dave's return after a decade, but ultimately felt let down by the performance, simply calling it "not funny" and "repetitive."
After we hung up, I thought about what he'd said, having binge-watched both specials, and in some agreement, it compelled me to think about the power and purpose of stand-up comedy amid a rapidly changing world. Like all great comedians, Dave isn't shy about his opinions, nor should he be, especially when he's got the intellect and inherent curiosity to support his moral impasses and candidly laid out claims. And he delivers. Dave Chappelle is one funny motherf*cker. However, his return has garnered some expected criticism, which is nothing new considering the gig, and the blaring transfer of ideas. But it feels different this time around, beckoning a number of hard questions during an unimaginable period of troubling social discord.
Some have characterized Dave as "cruel, lazy, and offensive." No doubt his comedic undertones can be heavy. I, too, had jarred reactions as he loosely spoke about Bill Cosby and sexual assault, coming across as ignorant and misogynistic. Similarly, he failed to offer any kind of thoughtful understanding in regards to matters of the LGBTQ community, only perpetuating regressive homophobic and transphobic rhetoric by cracking jokes about transgender people. That being said, and hardly forgotten, his choices didn't completely deter me from seeing a deeper, more complex Dave Chappelle who ironically, and implicitly, poses some interesting questions throughout his standup: What have we continued to normalize as a society in regards to tolerance? What have we desensitized and conditioned into a "new normal?"
Pulsating with nicotine and penetrating thought, Dave's ability to cut through social nuances — while rightfully exposing the abuse of power and privilege that exists within our society, is what makes him the provocative comedian that he is. If we strip away all the discomfort Chappelle creates, isn't it a funny way, pun intended, of confronting our current reality that for lack of a better term, isn't okay? Offended or not, at the end of the day, his material is our grim actuality.
Take for example two stories he shared in his specials. One about a time when a car full of white teenagers hurled a snowball at him and his sister, who was dressed in all Muslim garb, and the other about some ignorant asshole who threw a banana peel on stage during a show in Santa Fe. Interestingly enough, after being arrested for his racist innuendo he was given the opportunity to redeem himself. A lieutenant with the police department reported that Chappelle actually gave this man a chance to sit and talk, but he showed "no remorse," only validating what's terribly wrong with our society, while drawing the curtains for a man with something important to say. What's jarring and "disconcerting" isn't necessarily Dave's act, but the gravity of real life issues that feed and sustain his work, making him one of the most vital and influential comedians I've ever seen. And by saying this I'm not excusing him from reinforcing some of the bigoted ideas that take place within our culture, but rather raising an interesting question about the power of platform within stand-up comedy.
Amy Schumer's latest Netflix special is another example of why stand-up comedy offers more than just a good laugh. She's never been afraid to address relevant social issues or tell the truth, particularly in regards to how disturbingly easy it is for anyone to obtain a firearm. She uses her platform wisely and unapologetically, giving viewers something to think about beyond what one might deem trivial or trite. Likewise, she's welcomed true self-empowerment into the folds of our ideas about women and feminism — and tolerance, again unapologetically. She's made it very clear who's in charge of Amy, and her message is louder than any laugh.
And then there's Margaret Cho whose pushed boundaries in many arrangements, stating that comedy is all about "challenging the audience." In her edgy pitches, she goes straight for the jugular, unabashedly addressing her abuse as a child while also reckoning with racial stereotypes, and audience members walking out offended.
Love 'em or hate 'em, good stand-up comedians create significant opportunities for us to respond to their content as a society. We can take their truths and laugh, and we can take their truths and learn. And whether they've got you gasping in disbelief, or fits of laughter, there's something to be heard... and I'm listening.
Popular in the Community