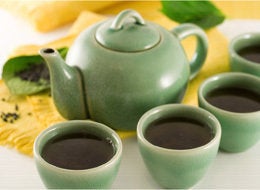 It was 20 years ago to the day that I, as a hip New Yorker, went to Liverpool, England, to visit my recently engaged sister Lola and her in-laws (think the Fokkers a la Barbara Streisand). The next thing I knew we were sitting in a very proper English living room, sipping "tea" with finger sandwiches, scones, Devon cream and jam. For the first time in my life I felt truly civilized, despite the fact that the tea tasted like dish water. Upon mentioning to my hostess that with everything being so tasteful and elegant, why not the tea as well, she replied, "You're the entrepreneur, you go out and find the great cup of tea." She really inspired me.
A month later I was off to Thailand, Vietnam and Japan with my daughter Julie to experience the ancient world of tea--its meaning, ritual and consciousness. Long ago, while a Buddhist monk was meditating under a tree (a camellia sinensis, i.e., a tea tree), a tea leaf fell into his cup of hot water. What he drank helped to deepen his meditation and thus began the great tradition of using tea to stimulate and enhance one's spiritual practice.
Additionally tea will "make one live long to stay in good shape without becoming too fat and too heavy" according to Shennong Bencaojing Jizh, the classical Chinese book on pharmacology, written circa 500CE. Centuries later, tea is still revered for its healing properties. Modern scientific research has shown the health benefits of tea can be attributed to catechins, other polyphenols and flavonoids, like theaflavin, which have all been shown to possess highly anti-oxidative properties. Additional contributors are the close to 20 different types of amino acids, as well as high levels of several key vitamins and minerals that are also readily available in a cup of tea.
Although much of the attention has been focused on the rewards of indulging in green tea, each of the four main categories of tea, black, green, white and oolong have been scientifically shown to have extensive health benefits for those who consume them on a daily basis. One of the collective benefits of drinking tea is its ability to inhibit arteries from clogging by dissolving triglycerides, which in turn can help prevent heart attacks and strokes. Tea has also been shown to impede the growth of cancer, aid digestion and weight loss, and even aid in the prevention of tooth decay. In order to fully take advantage of all the healing rewards that tea has to offer, experts recommend drinking at least 3-6 cups a day.
As I traveled Asia with my daughter Julie, wherever we went, either for pleasure or business, tea was served first. Tea creates a gentle yet vibrant atmosphere, brings people together and inspires them to take the higher road in life, truly seeking health prosperity, peace and happiness for everyone.

Popular in the Community