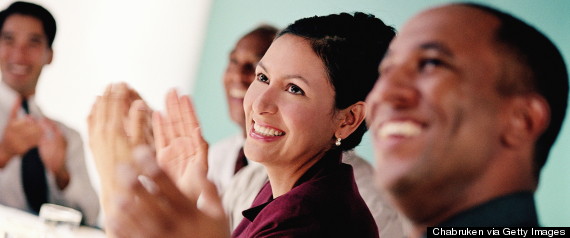 This time of year, many people give thanks for what they have. I am thankful for my good health, loving family and wonderful friends. It's amazing how powerful verbalizing a "thank you" is. Thanking my husband for cleaning up the house before guests arrive helps solidify the bond we have for each other. Thanking a friend that goes out of their way to do something nice for me makes me want to return the favor.
On the flip side, it's amazing to me how many companies put minimal effort into recognizing their employees for a job well done. According to research by Forbes, 83 percent of the organizations they studied suffer from a deficit in recognition. And they found that 87 percent of the recognition programs offered focused on tenure. However, their research confirmed that tenure-based rewards systems have virtually no impact on organizational performance. Conversely, companies that scored in the top 20 percent for building a "recognition-rich culture" actually had 31 percent lower voluntary turnover. These are huge and compelling statistics!
As I learned first hand when I had my own business, the power of creating a "culture of recognition" is the key to success. Recognizing employees for going "above and beyond" creates a positive dynamic where the employee is motivated to continue doing well in order to feel good about themselves and reinforces getting praised. I experienced very low turnover as a result and found that the reward didn't have to cost much... just be meaningful to the individual.
How can you make recognition be more effective?
Make it timely. Don't wait for the annual bonus or "employee appreciation day". Give recognition in the moment or soon after. This will encourage the employee to replicate the feeling and continue to excel.
Make it personal. Know what kind of recognition the recipient will appreciate. The best way to do this is to ask: "What is something you would love to have, but could never justify buying for yourself?" Customizing the recognition will make it memorable and therefore more impactful. Make sure to understand if the individual appreciates public or private recognition and recognize them accordingly (although sharing recognition in a public way goes a long way in building a "culture of recognition").
Make it specific. Generic recognition messages ("Thanks, great job!") have little impact. Articulate what the individual did and why it was important. Share how their efforts helped you, the team, the client, or the company. Tie it into the company's values or goals.
Make it meaningful. In addition to having managers recognize their direct reports, also create a culture where peer-to-peer recognition is encouraged. Offer a broad array of choices and make them as meaningful to the recipients as possible. Continually reassess your recognition program and provide innovative solutions, like integrating social media.
Make it frequent. Do not limit the amount of recognition given. You want to continually encourage excellent behavior, results and progress. If budget is a factor, consider low or no cost ways to recognize contributors.
The Great Place to Work Institute, which maintains the Fortune 100 Best Companies to Work For list, highlights "Thanking" as one of 9 key Practice Areas in their culture framework. According to the Institute, Best Companies thank employees personally and in unexpected ways; they thank people frequently and cultivate a "climate of appreciation".
Some examples of the ways in which the Best Companies thank employees include:

Whole Foods Market
Appreciations
Appreciations is a permanent agenda item at all Whole Foods' meetings, including senior leader meetings. From the top to the bottom of the company, it allows any employee to publicly and voluntarily express gratitude and thanks to his or her co-workers for thoughtful or helpful things they have done. At Whole Foods, the practice of Appreciations is viewed a way to reinforce the importance of recognizing the efforts of colleagues on a daily basis.

Zappos.com
Anniversary License Plates
For employees' first-year anniversaries with Zappos.com, the company gives them an aluminum license plate with the company logo and employee name on it. The license plates hang above each employee's chair. And, similar to a traditional license plate, instead of a registration sticker, the company gives each employee an anniversary sticker that shows just how long they've been with the company. Each year on employees' anniversary dates, they get a new registration sticker for their plates.

Children's Healthcare of Atlanta
Management Recognition of Employees
Children's Healthcare of Atlanta has a variety of recognition practices and programs that enable managers and senior leaders to recognize and thank employees. To help managers identify the specific type of recognition their employees want, the organization collects individual employee recognition preferences, which are shared with their managers. The organization also provides managers with tips for positive employee feedback and note cards that enable managers to quickly and easily thank employees. During the holiday season, senior executives personally deliver healthy snacks to every department within the organization to thank employees for all that they do. In addition, each employee receives a holiday gift mailed to their home; last year they received a holiday card filled with a gas and grocery gift card and tickets to a local holiday attraction. Finally, last year the executive team presented employees with a book entitled "Your Stories, Our Inspiration," a collection of senior leaders' favorite inspirational stories of patients and employees from over the years.
Companies that take the time to create thoughtful, impactful recognition programs will find that these can have a huge impact on business performance. In order to be truly effective, however, these programs need to be communicated properly and used frequently by employees and managers. Reinforcing exceptional behavior in the workplace, if rewarded in a meaningful way, creates higher morale, lower turnover and increased engagement. Check out a recent WorldatWork and ITA Group survey "Trends in Employee Recognition 2013" for more compelling statistics.
Cathy Leibow is a pioneer and leader in the Work/Life industry. For over 25 years, she has worked with employers to offer benefit programs that enable employees to better balance their work and family lives. In 1987, Ms.Leibow founded a Work/Life company called FamilyCare. She sold her business in 2006 but continued to provide EAP, Work/Life, Wellness and Concierge services to Fortune 1000 companies. She is an expert on child care and aging workforce issues. She also provided consulting services for the Great Place to Work Institute in order to create positive culture change and "best place to work" recognition. Premier clients include Apple, Genentech, Texas Instruments, Fidelity Investments, Nordstrom, LSI Logic, Hitachi Data Systems and Advanced Micro Devices. Ms. Leibow can be reached at 925-963-9636 or cleibow2@gmail.com.
Related
Popular in the Community