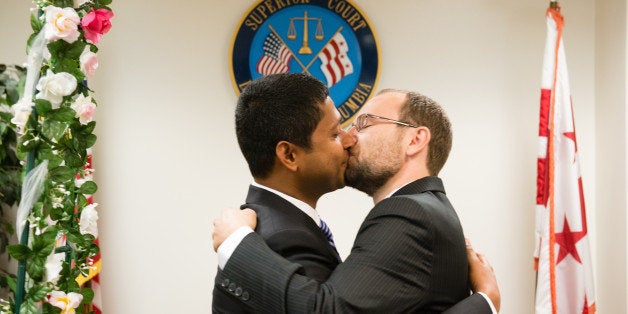 "Is not a kiss the very autograph of love?" asked critic Henry Finck more than a century ago. Yes it is. And in this extraordinary era of LGBT history, the kiss has become a signature of what is enjoyed by millions of people and denied to millions more. It has become an iconic image of protest and support, highlighting the fact that love is love and nobody should be denied their human rights on the basis of sexual orientation.
Although the kiss has been seen for decades at demonstrations and rallies, the year 2013 elevated it to a new place of significance on the global LGBT stage.
In chronological order, here are some kisses to remember and inspire.
In France, two socialist (and straight) members of France's Parliament, Yann Galut and Nicolas Bays, kissed in public to show support for France's same-sex marriage bill as part of a demonstration in Paris, Jan. 27, 2013 for marriage equality in France. "We're both straight, we're both married with children," Galut said. "But today with the kiss of solidarity, it meant we, as parliamentary members who start fighting for same-sex marriage legislation in two days, we stand in solidarity with homosexuals."
In the United States, in advance of the Supreme Court hearings, I founded the Kiss for Equality campaign to raise awareness about equality in the U.S. Since February 14, 2013, this campaign has been inviting people to share a "kiss for equality" with the world, via social media. Thousands of photographs have been submitted on Facebook alone, each one telling a story that helps demonstrate that love knows no gender, nor background. The Kiss for Equality campaign is now a global campaign with members from 45 countries.
In Ireland, the gay rights group LGBT Noise organized a Kiss-In in Dublin on April 14, 2013, that coincided with the country's Constitutional Convention, part of which included a debate on marriage equality. Hundreds kissed outside of the Gaiety Theater to mark this historic moment in the history of LGBT rights in Ireland.
In Russia, gay rights activists staged a Kiss-In outside of the State Duma in Moscow on June 11, 2013 to protest the passage of a Russian law that criminalizes the discussion or display of homosexuality anywhere that a minor might be present. The handful of protestors, who were both gay and straight, were violently attacked by an anti-gay mob numbering in the hundreds. The blood they shed for kissing demonstrated the kind of abuse LGBT citizens and their allies suffer as sanctioned by Russian authorities.
In Germany, Berlin activists Norbert Greuter and Florian Filtzinger organized a Global Kiss-In on September 8, 2013 to protest the human rights abuses in Russia. Entitled "To Russia, With Love," the global Kiss-In inspired more than 55 events around the world, during which people kissed one another at Russian embassies to protest Russia's anti-gay laws and stand in solidarity with Russia's LGBT citizens facing discrimination.
In Italy, dozens of members of Parliament staged a "Kissing protest" during a parliamentary debate on September 20, 2013, over an anti-homophobia bill. Members of the Five Star Movement (M5S) kissed in support of expanding the rights of gay people. Said MP Federica Daga, "equal rights and dignity without gender. Because a kiss and a hug are not scary."
In India, activist Tanmay Sahay organized the "Gay for a Day" Facebook event on December 13, 2013, in which thousands of people throughout India posted pictures of themselves kissing someone of the same gender to protest the Indian Supreme Court's ruling which recriminalized homosexuality.
...And Look What's Happening In the Media: Germany GQ launched a "Gentleman Against Homophobia" campaign, also known as #Mundpropaganda, in their December 2013 issue. This campaign features straight male celebs kissing for gay rights. "The intolerance that homosexuals are still fighting against is shocking," said Editor-in-Chief José Redondo-Vega. "With #Mundpropaganda we wanted to give a clear sign in favour of a free society."
What will 2014 bring? Send us your kisses and tell us.
Send photos, news and stories to kissforequality@gmail.com or visit The Supreme Kiss on Facebook.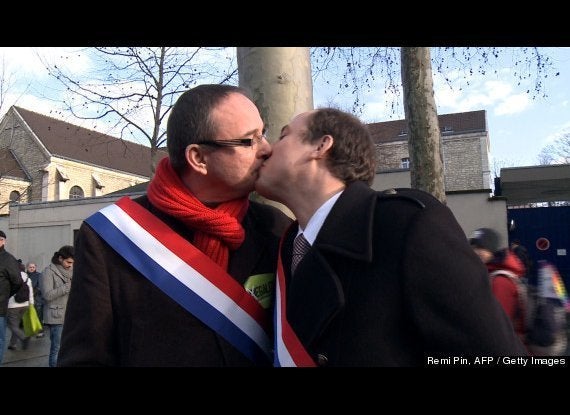 The Power of the Kiss in 2013
Popular in the Community