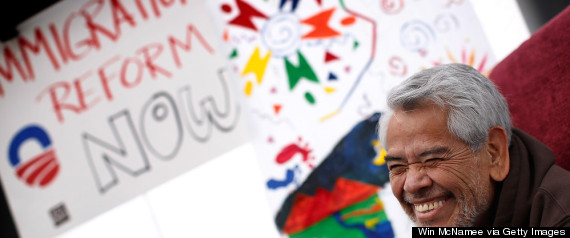 The cross and the Star of David. The American flag and the Olympic Rings. The mouse ears and the bitten apple. Since the beginning of time, the power of a simple, iconic visual image has been one of our most enduring forces for action.
They hold the power to bring us together in belief, define personal identities, energize commerce, as well as power political movements, and even revolutions.
I was political director at the Human Rights Campaign, the largest LGBT organization in the nation, during the early 1990s. It was a time when LGBT Americans who had been marginalized and criminalized were becoming part of a powerful and sophisticated movement.
Ellen DeGeneres came out. "Gays in the military," was one of the political buzz-phrases of the era. Major equal rights legislation was voted on in Congress for the first time. Fortune 500 companies began writing anti-discrimination clauses into their HR policies.
As more gay people came out, "them" became "my son," "my boss," "my best friend" and "us."
Gay became mainstream, and our rallying cry for "equality" replaced the 70s-era "gay rights" and the right wing's "special rights."
We needed a way to capture a growing movement. We needed our mouse ears.
While the rainbow flag was, and remains, a traditional symbol for the gay community, there was a hunger for something else that reflected the core value of our cause.
A simple blue and yellow equal sign became our mouse ears, and suddenly, it was everywhere. On car bumpers, on press conference podiums, on t-shirts and on lapel pins from coast to coast.
It powered the Human Rights Campaign and the equal rights movement to the point where the logo is now mounted on the side of a seven-story headquarters building, just blocks from a White House that is occupied by a president who made gays in the military, and marriage equality, a reality for millions.
There is a powerful parallel to the immigration rights movement.
Ask the average American if they know someone who is undocumented, and you might hear: "Well, maybe my cleaning lady," or, "that guy who fixed my deck." The reality is that undocumented Americans are not "them," but are "us." They are our colleagues, our students and our neighbors.
Jose Antonio Vargas, one of the most prominent undocumented immigrants in the America, is leading a movement called Define American with the purpose of making immigration reform personal -- that undocumented people are all around us, and they are the same as all of us.
Define American operates with a simple premise. No one is here because of an ability to navigate immigration bureaucracies. We are all here because we or our ancestors crossed oceans, dusty fields and dirt roads for the shared values of freedom, liberty, health and well-being. And we pledged our allegiance to this nation every moment since.
As an Italian-American, I am well aware Christopher Columbus was not carrying immigration papers on his historic voyage. Nor were my grandparents, when they showed up at Ellis Island.
Vargas, and others courageous enough to come out as undocumented, are launching a new logo and campaign built around the pledge of allegiance. This symbol means inclusion, patriotism and the power of immigration. You can see the new logo here.
As part of the launch, Vargas conceived and directed a powerful new video that introduces 30 undocumented people to the American people as they tell their stories, express their values and invite all of us to join their cause as our cause.
This symbol, and this campaign, embody the same spirit as the LGBT movement -- that we are all one people, defined as Americans, not as "illegal" or "homosexual."
Everyone who believes in these values should tweet the Pledge, make it our profile photo, adhere it to our car bumpers and wear it on our lapel pins.
If we're successful, we know that, one day soon, just blocks from the White House, Jose and others will be sworn in as what they truly are: Americans.
Calling all HuffPost superfans!
Sign up for membership to become a founding member and help shape HuffPost's next chapter