Coming of age stories come in all shapes and sizes. There is the hero's journey, which is often a solo adventure. Then there are buddy trips, in which two close friends go through a series of trials that make them stronger and better able to face the future.
Yet, there is something magical about the power of three. Is it because of the geometrical sturdiness of a triangle? The ability of one person to pick up a story thread while the other two fade into the background? Or is it just a factor of good marketing?
If one looks for popular titles that have had staying power, one can quickly identify The Three Musketeers, The Three Stooges, Three Amigos, Three Men and a Baby, as well as Goldilocks and the Three Bears.
Winners of athletic events and talent contests are often designated as recipients of gold, silver and bronze medals or trophies.
If we look at spiritual guides, it's easy to identify the three ladies, three priests and three boys in Mozart's 1791 opera, The Magic Flute; the Holy Trinity (father, son, and Holy Spirit); and the three wise men (Magi) who brought gifts of gold, frankincense and myrrh to the infant Jesus.
Women brought together in a work environment (9 to 5) or social context (Auntie Mame, Vera Charles and Agnes Gooch) often triumph over the clumsiness and insensitivity of the men in their lives.
Warnings of doom sometimes come in threes: In the prologue to Gotterdammerung, the three Norns predict the end of the Gods; a popular media rumor holds that famous people die in sequences of three.
The titles of two operas (Italo Montemezzi's 1913 opera, L'Amore de Tre Rei and Sergei Prokofiev's 1919 opera, The Love for Three Oranges) draw power from the number three.
One of the most beloved numbers from Gilbert & Sullivan's comic opera, The Mikado (1885), is entitled "Three Little Maids From School."
Two films screened at the 2013 San Francisco International Film Festival followed the exploits of a trio of men experiencing radically different coming of age processes. The comedy focused on three spoiled white suburban teenagers rebelling against their parents. The documentary focused on three gay men of diverse backgrounds as they began to cope with their declining years.
One could easily apply the power of three to The Kings of Summer, a new coming of age film written by Chris Galleta and directed by Jordan Vogt-Roberts. The story is simple enough: A frustrated, disillusioned teenage male rebels against his obnoxious father, sets off on a buddy adventure with his best friend, attempts to live independently in the nearby woods and is joined by a mysterious, elfin creature who serves as the film's comic foil.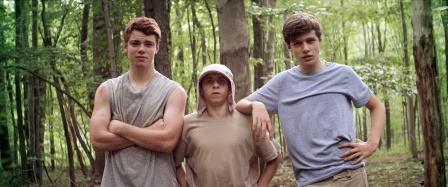 Gabriel Basso, Moises Arias and Nick Robinson
as The Kings of Summer

On paper, the basic plot takes two stereotypical high school hunks who are young, dumb and full of cum and teams them up with a classic nerd (who probably had no friends at school). To their credit, the three leads have had sufficient exposure in television series to have developed a loyal following among readers of Tiger Beat Magazine.
Nick Robinson stars as Joe Toy, whose bearish dad, Frank (Nick Offerman), is having enough trouble coping with life as a single father.
Joe's best friend, Patrick Keenan (Gabriel Basso), is well muscled, and a bit more pragmatic. His overbearing parents (Megan Mullally and Marc Evan Jackson) are so insufferably prim and upbeat that viewers might have a tough time deciding whether they would prefer to laugh at them or club them to death.
The comic relief figure, Biaggio (Moises Arias), steals every moment of the film in which he has screen time.
Rest assured, there are some genuinely funny moments in the film. Alas, one can't avoid the uncomfortable suspicion that a recent high school graduate decided to update Mark Twain's The Adventures of Tom Sawyer to a conservative area of suburban Ohio that is very white, somewhat privileged and noticeably devoid of intelligence. While there are moments that benefit from Ross Riege's cinematography, The Kings of Summer will probably serve best to alleviate the boredom of a long flight or a flu-ridden evening at home.
Unless, of course, you're a teenage girl. Here's the trailer:
In recent years, nonprofits like Frameline and the San Francisco Jewish Film Festival have launched programs in which young filmmakers work together with retirees on film projects of community interest. Some are designed to help pass on technical skills to younger artists; others are designed to preserve oral histories from people in the last years of their lives.
While some people are shocked when they encounter strong cross-generational friendships (e.g. Harold and Maude), the truth is that some young people find their peers boring. Many seniors enjoy the friendship and energy of a younger person but may lack children or grandchildren of their own.
A new documentary by P.J. Raval entitled Before You Know It follows three gay seniors who are experiencing coming-of-age stories no one could ever have prepared them for. How did the project begin?
One day, while his discussing his mother's feelings about her upcoming retirement (including the financial and emotional challenges she faced), the young filmmaker began to wonder what retirement might mean for a LGBT person turning 65. Raval quickly began to notice how the terms "gay" and "senior" are often at odds with each other. In the following audio clip, he describes how the inspiration for his film became much clearer:
Raval's research quickly revealed that:
LGBT seniors are twice as likely to live alone as opposed to their heterosexual counterparts,
LGBT seniors are five times less likely to access social services (even as they begin to acknowledge their vulnerability to the process of aging).
LGBT seniors face extreme examples of ageism, loneliness and discrimination in a narcissistic society obsessed with youth, physical beauty and sexual health.
Society at large desexualizes seniors (even though people who self-identify as gay are often defined by their sexual identity).
How one reacts to Raval's film may very well depend on one's age, health and connectedness. Those whose friends have died off or moved away may feel occasional pangs of terror; those whose lives are built around circuit parties and lots of casual sex may have equal cause for panic. And yet, watching how the people in Raval's film cope with the realities of their lives never fails to become a source of wonder at the resilience of the human spirit. As the filmmaker explains:
I was fascinated by Dennis's ongoing journey of self-discovery. I admired Ty's tenacity being at the forefront of gay visibility in Harlem, yet dealing with a rapidly changing time and wrestling with personal feelings about issues that he never thought he'd see in his lifetime (like the legalization of gay marriage in New York). I enjoyed hearing Robert tell stories of his wild and unapologetic youth and seeing that unique spirit captured in his bar and passed on to the patrons and staff whom he considered family.
Only when we started editing did I realize I chose each subject because together they formed a life cycle. Each person represents a different stage of life. Dennis's coming out late in life is reminiscent of adolescence and self-discovery; of self-acceptance even at the age of 80. Ty's story of partnership and marriage echoes midlife concerns of settling down and looking towards the rest of one's life. Robert signifies legacy and a passing of the torch. All three stories are unique and individual. Yet, together, they encompass a larger picture of life and aging. Even though they are in different cities with different histories encountering different challenges, they have a commonality between them. They are linked to one another.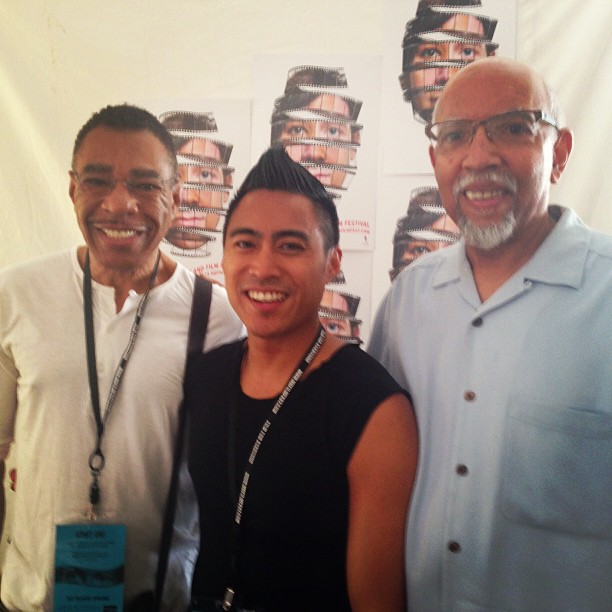 Ty Martin, filmmaker P. J. Raval, and Ty's partner, Stanton
at the Maryland Film Festival
Raval's film opens a window onto a future many LGBT people can barely imagine. The bottom line, however, is that you don't have to be gay to benefit from watching Before You Know It. Here's the trailer:
Related
Popular in the Community