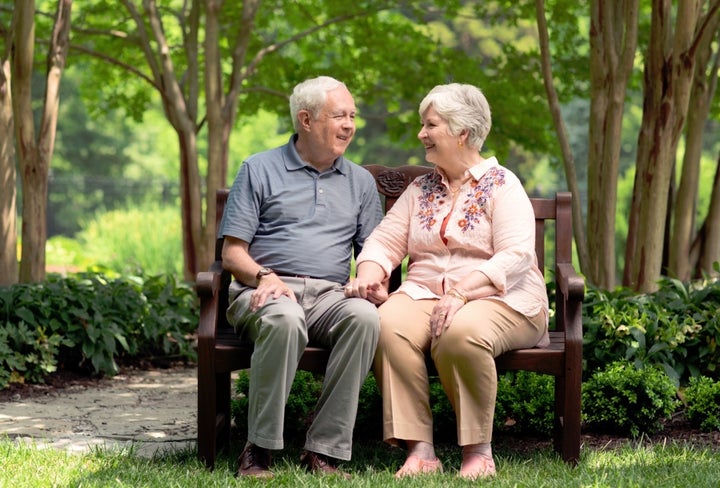 Let's be honest – a stigma around Alzheimer's, dementia, and memory loss in general still exists in our society. For example, some people tend to think that people who have been diagnosed with dementia are mentally ill or "gone" – no longer who they once were and unable to contribute to society. But recently-departed country star Glen Campbell proved that couldn't be further from the truth when he continued to record music and even tour after his initial diagnosis.
Oftentimes, people project these misconceptions due to a misunderstanding of the disease and may feel at a loss when it comes to communicating or connecting with the individuals living with memory loss. However, it's important to realize the impact of this stigma – a decline in the quality of life for those with dementia and their families, whether that be friends that withdraw from their life, or feeling as if their humanity is being stripped away.
That is why we must keep in mind that the language we use colors the perception of people living with Alzheimer's. In honor of World Alzheimer's Day, I would like to arm you with a glossary of terms used in person-centered memory care as they can help you — or a loved one — navigate a world that may be unfamiliar.
If you find yourself using any of the words on the left, switch them out for the phrasing on the right. Changing our language will change our perception and do wonders for reducing the stigma associated with Alzheimer's and related dementias:
· Demented ----> A person living with memory loss
· Feeder ----> Someone who needs assistance with dining
· Wanderer ----> Someone who is having trouble focusing and appears to be moving around aimlessly
· Agitated ----> Actively communicating or displaying distress
· Hoarder ----> A person who is holding onto items they cherish
· Difficult person ----> A person who needs support
· Shopper ----> A person who explores
· Slow eater ----> A person who needs more time dining
· Locked unit ----> Memory care neighborhood or community
When you have a loved one that is living with dementia, it's normal to sometimes feel at a loss when it comes to the best way to communicate with them. But overall, person-centered care boils down to adapting a different way of thinking – one that considers the people living with the disease as equal partners in planning, developing, and monitoring the care they receive to ensure it meets their needs.
"Person-centered care focuses on the individual needs of a person rather than on efficiencies of the care provider; builds upon the strengths of a person; and honors their values, choices, and preferences," writes Karen Love and Jackie Pinkowitz for the American Society of Aging.
This process may force you to learn a different way to communicate and connect with your loved one, and one of the best ways to do this is through the Validation Method. Validation is an empathetic form of communicating with someone that enables us to change our mindset from trying to bring the person back to our reality, and instead respond in a way that shows we are willing to enter their world and join them as a partner on this journey.
My hope is that we learn to understand the power of our words and use language that focuses on the humanity of the person, instead of medicalizing their condition. Because at the end of the day, their disease is not what makes them who they are – their unique life, values, accomplishments, capabilities, and talents do.
"People do not consist of memory alone," renowned neuropsychologist Alexander Luria once said. "They have feeling, will, sensibility, moral being. It is here that you may touch them, and see a profound change. "