My oldest son, Ty, died of cancer in 2012. He had just turned 5 years old. He took with him a huge piece of my heart, and I can still feel the tremendous pain of that absence.
Despite how wrong it feels, my husband and I live on. We try to honor Ty's memory every single day while doing our best to give our younger son, now 6, a happy, fun-filled life. That is all that matters anymore. We say "yes" more often, and we always jump in muddy puddles because it was the one thing Ty dreamed of doing when he felt "all bedda," but he never got the chance.
The power of "yes."
Watching my baby boy suffer and ultimately losing him to cancer was obviously the most gut-wrenching experience of my life. It has left me forever changed in so many ways.
It has also given me the gift of putting life and parenting into perspective. For every ounce of pain and anger I am plagued with, I also live this life with the ability to love harder and appreciate more than I ever imagined possible. The hair on my son's head never smelled so good and sunsets have never been so beautiful. It is this perspective that introduced me to the power of "yes."

Before cancer, I was a "no" mom. I was a "don't touch, don't eat, quiet down, be sweet," mom. I had no time for muddy shoes or sticky lollipops on the carpet. I had little patience for one more book at bedtime, or swimming at night after we already had pajamas on. Of course I still have to dig deep sometimes to muster up that patience in the midst of this crazy, on-the-go, non-stop life of mine, but I always make an effort to find it.
I say "yes" because there are thousands of children who are so unfairly confined to a hospital bed when they should be enjoying life. I have known far too many of them.
I say "yes" because life is short, and we have no idea what tomorrow might bring. We should do more things that make us smile on any given day.
I say "yes" because I woke up and in the blink of an eye Gavin was getting on a school bus for the first time already, leaving me to wonder, "where did my baby go?"
I say "yes" because you won't believe the surprise and excitement you will ignite in your child with one simple word.
I say "yes" because I want my son, Gavin to enjoy the childhood that Ty was robbed of.
Of course, you can't say yes to everything, all the time.
Pancakes for dinner? Sometimes. Playing hooky from school? Very rarely. Spray painting the side of the house? Never. Of course I respect the importance of discipline and I don't allow my son free reign to do as he pleases (which, if I did, would probably involve destroyed furniture, empty candy wrappers all over the floor and non-stop potty humor). However, I do my best to be reasonable, patient and flexible in order to allow more spontaneous "yes" moments in our lives.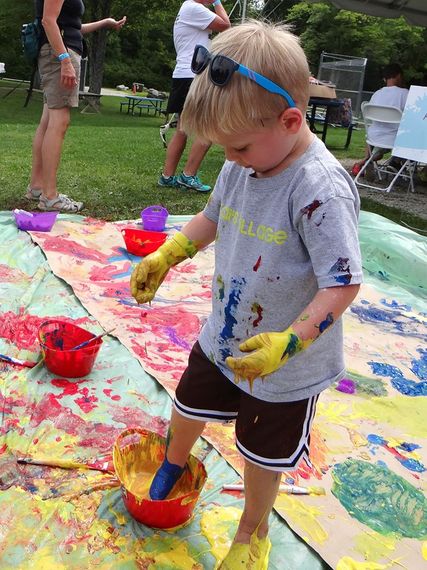 Some days I remember to have more fun, to smile more, and to let Gavin play longer. Other days, I simply don't. I barely get out of bed and I just can't find the energy to be the "I can do it" mom I promised myself I would be. And that's okay, I've come to terms with it. That's why I decided to create the "Mess Fest."
Introducing, the one and only "Mess Fest"
I have since created the Muddy Puddles "Mess Fest" to make it easier to say yes to some of the more extreme childhood activities on this one day of the year. The Mess Fest has become known as the "day of yes," where thousands of children participate in outrageously messy activities while raising money for childhood cancer research.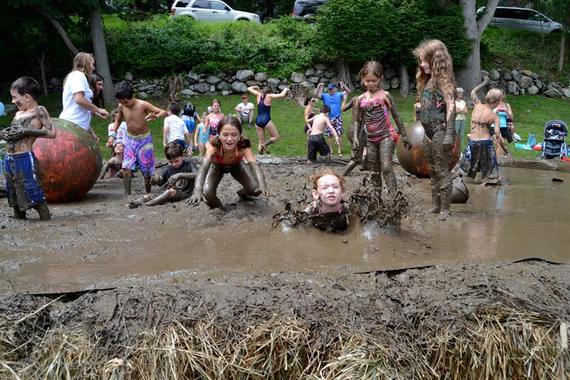 The Mess Fest is my favorite day of the year. Thanks to the help of an incredible event team, and more than 100 volunteers on event day, we have created an unforgettable event in Ty's memory, and in honor of all children battling cancer or otherwise disabled. It is a celebration of children and childhood. A day where kids can be kids in honor of those who can't. And... it is pure magic.
We have muddy puddles for jumping, food fights every hour, pie tosses, glitter bombs, water balloon fights, egg tosses, splatter paint, digging in dirt, treasure hunts, magic shows, a giant "slopstacle' course and a Fire Truck to hose you off. There are water slides, ziplines, bungee jumping, paddle boats, slip n' slides, trampolines, bouncy houses, balloons, tie-dye tees, candy stations, ice cream bars and so much more. It is everything Ty ever could have wanted, and there isn't a child in attendance who isn't smiling from ear to ear the entire day. There is no better day on earth.
Mess Fest Magic.
Did I mention that the Mess Fest is magical?
Two months after our first Mess Fest, my sister was going through her pictures from the event. She came across this one of Gavin, alone, wading in the water. She quickly noticed that Gavin didn't look alone at all. It appears as though his brother is looking down on him from above and smiling. Ty is finally free to jump in muddy puddles, dance in the rain, dangle from the edge of the rainbow and soar above the treetops.
ALWAYS say "yes" to jumping in muddy puddles.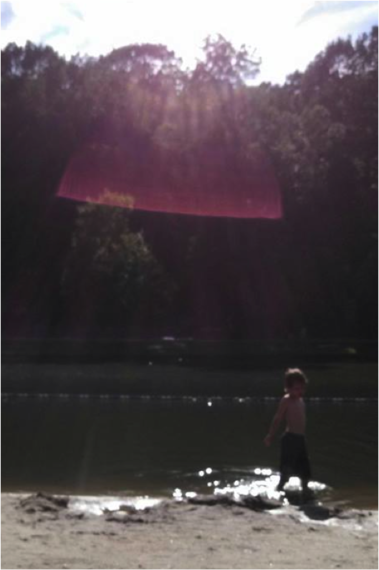 If you live in New York, New Jersey or Connecticut, please check it out for yourself. The 2015 Mess Fest will be held on Saturday, August 8, and Kiwi Country Day Camp (Mahopac, NY). Visit www.messfest2015.eventbrite.com for tickets.