Taylor Swift launched her "Bad Blood" music video as an opener for the Billboard Music Awards last weekend. We were all gearing up for this video as Taylor heightened our excitement by tweeting, Instagram-ing and Tumblr-ing myriads of posters of each one of the of characters that would guest star. However, we weren't emotionally prepared when she actually released it because not only did the video slay in every way, it taught a bigger lesson to the world than we were expecting.
So, let's start with how we saw big female names star in Taylor's video, such as Hayley Williams, Cara Delevingne, Jessica Alba, Cindy Crawford, Gigi Hadid, Ellie Goulding, Hailee Steinfeld, Lena Dunham, Lily Aldridge, Martha Hunt, Karlie Kloss, Zendaya Coleman, Mariska Hargitay, Ellen Pompeo, Serayah McNeill and Selena Gomez. Wow, that's a lot, isn't it? Anyway, let's take a look at the bigger picture.
These women are currently big in pop culture for having a natural persona about themselves that's confident and radiating inspiration to our cultural generation today. They're not your average female celebrities. They're taking steps to a new level where not only do they use their fame to help with charitable projects, but they're also letting other females out there know that a woman can be successful without having to fit in the norm of stereotypes.
Let's take Cara Delevingne for example. She's a young, confident model, but recently, she's been going into a new direction: filming. She's letting the universe know that she doesn't only model, but she can act as well, and nothing can stop her from being versatile in what she wants to accomplish with her talents. Then we have women like Karlie Kloss, who is also a model, but is also centering herself on helping education grow in third world countries, especially when it comes to females learning how to compute, promoting the fact that becoming an engineer or having a computer science major isn't just restricted to being a stereotypical male achievement. She's also taking some time off from her career to focus on her own studies by enrolling in classes this fall at NYU. Can you call that inspiring?
These are only just a COUPLE of examples of how the women that Taylor chose to be in her video are empowering our young, global and cultural generation today to set them apart from outside the norm. Of course, then we have Selena Gomez, who plays Arysn in the music video, but the antagonist of the video. This isn't to put Selena down as a person because it's just acting. Selena was taking one for the team to help show a bigger message to the world.
So, we have Arsyn and Catastrophe (Taylor Swift) taking out men in suits who were the "bad guys," fighting together on each other's team against the evil. However, when Taylor turns around, Arsyn pushes her out the window of a high story building, leaving Catastrophe weak and vulnerable to crumble away on the car.
But here's when Catastrophe decides to enroll into a special training unit surrounded by the empowering females with super cool nicknames. Then we have the legendary Kendrick Lamar remixing his rap take on "Bad Blood," revolving around the betrayal and the power that Taylor will arise with when she's done training and brushing off her skills with the world's most talented women. The most iconic lines from him are "you forgive, you forget, but you never let it go," and "all my life I got money and power, but you gotta live with the bad blood now." Literally, those lines are so compelling and inspiring. Killer job to you two, Taylor and Kendrick. Then we have the Head Mistress (Cindy Crawford) shown at the end of Catastrophe's training, tipping her a nod and a grin that she's ready to take on the world.
Lastly, we have the iconic scene where Catastrophe walks away from a bomb scene, her now red hair radiating as she leads an army, which includes some of the most powerful women in our world today, coming back stronger than ever to take down Arsyn and showing the world that a betrayal didn't take Catastrophe down, but she allowed her weakest moments to shape her into becoming the best and most robust version of herself.
That's the moral of the story. Don't let someone take you down and let you stay there. You get up, you brush yourself off, and then you go ahead and slay the world with your women who are killing it. Surround yourself amongst powerful, influential, inspiring people (in this case, women), where when you're around them, you only feel encouraged to also make a difference in this world. Never let the antagonist of your life win. Show them you're not weak like they think you are. Instead, you should create a forceful, compelling squad to hang out with and come back against all odds placed on you, and you will prevail. That's exactly what Catastrophe did in the "Bad Blood" music video, and that's exactly what Taylor Swift did with her own life, and that's EXACTLY what you should be inspired to do with YOUR LIFE. Tipping you a nod and grin, because you got this.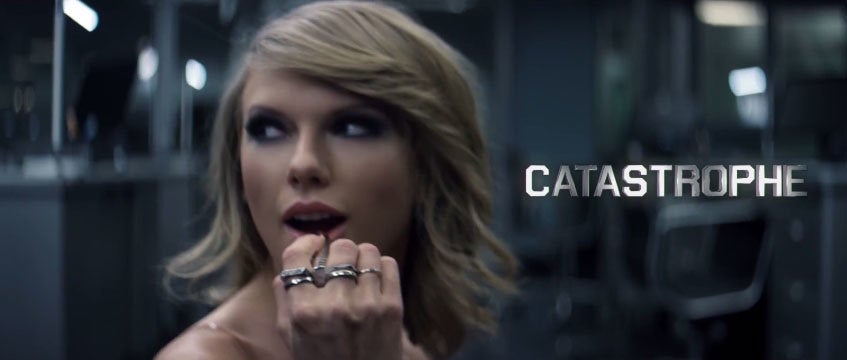 Everyone In The 'Bad Blood' Video
Related
Popular in the Community